Pete Davidson Pops Up In This Hidden Scene From The Kardashians Season Finale
There's just one catch: he's not actually seen on camera.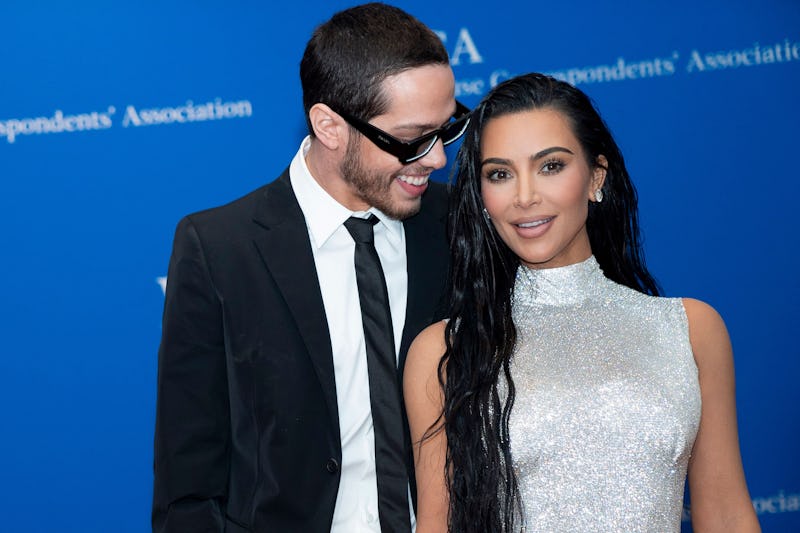 STEFANI REYNOLDS/AFP/Getty Images
The first season of Hulu's The Kardashians came and went without a single appearance from Pete Davidson — or did it? Kim Kardashian's boyfriend makes a surprise cameo in a hidden scene on the Kardashians season finale, which premiered on June 16. The only catch is that he's not actually seen on camera.
After the final credits rolled, Kardashian is seen calling out to her beau from her confessional booth. "Pete, come here, you have to meet Paxy," she told him. "Paxy has worked with me as audio [for] 14 years from Keeping Up With The Kardashians. She knows everything about me. She's probably seen my vagina." The comedian had the perfect comeback, asking, "More than me?" Somehow, Kardashian wasn't even phased by the question. "Not more than you," she shot back. "But she's probably seen it."
Paxy, who also stays off-camera, then clarified that she had not seen her vagina and felt like she hadn't been "initiated" into the club. "You haven't seen my vagina? We'll get there, takes time to warm up to seeing my vagina," Kardashian promised, before landing a perfect punchline. "But you could look on the internet," she said, referring to her infamous sex tape. "Just kidding!"
While Davidson has yet to actually appear on his girlfriend's show, this might change for Season 2. In March, Kardashian confirmed to Variety that he had not filmed for the show yet, but neither of them were averse to the idea. "I'm not opposed to it," she said. "It's just not what he does. But if there was an event happening and he was there, he wouldn't tell the cameras to get away." In fact, Kardashian already had a potential idea for next season that would involve Davidson. "I think I might film something really exciting coming, but it wouldn't be for this season," she teased.
Despite his onscreen absence, Kardashian held nothing back when talking about her relationship with Davidson, revealing that she asked an SNL producer for his number after her hosting stint in October 2021. "I wasn't even thinking, 'Oh my god, I'm gonna be in a relationship with him'," she admitted. "I was just thinking, 'Heard about this BDE, need to get out there.' I was just basically DTF." Now that they're committed, the Skims founder can't stop gushing about him. Even getting ice cream with Davidson apparently makes her "horny."
"People always say like, 'Oh he's so funny' ... That's like, fourth on my list of why I like him," she said on the June 2 episode. "He always wants the best for people, can handle anything, always does it with grace. He's really, really thoughtful and humble and just so genuine. I would say the perfect word to describe Pete is genuine."