The Kardashians Season 2: Will Pete, Tristan, Scott & Kanye Appear On The Show?
Don't hold out hope for Rob Kardashian though.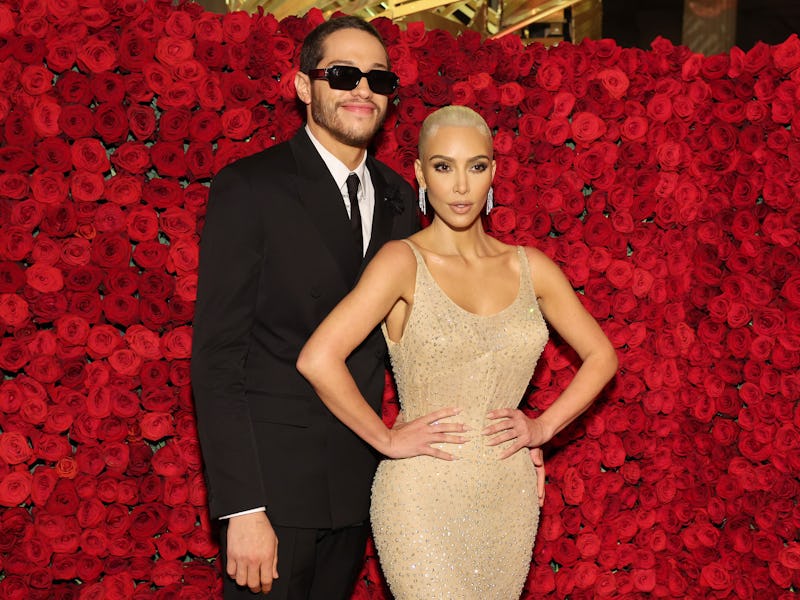 Cindy Ord/MG22/Getty Images Entertainment/Getty Images
The KarJenner women — Kourtney, Kim, and Khloé Kardashian, as well as Kendall, Kylie, and Kris Jenner — are the undisputed stars of their lucrative empire, which includes their new Hulu series The Kardashians. However, the men in their lives provide an extra boost of entertainment, and in rare cases, even become breakout stars of the show. Given how Hulu has already renewed The Kardashians for a second season, it's only natural for fans to wonder if people like Kim's new beau Pete Davidson or her ex-husband Kanye West will soon be seen in upcoming episodes.
While appearances from some fan favorites are almost guaranteed, the fate of other people, like Khloé's now-ex Tristan Thompson, are unclear. Regardless, don't expect any appearances from the only male family member, Rob Kardashian, who hasn't appeared on camera since the early days of his family's E! show Keeping Up With the Kardashians (aside from a brief "is that him?" cameo).
Will Pete Davidson Be On The Kardashians Season 2?
While Kim opened up about her relationship with Davidson on the later episodes of Season 1, including how getting ice cream with him made her "horny," the former Saturday Night Live star isn't actually seen onscreen at any point. Kim confirmed this to Variety in March, stating that she hasn't filmed with him, but she's not opposed to it. "It's just not what he does," she said. However, this might change for Season 2. Kim explained that if Davidson went to an event that was being filmed for the show, "He wouldn't tell the cameras to get away." And she may already have the perfect one for him to attend on camera. "I think I might film something really exciting coming, but it wouldn't be for this season," she teased. Don't be surprised to see him appear in a potential Season 2 episode focused on the 2022 Met Gala, where he was Kim's date.
Will Tristan Thompson Be On The Kardashians Season 2?
Season 1 of The Kardashians ended with Khloé finding out about Thompson's paternity scandal, in which Maralee Nichols claimed that she conceived a child with the NBA player. In a response to her lawsuit, before DNA test results confirmed his paternity, Thompson admitted to having sex with Nichols in March 2021, while he and Khloé were dating once again following their reconciliation. While he made multiple appearances on Season 1 alongside Khloé and their daughter True, their romantic relationship is officially over, making the likelihood of him being seen on the second season unclear.
Will Scott Disick Be On The Kardashians Season 2?
Despite being split from Kourtney for the past seven years, Scott Disick was still one of the stars of The Kardashians, giving his raw, honest reaction to his ex's engagement to Travis Barker and admitting that he's still in love with the Poosh founder. He even got into it with Kris and Kendall Jenner over being left out of family events. But if anything, his continued presence on The Kardashians is proof that he's still a part of the family, and that's sure to be reflected on Season 2. Plus, as he revealed on the Season 1 finale, he's besties with Pete now, meaning they could be the unexpected breakout stars next season.
Will Kanye West Be On The Kardashians Season 2?
Even in the midst of his divorce from Kim, West made a couple of appearances during Season 1, like when the rapper flew from New York to Los Angeles and back in one day just to obtain all of the unseen footage from Kim's infamous sex tape for her protection. However, tensions between the exes have only increased since the season stopped filming and Kim started dating Pete Davidson, resulting in several public outbursts and leaked text messages. Nonetheless, Kanye still went to Kim's house on camera to pick up his kids for school (in a fire truck, no less), so while their personal drama may not play out on The Kardashians, there's a chance the rapper still might appear on the show as the father of the children they're co-parenting.