Vanderpump Rules' Tom Sandoval & Raquel Leviss Apologize To Ariana Madix After #Scandoval
Madix has been "devastated and broken" in her first Instagram post since #Scandoval started.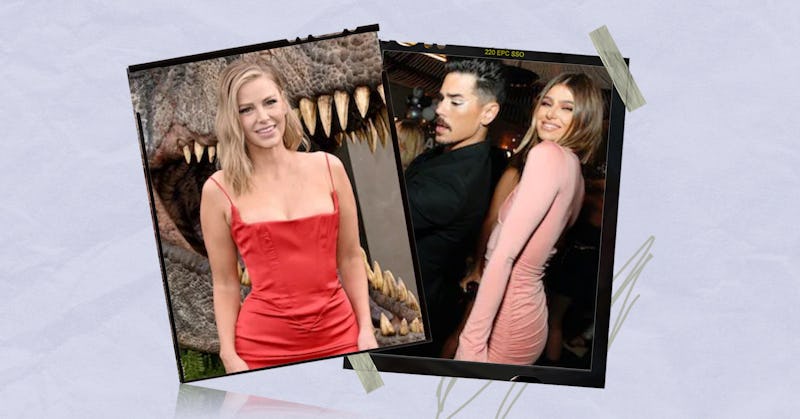 Amy Sussman/Getty Images Entertainment; Axelle/Bauer-Griffin/FilmMagic/Getty Images
The stars who caused #Scandoval are speaking out. Vanderpump Rules star Tom Sandoval publicly apologized to Ariana Madix in the early morning hours of March 8 after admitting to cheating on her with co-star Raquel Leviss, who also issued her own apology the same day. Late on March 15, a week later, Madix responded to the scandal in her first Instagram post since the story broke. TMZ reported on March 3 that Madix had split from Sandoval after discovering his infidelity two days prior, with Page Six reporting that Sandoval and Leviss had been "inappropriately communicating for months."
Marking her return to social media, Madix shared a photo of her smiling on a recent trip to Mexico, but let fans know how she was actually doing and thanked them for their support in her caption. "Hi. Where to begin?" she wrote. "When I have felt like I couldn't even stand, you all have given me the strength to continue and seen me through my darkest hours. To say I have been devastated and broken is an understatement. However, I know that I am not in this alone. So many of my closest friends are also grieving this loss right now and reeling from this betrayal on so many levels."
She concluded by thanking her loved ones for rallying around her and sending a sly message through a Kacey Musgraves lyric. "I am so f*cking lucky to have the best support system in the world and I hope I can repay every single person for the love you have shown me," she said. "What doesn't kill me better run."
Writing a letter posted to Instagram, Sandoval began by apologizing to "everyone I've hurt" by his actions, before turning his attention solely to Madix. "Most of all, I want to apologize to Ariana," he wrote. "I made mistakes, I was selfish, and made reckless decisions that hurt somebody I love. No one deserves to feel that pain so traumatically and publicly." He said that his "biggest regret" was dishonoring Madix and the "loving family and friends" who supported them.
The partial TomTom owner went to reflect on his relationship with Madix, saying that many of their "best times" and "biggest struggles" were never shown on Bravo. While he didn't mention Leviss or the current status of their relationship, he did state that he wished "things happened in a different order" and that he "owed Ariana better." He concluded his note by confirming his relationship was Madix was over and promising to work on himself. "I am beyond sad that it ended the way it did," he wrote. "I acted in a way that clashes with who and how I want to be. I will continue to reflect and work on myself. I have work to do. I always have, and I always will."
Much of the Vanderpump Rules cast was quick to react to #Scandoval when it first broke on March 3. When Sandoval issued his first statement about the saga, which defended his co-star Tom Schwartz and their business partners in their new restaurant Schwartz & Sandy's, his castmates asked why he didn't apologize to Madix then.
In a statement to Entertainment Tonight, Leviss also apologized to her loved ones before turning to Madix. "I want to apologize for my actions and my choices foremost to Ariana, and to my friends and the fans so invested in our relationships," she began. "There is no excuse, I am not a victim and I must own my actions and I deeply regret hurting Ariana."
Leviss went on to explain that she is going to a counselor to examine her actions. "I am learning things about myself such as my patterns of codependency and addiction to being and feeling loved," she wrote. "I have sought emotional validation through intimate connections that are not healthy without regard for my own well-being, sometimes negatively affecting others and often prioritizing the intimate connection over my friendships."
Leviss also alleged that she was "physically assaulted," received death threats, and had her "privacy violated" as a result of her actions with Sandoval. While she didn't specify any details, she did file a restraining order against co-star Scheana Shay on March 7, fueling rumors that they had allegedly gotten into a physical altercation after Shay found out about the affair. The SUR server concluded her statement by promising to work on her mental health. "I don't expect sympathy, understanding or forgiveness," she wrote. "As I strive to be a better person moving forward, I will prioritize my mental health and learn from my mistakes."
This article was originally published on