Viola Davis Earned Her EGOT At The 2023 Grammys
She won for her book, Finding Me.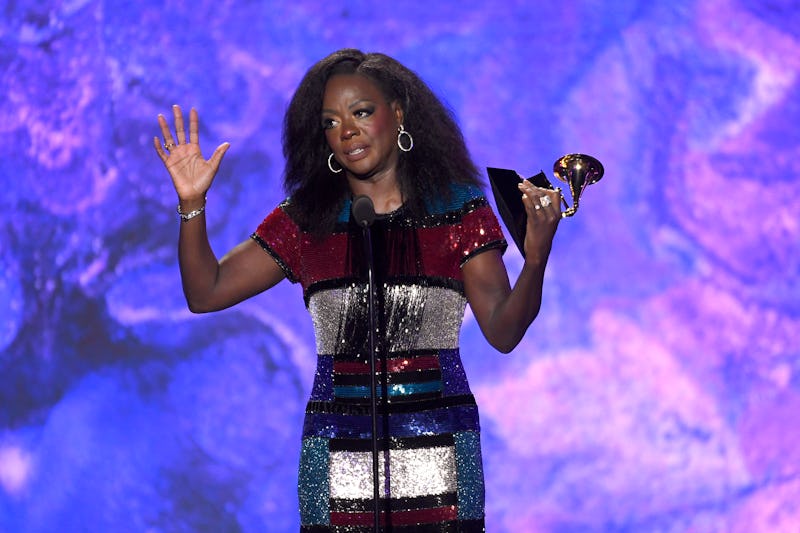 Kevork Djansezian/Getty Images Entertainment/Getty Images
It's always exciting when a star earns the coveted (and very rare) honor of an EGOT — aka, achieving an Emmy, Grammy, Oscar, and Tony. Before the 2023 Grammy Awards, only 17 celebrities had the distinction of earning all four. But on Feb. 5, Viola Davis became EGOT winner No. 18.
The Woman King star earned the Audiobook, Narration, and Storytelling Recording Grammy for her memoir, Finding Me. Though the big win happened before the main ceremony telecast, it definitely started the evening on a celebratory note. "I wrote this book to honor the 6-year-old Viola," Davis began her acceptance speech. "To honor her life, her joy, her trauma, everything. And it has just been such a journey — I just EGOT!"
Davis went on to thank "everybody who was a part of [her] story," and took a moment to thank her husband and daughter, specifically. "My loves, Julius, Genesis, you are my life, and my joy," she said. "You're the best chapter in my book."
It's fitting that Davis completed her EGOT through her own memoir because as she told Bustle in 2018, "this part of [her] life is more about significance" than acting alone. "It's not just about getting the role and getting the praise and puffing myself up and saying, 'Oh, do I get another award for this? When's my next great review coming out?' That's really hollow for me," she explained, adding that she was focused on "legacy" and "leaving something behind."
Clearly, Finding Me accomplishes that mission. And while Davis hasn't been pursuing awards, per se, it's special to see her earn the coveted EGOT anyway. Several of her fellow stars took to social media to celebrate the big win — including the latest star to EGOT before Davis, Jennifer Hudson. "Hold the line !!!!!!!," she wrote, describing Davis as a "living LEGEND."
Taylor Swift, a fellow nominee at the 2023 Grammys, also sent some love via tweet — simply writing, "EGOT BABYYYYYYY 💕💕💕."
As it turns out, Davis has actually been on the verge of an EGOT for quite some time — since the 2017 Academy Awards when she brought home the Best Supporting Actress Oscar for her role in Fences. Before that, she earned the Outstanding Lead Actress in a Drama Series Emmy for her work on How to Get Away with Murder in 2015, and received Tonys for King Hedley II and the original stage version of Fences in 2001 and 2010, respectively.