Wednesday Star Emma Myers Thinks A Wenclair Storyline Is "Possible" In Season 2
She also thinks Wednesday needs to be single next season.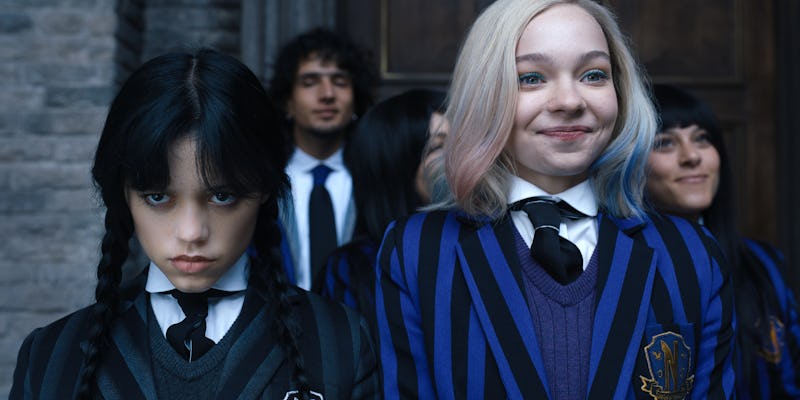 Courtesy of Netflix
The fact that Wednesday is returning for a second season is no surprise to anyone — even if it took a while for Netflix to renew the chart-topping series. In The Addams Family spinoff, Jenna Ortega stars as the titular dour teen who moves to a town plagued by a murderer. Over the course of Season 1, she catches the monster and its master, saving her boarding school for outcasts. With the renewal announcement, Season 2 fan theories are already making the internet rounds, from the identity of the stalker introduced in the finale to the question of Wednesday's romances.
Per Variety, Emma Myers, who plays Wednesday's werewolf roommate and BFF Enid Sinclair, is also up-to-date on fan theories though she is "out of the loop" as to what'll actually happen. She does, however, have her own thoughts on what Wednesday's dating life should look like.
In Season 1, Wednesday is pursued by two men — the normie Tyler (Hunter Doohan) and fellow Nevermore attendee Xavier (Percy Hynes White). But when Wednesday finally gives one of them — Tyler — a chance, she quickly discovers that he's actually the monster behind the town's killing spree.
With Tyler out of the way, Xavier could swoop in as Wednesday's love interest. Or there could be someone entirely new. Some fans are shipping another potential couple: Wenclair, the moniker for Wednesday and Enid Sinclair.
Myers, who has seen fans' Wenclair posts, isn't discounting the pairing as a Season 2 possibility. "Anything is possible in the show," she told Variety when asked about the potential romance in a Jan. 30 interview. "We haven't really spoken about direction at all, so I don't really know what the game plan is for anything."
Though if it were up to her, Wednesday would get a break from dating first. "As far as love interests go for Wednesday, I feel like at least for a second season, she needs to take her season of singleness," she told the outlet. "She just had a whole fiasco with her men, she's got to lay it off for a little bit. I would be deterred from dating anybody if I had gone through that."
She would also like to see Wednesday "go somewhere international and interact with the international outcasts from different countries." The 20-year-old added, "I feel like that would be really fun."
If you ask Ortega, her character wouldn't be in another love triangle — especially not with boys. "I don't think Wednesday would ever be in a love triangle," she said in a November 2022 interview with Etalk. "Because honestly, I think boys are probably the last thing on Wednesday's mind."
As for White's character Xavier? Ortega wants him in the friend zone. "I think there's an opportunity there for a really sweet platonic relationship," she said. "Because I don't think it's shown often enough: men and women having safe, platonic relationships that don't become romantic and are just genuine, almost sibling-like relationships."
In an ideal world though, she thinks Wenclair would probably be endgame. "In a perfect world, we would have been, like, a thing," Ortega reportedly told PRIDE during a December 2022 event. "A little, winky thing."