Where Is La'Darius Marshall From Cheer Now? Navarro Was Just The Beginning
The self-described "extra" cheerleader is back in Cheer Season 2.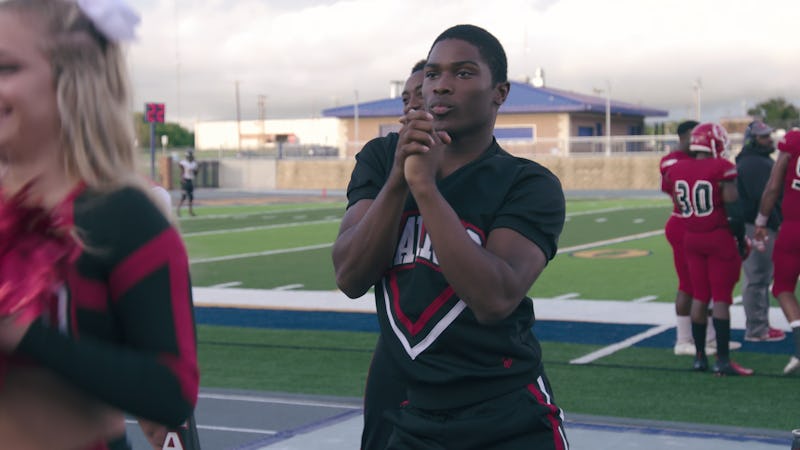 Courtesy of Netflix
After "stumbling" his way into fans' hearts in Season 1, La'Darius Marshall from Cheer found a new level of fame and influence. At the end of the sports docuseries' first six episodes, which followed the competitive cheerleaders of Navarro College in Corsicana, Texas, the senior squad member was coaching at Florida's Zero Gravity Athletics — but admittedly didn't know what was next for him. What he probably couldn't have imagined was that he'd cheer on The Ellen DeGeneres show, mat-talk regular people for The Late Show with Stephen Colbert, and amass hundreds of thousands of Instagram followers.
Since then, it unfortunately hasn't been all highs for the cheerleader. He has publicly endured some emotional lows, including when he learned of his ex-teammate and friend Jerry Harris' distressing criminal case. With Marshall having returned to his Navarro family in early 2020, it will all be addressed when he appears in Season 2 of Cheer, premiering Jan. 12 on Netflix.
Considering Navarro is a two-year college and Marshall was a senior in Season 1, the now-23-year-old athlete was expected to move on from the team after winning the 2019 NCA National Championship in Daytona Beach, Florida. But in January 2020, he posted a photo with Harris, Lexi Brumback, and T.T. Barker that suggested he had rejoined the team. "Guess who is back and better than ever ... see you @theellenshow next week.... God is so good," he wrote alongside crystal ball and prayer hands emojis.
As explained in the series, opportunities for cheerleading post-college are limited. In the Cheer Season 1 epilogue, Marshall mentioned potential career paths, including personal training, choreographing, or, "if all else fails," enlisting in the United States Army or Air Force for the stability he said it could provide him. (The Navy and Marines are a no-go for him, however, because he doesn't "do water.") "It's about what I can do for my future and what I can do for my country because I love America so much, and it would teach me to be more disciplined," he further explained.
Prior to announcing his return to the team, Marshall's Instagram account seemed to indicate that he had been competing, coaching, and no longer living in Texas. It also became clear he wasn't stepping out of the spotlight just yet. After all, pre-Cheer fame, Marshall was already a viral sensation for a spirited 2018 game-time routine. Following it, he's often used his platform to spread inspirational messages, like his Jan. 26, 2020 post showing a photo of him with team member Morgan Simianer and coach Monica Aldama.
"Life doesn't stop here, life doesn't stop when things get tough, life doesn't stop for any trials, and life won't stop for you," he wrote. "Just like the earth you must keep going and pushing through. You don't have to be strong every day just remember that life does and will get better as long as you truly believe it."
Marshall, who had opened up about being a survivor in Cheer Season 1, also addressed others who had lived through trauma in his post. "All of my survivors I truly stand with you and I want you to know that I love you all and we are #WARRIORS," he continued. "We will have a voice and will be seen. You will/can regain your strength and identity again. Love truly does trumps hate. Keep your head up because only there will you find God looking down at you telling you to persevere."
A couple months later, the 2020 NCA National Championship in Daytona Beach, set to take place in April, was canceled following the COVID-19 pandemic's onset. At the time, this meant Marshall's cheerleading career was seemingly cut short, and he posted a message on March 16, 2020 commemorating his time as a Bulldog. "This isn't goodbye Navarro 2020 it's see you later. Daytona you will be missed and greatly appreciated," he wrote on Instagram. "Long live the bright light we all shared together."
Speaking to The Cut for an April 2020 interview and reflecting on his athletic career, Marshall revealed he was in "a dark place" following the premiere of Cheer due to the series' discussion of the sexual abuse he said he endured as a child. "I never wanted to be perceived as a victim. I don't like the word … I know what I've been through, but look how far I made it," he told the publication. "I don't have to have shields on — I just should live … You're gonna miss out on your blessings if you don't allow people to come in."
Later in 2020, Marshall's friends and followers were alarmed to see a worrying now-deleted Instagram post from the generally positive cheerleader. "Ladarius Marshall is floating away, going away, fading away," he wrote in part on Sept. 3, 2020, per E! News. Before the post was deleted, Marshall's then-teammates Harris and Gabi Butler commented with supportive messages, letting him know of the impact he'd had on their lives. "I can not stress enough how important you are to not only me, but so many other people," Butler wrote in part.
Quickly after the post was deleted, a photo of Marshall with a young girl and Debbie Bonner, who appeared on Cheer as a woman Marshall was living with, was uploaded to Marshall's account. "Ladarius Marshall is safe [at] home here in Texas with me @dlbonn," read the post's caption, per People. "Thank you all for carrying for our Boy, he will receive the help he needs I'll make sure of it. We will take good care of him."
On Sept. 14, 2020, a post to Marshall's Instagram announced his "happiness is coming back" in a positive message written alongside a sunlit photo. "Your independence is coming back, your power is rising within you. I'm so proud of you Ladarius Marshall. Keep on moving forward and showing yourself how strong you truly are," the caption read. "You are made of something only Legends can obtain. Here's to a successful year and lots of learning how to love yourself baby. I love you."
That same week, though, news broke of the accusations against Harris and he was soon arrested on a charge of producing child pornography (his representatives denied the allegations). Marshall shared his thoughts on the matter via Twitter, per People. After naming himself as a "victim of sexual abuse as a child," he wrote that he knows "all too well the pain of experiencing this type of abuse and the difficulties it can creat for life after such trauma."
"I feel as though I have had the wind knocked out of me. How could this happen? The pain of watching the recent events surrounding my friend and former teammate Jerry Harris has been gut-wrenching," Marshall continued. "This will not be acceptable behavior now or later in the future, we must do better. We must protect our children. I pray for healing for everyone involved."
Months later, speaking to The Dallas Morning News for a story about the one-year anniversary of Cheer Season 1's release, Marshall revealed the pandemic-related cancellation of 2020's Daytona championship had led him to stay with the Navarro Bulldogs for yet another year. He hadn't ruled out joining the military afterward, but he told the publication he was thinking about "studying radiology at Central Arkansas" and turning his reality fame into an acting career.
"I want to act so bad, and I feel like it's time for me to do that," he told the outlet. "I feel like this year — 2021, no matter what's going on in this world, I'm going to do it. I'm going to be a film star. It's just in my blood."
According to Marshall's IMDb page, his dream of becoming an actor hasn't come to fruition just yet. He does appear to be coaching again, though, and on Dec. 28, he confirmed his involvement in Cheer Season 2 via Instagram. Fans can expect to learn about his next moves over its nine episodes.
This article was originally published on