Cheer Season 2 Doesn't Shy Away From The Allegations Against Jerry Harris
Harris, initially a Cheer fan favorite, now faces troubling criminal charges.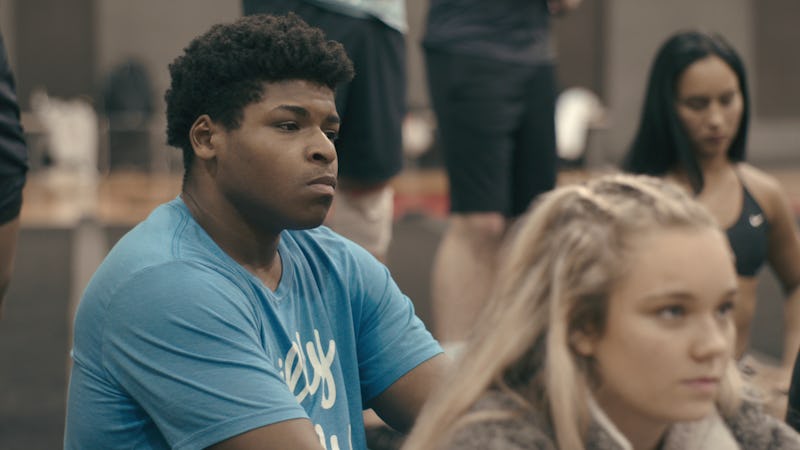 Netflix
Jeremiah "Jerry" Harris emerged as a breakout star of Netflix's surprise hit docuseries Cheer despite not being one of Navarro College's top cheerleaders. For most of Season 1, it was unclear whether he'd even compete "on mat" with the nationally-ranked collegiate squad at the high-stakes NCA National Championships in Daytona Beach, Florida. Despite eventually making it and receiving a scholarship to cheer at the University of Louisville in the season finale, Harris' cheerleading career post-Cheer has likely come to an end following troubling criminal charges.
During Season 1, Harris became known for his ultra-supportive mat talk — aka the non-competing cheerleaders' high-energy screams meant to encourage their teammates from the sidelines. His uplifting messages and hard work made him a fan-favorite cast member, which led to appearances on The Ellen DeGeneres Show and the 2020 Oscars red carpet amid Season 1's popularity. After receiving a $10,000 scholarship to the University of Louisville in the season finale, he spent time cheering on the schools' Cards team as part of the University's Spirit Program, per WDRB, the local Louisville Fox-affiliate. But as of January 2020, Harris was back in Corsicana to continue cheering with the Navarro Bulldogs, according to a since-deleted Instagram photo of him and fellow Cheer cast members Dillon Brandt and Javon Kendrick.
On Sept. 14, 2020, however, a Texas lawsuit was filed against Harris by the mother of two 14-year-old boys who allege that the older cheerleader asked them for nude photos, solicited sex, and sent them sexually explicit messages. Accusations in the suit include "sexual harassment, exploitation abuse and molestation," per The New York Times. According to the criminal complaint, as reported by NBC News, Harris allegedly confessed to soliciting and receiving sexual Snapchat messages from known minors as well as having oral and anal sex with a 15-year-old. Quickly following the allegations, a spokesperson for Harris stated: "We categorically dispute the claims made against Jerry Harris, which are alleged to have occurred when he was a teenager. We are confident that when the investigation is completed the true facts will be revealed."
In the wake of the initial allegations against Harris, Varsity Brands — the company behind major cheer competitions such as the NCA National Championship — stated that it would "continue to cooperate with authorities in their inquiries on this matter," per Variety. It had also reported the allegations to police in Florida and Texas in August 2020, according to USA Today. A Varsity spokesperson added in the statement to Variety that Harris, a former employee, had been "barred … from having any affiliations with Varsity Brands or any of its subsidiaries or affiliates." Meanwhile, Harris was dropped from an endorsement deal with Cheerios, per The New York Times. Additionally, the U.S. All Star Federation suspended Harris from participating in any of the company's events or cheerleading competitions going forward, per USA Today.
Just days after the lawsuit was filed, on Sept. 17, Harris was arrested on a charge of producing child pornography following an FBI search of his home in Naperville, Illinois. After being denied bail by a federal judge in October 2020, per The New York Times, Harris was indicted on additional charges in December 2020, each involving alleged incidents with four minors between August 2017 and August 2020. The new charges include four counts of sexual exploitation of children, one count of enticement, and one count of traveling with the attempt to engage in sexual conduct with a minor. The latter stems from an accusation that Harris took a trip to Florida for an intended sexual encounter with a 15-year-old, per CNN. His attorneys did not comment publicly immediately after the hearing, however, they pleaded not guilty on his behalf during a Dec. 17, 2020 court date, which Harris did not attend in person, per the Independent. He is currently in federal custody at the Metropolitan Correctional Center in Chicago.
Harris' arrest was followed by a statement from Navarro College coach Monica Aldama, released via Instagram. "My heart is shattered into a million pieces. I am devastated by this shocking, unexpected news," she wrote on Sept. 18. "Our children must be protected from abuse and exploitation, and I'm praying hard for the victims and everyone affected." Aldama's comments were later echoed in a similar post from Navarro Cheer, which was shared by Cheer stars Allie Ross, Mackenzie Sherburn, and TT Barker on their Instagram pages. A Netflix spokesperson also issued a statement to People, saying, "Like everyone we are shocked by this news. Any abuse of minors is a terrible crime and we respect the legal process."
Netflix announced Season 2 of Cheer on Dec. 28 and revealed the new episodes will address the charges against Harris head-on. Speaking to Variety, director Greg Whiteley recalled feeling "floored and heartbroken" upon hearing the news of the breakout star's arrest. "I tried to unpack what it was that I was feeling. Here was a person that I felt like I knew very, very well," he told the publication. "But then there was news that led me to believe I didn't know everything about this person and that led to, in a weird way, me mourning the passing of the person that I thought I knew."
Elsewhere in the interview, Whiteley revealed Harris had already begun filming scenes for Season 2, though it's unclear whether he'll appear on-camera. "Jerry would've been impossible to ignore because it impacted the team so severely," the director said. "The series covers events as they unfolded, beginning in January 2020 through April 2021, so the charges against Jerry Harris are covered in depth in episode five." While Harris' lawyers have apparently "prevented any contact" with the Netflix crew since his arrest, Whiteley has reportedly been in contact with the twin brothers who allege they were sexually exploited by Harris at 13 years old. "[They] have an important story to tell; my job is to allow them to tell it," Whiteley stated.
If you or someone you know has been sexually assaulted, you can call the National Sexual Assault Telephone Hotline at 800-656-HOPE (4673) or visit online.rainn.org.
Contributions from Amanda Whiting.
This article was originally published on