Gleeks Can Stream Glee Online Again, So Here Are 5 Blaine Songs To Mark Its Return
As of June 2022, you can finally stream every season of Glee on Disney+ or Hulu.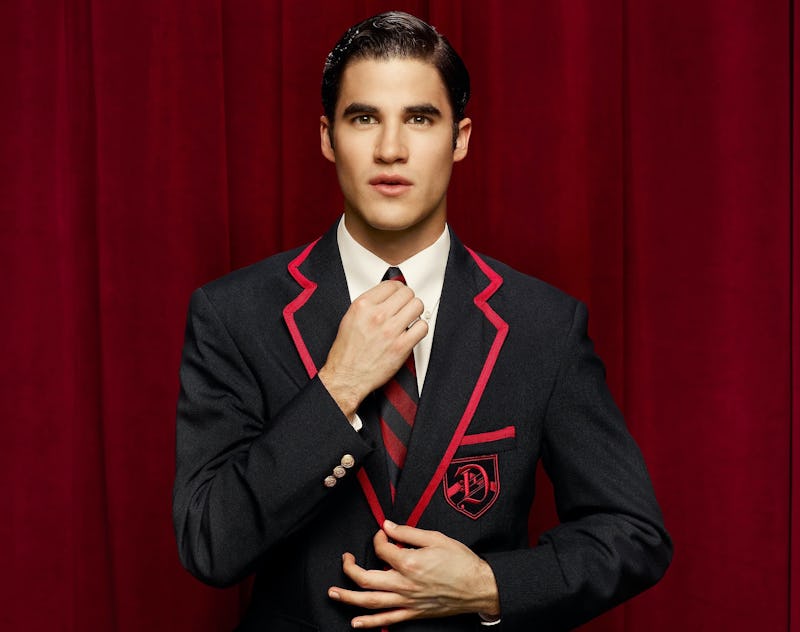 FOX/FOX Image Collection/Getty Images
Glee premiered in 2009, but it's safe to say the pop culture phenomenon wasn't quite complete until one year later, when a certain Warbler joined the cast and entered the hearts of Gleeks. Played by IRL theater kid-turned-theater adult Darren Criss, Blaine Anderson's charm and musical chops quickly earned him a spot as many a Gleek's favorite character. He also happened to crank out some of the best Glee performances in the show's six-season run.
Now that you can finally stream Glee on both Hulu and Disney+ as of June 1, you may be scrambling to decide which iconic moment from the show to revisit first: "Bohemian Rhapsody" and Quinn's baby? The Klaine meet-cute? Season 3 nationals?
Well, you can't go wrong by catching up on some of Blaine's best Glee songs to mark the show's return to streaming. Not only are they stunningly performed (if you ever prefer Glee covers to the original songs, you're not alone), but listening to them all is virtually guaranteed to make you cry — whether those tears be happy, sad, or just plain nostalgic.
5. "It's Not Right But It's Okay"
Yes, the show is called Glee, but this performance was pure, righteous anger. During the Season 3 Whitney Houston episode, Blaine is heartbroken when he discovers Kurt's been exchanging flirty texts with another guy. And what better way to channel that feeling of betrayal than with Houston's moving-on anthem?
The theatrics of the performance (based on the song's original video) are fun to watch, and the lyrics are just as fun to sing along to. It's Blaine at his dramatic best.
4. "It's Time"
Blaine always had a thing for grand, romantic gestures on the outside stairs — and while his first such performance is perhaps his best-known (hint: it's No. 1 on this list), "It's Time" from Season 4 is a truly underrated gem worth celebrating.
After realizing that he might be serving as Kurt's security blanket and holding him back from bigger dreams in New York, Blaine did the sweetest possible thing a boyfriend in his position could do: Blaine set Kurt free.
It's actually not too different from Finn sending Rachel off on a train to New York in Season 3, but instead of being devastating, Blaine's performance is infectiously happy. In fact, the playfully choreographed number (complete with a Pitch Perfect-style cup routine because 2012) may be one of the sweetest moments on the show. Not only does it prove how well Blaine knows Kurt, and the fact that he'd need a gentle push from the nest, but it will also make you pretty emotional if you've been sitting on your own dreams and need some musical motivation.
3. "Teenage Dream"
Blaine sang "Teenage Dream" a couple of times on Glee — and the version you listen to depends entirely on whether you feel like smiling or crying on any given day. If it's the latter, here you go. The Season 4 acoustic version is one of Blaine's best Glee songs, and it accomplishes the impossible task of making a flirty Katy Perry bop heartrendingly sad.
It's not just a gorgeous cover on its own, but Blaine's wistful, teary performance speaks to the specific history of his high school romance. And it hurts! This song was Klaine's first meeting, and now they're on the verge of breaking up to it. Lyrics like "We'll be young forever" sting especially bad because, yes, these characters are still super young, but they're also painfully aware of the way growing up is maybe making them grow apart.
2. "Cough Syrup"
By this point, you've probably realized that most of the songs on this list are connected to Kurt in some way, but one of Blaine's best Glee moments isn't actually a love song at all. Season 3's "Cough Syrup" is introduced as Blaine trying new material for regionals, but the true heart of the song is revealed when his performance is intercut with clips of Dave Karofsky after he's been outed at school.
The songs lyrics already hit super close to home from a mental health perspective, but Blaine's impassioned performance takes it a step further, matching the stakes of what's going on beyond McKinley. Even Young the Giant — the song's original creator — was pretty into Glee's take on things. "I don't think we ever had the intent of the song … in such a serious scene," the band's frontman Sameer Gadhia told Billboard. "It's very, very intense, very, very impactful, and we most definitely empathized with that."
1. "Somewhere Only We Know"
As if the original Keane song wasn't already the stuff of pure, feel-good, daydream-y love, Blaine had to go and make it extra beautiful by dedicating to Kurt in Season 2 — cementing it as the anthem of their budding relationship.
Blaine disguises this performance as a way for the Warblers to say goodbye to Kurt, but really, it's a love song. And a reminder to Kurt that he was extremely cared for, when he needed to hear it the most. The way Blaine tears up at the end? Or when he runs down to the piano to sing his heart out from there? It's no surprise that Kurt and viewers alike were endeared to Blaine from the start.