Steven Yeun & Joana Pak's Relationship Dates Back To Their College Years
The Minari star and Pak wed in 2016.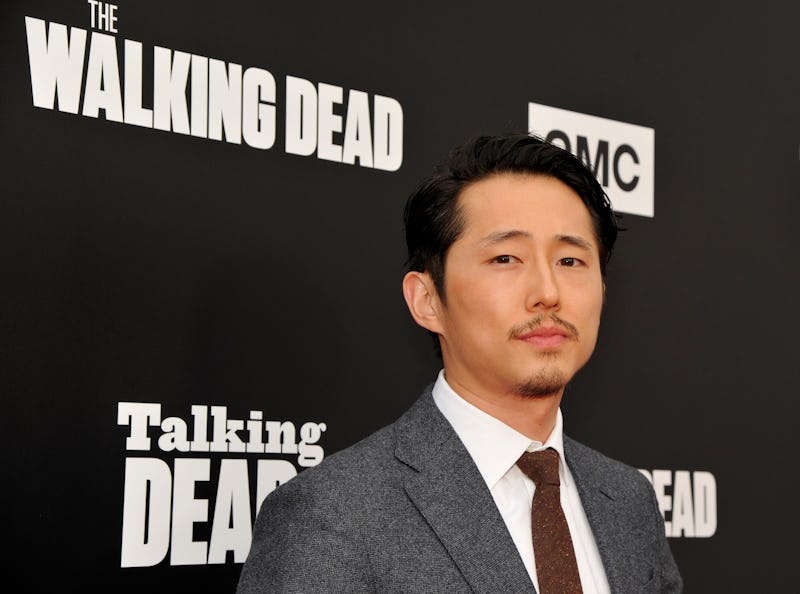 John Sciulli/Getty Images Entertainment/Getty Images
This weekend, celebrities will gather to walk the red carpet and attend an awards ceremony that celebrates the best entertainment of the year. Up for an Oscar this year is Steven Yeun of Minari fame. He's up for the Best Leading Actor category alongside Riz Ahmed (Sound of Metal), Chadwick Boseman (Ma Rainey's Black Bottom), Gary Oldman (Mank), and Anthony Hopkins (The Father). But if you don't recognize the woman who will likely attend the Oscars with Yeun, don't fret. So who is Steve Yeun's wife, exactly?
Her name is Joana Pak, and she and Yeun got married in December 2016, as reported by the Huffington Post. Don't feel bad if you don't know her, though; they didn't meet on the set of The Walking Dead, so she's not someone you'd recognize from his projects. Instead, Pak is a professional photographer who owns a photography business called Jo Pakka photography. Going even further back on her resume reveals that she studied at Columbia College in Chicago, which happens to be where she and Yeun first met in 2009. In a 2017 feature with Martha Stewart Weddings, Yeun shared, "She walked into the bar where I was a really sh*tty bartender, and it was kismet. After that, I saw her every day for six months." After that, they made a long-distance relationship work as she stayed in Chicago and he moved to Los Angeles and Atlanta to work on TWD. In August 2015, he proposed.
The couple tied the knot just six weeks after the actor ended his six-season run on the popular AMC series, putting a bit of a silver lining on Glenn Rhee's gruesome fate. And back when Glenn's widow was expecting a baby on The Walking Dead, Pak herself was also pregnant with the couple's first child. So even if Glenn couldn't get the happy ending he deserved, it should be gratifying for fans to see Yeun himself attain the peace and happiness that eluded his character in the zombie apocalypse.
Pak and Yeun now have a son, 4-year-old Jude Malcolm, and a daughter, whose name they didn't reveal when she was born in 2019. The parents are incredibly private when it comes to their personal lives and their family, so fans will have to wait until they're ready to share more. In the meantime, everyone can tune in to the Oscars on Sunday, April 25, at 8 p.m. ET on ABC to see if Yeun wins and attends with his wife.
This article was originally published on