Nope Fan Theories & Everything To Know About Jordan Peele's New Sci-Fi Horror
After Get Out and Us, the director is back with another must-watch horror film.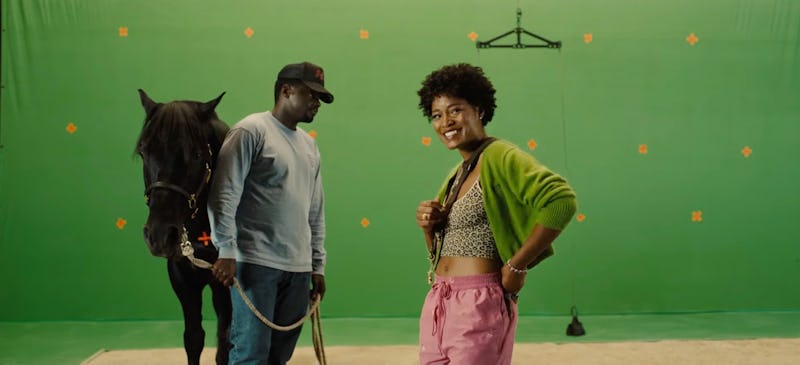 Universal Pictures
Who can forget Lupita Nyong'o's eerie turn in the 2019 doppelgänger thriller Us, or isn't still a little uneasy from Daniel Kaluuya's disastrous meeting his white girlfriend's family in 2017's Get Out? Actor-turned-director Jordan Peele was behind both, and in just a few short years, he's made a name for himself with award-winning films that are at once politically astute and bone-chilling. (Get Out, Peele's directorial debut, even earned him an Oscar.) Happily for Peele's fans, the director is back this year with another frightening project: Nope. With the full trailer for the movie finally released and first reactions of the movie coming back positive, eager audiences have gotten a first glimpse at Peele's newest creation.
Based on the new trailer, Nope may well stand for Not On Planet Earth. As some speculated when the film's teaser poster was released, Peele appears to trying his hand at a new subgenre of horror: the alien invasion movie. In the short preview, stars Keke Palmer, Steven Yeun, and returning Peele alum (and recent Oscar winner) Daniel Kaluuya all find themselves staring skyward and running away from something big and scary. What that is, exactly, will remain a mystery for a little while longer. Below, but everything we do know about the new thriller Nope, including its 2022 release date and how to watch the movie.
The Nope Cast
Get Out fans can't wait to see Daniel Kaluuya reunited with Peele for Nope. Kaluuya's lead role as Chris Washington in Get Out earned rave reviews and even Oscars recognition (though it didn't get him an invite to his own premiere). When Peele was asked about Kaluuya by GQ in 2017, he said, "As a protagonist, he has this inherent goodness of spirit that you can feel; he has an intelligence that you can feel."
Starring alongside Kaluuya are Steven Yeun (Minari) and Keke Palmer (Hustlers) — the latter of whom briefly worked with the director on Key & Peele in 2013. Talking about her upcoming hush-hush project to Refinery29 last April, Palmer said, "It's just the kinda thing that's serendipitous," adding, "Things are aligned. It's like the things you wish for actually coming to fruition."
According to The Hollywood Reporter, Peele previously stated, "I don't see myself casting a white dude as the lead in my movie." He kept his word with a diverse lead cast.
In addition to these three leads, Peele also cast Barbie Ferreira, Brandon Perea, and Michael Wincott in the film, according to Deadline.
The Nope Trailer
On Super Bowl Sunday, Universal Pictures shared the film's first full trailer. The two-minute preview opens with an iconic image: Eadweard Muybridge's zoetrope of a horse in motion, aka the first "film" ever recorded.
Keke Palmer's character explains to a camera crew that the jockey in the film was Black — and also her great-great-great grandfather. She uses this fact to market her business: training horses for Hollywood. The trailer doesn't actually show Palmer's character on a horse, though — Kaluuya's character, Palmer's brother, is the one spending time with the horses. He's later seen fleeing the mysterious threat on horseback.
The real drama begins when the power goes off in Palmer's character's house, and something appears in the sky. Soon, everybody's looking up and running away from the unknown danger. Palmer even gets sucked up into the air. And in one shot, a large, bloody hand reaches out to a child's hand. Is that bloody appendage another human's or an alien's, and is the gesture a threat, or a friendly outreach? There's no way to know until the movie is out.
On June 9, 2022, the film's final trailer was released, striking a notably different tone than the first. Balancing horror, comedy, and action within the three minute video, the expanded trailer gives audiences a more substantial look into the secondary characters alongside Palmer and Kaluuya.
Yeun's character ominously narrates the beginning of the trailer as a carnival man who promises that the townspeople will "witness an absolute spectacle," and a woman with a melted face stands up and looks to the sky. It appears that Yeun's character has deeper connections to this world via a flashback to him as a young child on a movie set.
But after the title card, the tone shifts dramatically and reveals that Palmer's and Kaluuya's characters aren't completely traumatized by the extraterrestrial sighting; instead, it seems they are cooking up a get-rich-quick scheme that entails capturing the mysterious alien existence on camera. They team up with Perea and Wincott's characters to get the "Oprah shot," tempting fate along the way.
The Nope Premiere Date and How To Watch
On July 22, 2022, viewers can head to theaters to watch the new Peele thriller. There's no update yet if the Universal Pictures deal will hit streaming around the same time. For now, it seems viewers can only experience the terror in high-definition surround sound — the best horror experience.
Nope Fan Theories
Ever since the announcement of the film, fans have become armchair detectives with their ideas of what the film might be about. Early speculation from the key art centered on the characters encountering aliens, and after a UFO was revealed in the trailers fans quickly latched onto the idea that the title of the movie may stand for "Not Of Planet Earth" (though Peele has said that the title is a reflection of how audiences will feel while watching the film, telling CinemaCon audiences, "I like the titles that are in tune with how the audiences are feeling and reflect on what they're thinking and feeling in the theater.")
Some have taken the alien theory a step farther and suggested that Kaluuya and Palmer's characters are aliens themselves who sought refuge on Earth and are now being followed in order to be brought back to their home planet. Another theory posits whether Kaluuya and Palmer's characters are able to communicate with the horses, which are a recurring theme in the trailer, through telepathy.
One Reddit user also suggested that the extraterrestrial beings are there to abduct the white horse in the trailer, curing it from an unknown illness which sets off a town-wide interest in the alien forms.
Peele's movies have had an underlying social message as well, and some fans are theorizing that Nope will be a social commentary about immigration: as aliens arrive in a foreign place, the existing populations react with fear instead of welcoming them. "The real horror isn't the aliens, it's how Americans/people react to them," one Redditor suggested.
Others have built on this idea stating that it's a message about colonialism and human panic, hypothesizing that the aliens in the film are coming to help the humans but are met with resistance. "The fear of the unknown makes [humans] turn into monsters," they wrote.
Another theory hypothosizes that the entire UFO sighting is a hallucination from a manmade gas leak, inciting an allegory for climate change.
Many are also seeing parallels between the film's trailer and The Twilight Zone episode "The Monsters Are Due on Maple Street," which centered on an alien sighting that induced panic and paranoia in a small town. Peele himself recently developed a remake of the 1960s series, and based his last film Us on another episode of the show called "Mirror Image," so it wouldn't be a surprise if the classic show once again served as inspiration for the filmmaker.
This post will be updated with additional plot and cast details as more information on Nope becomes available.
This article was originally published on