5 Things People With A Widow's Peak Can Understand
Including the endless ponytail struggle.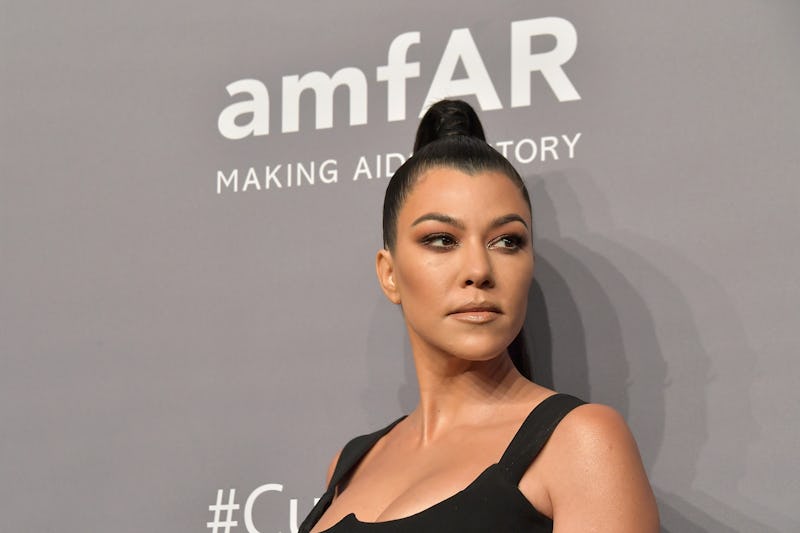 Michael Loccisano/Getty Images Entertainment/Getty Images
Hairlines are genetic traits that we have essentially no control over. One of the more prevalent ones is the spooky-sounding widow's peak. If you are unfamiliar with the term, it refers to a small, V-shaped patch of hair right at the top of where the forehead hits the hairline.
There's a fair amount of lore surrounding the widow's peak — namely that it is a dominant hereditary gene and that it's quite rare. These are both false, however. Like all hairlines, genetics play a role but there is no evidence that it is dominant over other types. And there's not data or science backing up the idea that it's a rare facial phenomena. It may seem that way however, since they can be obscured by the hair when it's down and loose.
The widow's peak is most visible when the hair is short enough to show the hairline or when it's pulled back, like in a ponytail. All genders can have widow's peaks, and celebrities ranging from Kourtney Kardashian to Colin Farrell have one, too.
Because of the way the way hair grows from a widow's peak, dealing with it can be daunting and confusing. Below, you'll find ways to help you understand it.
1. The Frustrating Frizzy Cowlick When You Have A Widow's Peak
There are plenty of redeeming qualities to having a widow's peak, but there are also difficulties. Case in point? The frizzy cowlick. The patch at the forefront of your scalp operates on a different wavelength than anywhere else.
Hours upon hours and bottles of hairspray can be spent trying to tame the most stubborn, frustrating little triangle of hair in the world. That piece just doesn't blend into the rest of your mane that easily, a problem that is exacerbated in hot and humid weather.
2. The Versatility of A Widow's Peak Part
A major benefit of the widow's peak is versatility. The peak makes it so that you can naturally part your hair any number of ways. After you get out of the shower, it's like a game of roulette deciding where to part your hair that day. It'll part just as easily to the right, left, or in the center. Not having to pick a side for the part is nice and creates limitless options if you like experimenting with your hair.
3. Window's Peaks Have Potential For Easy Hairstyles
For the most part, people with widow's peaks have heart-shaped faces. While it's not true for everyone, people with widow's peaks typically have a wider forehead and a narrow chin. And the benefit in this is that it makes it super easy to pull off bangs.
Even if you've never really been a bangs person there are reasons to reconsider (like, uh J.Lo) — it's a great way to switch things up without committing to something permanent. Whether they're short, wispy, or long, the widow's peak can make bangs more even and complementary with a narrow curve right in the center of your face. And if you're conscious about your widow's peak it can also subtly hide them.
4. The Widow's Peak Ponytail Struggle
A perfect ponytail is already the hardest thing to accomplish. Throw a widow's peak into the equation and it's pretty much impossible to do. While that little tuft of hair might seem harmless, it poses the biggest threat to a sleek up-do where all your hair has to meet in one place.
Even if the classic ponytail is a no go, you could try a middle part pony which might circumvent some of the cowlick-sprouting hairs issue.
5. Celebrity Hair Muses With Widow's Peaks
Finding a celebrity hair muse is tough work. You want someone with locks you can relate to but you also don't have a beauty team on call to fix your fly aways. An easy way of finding celebrity inspo is through hairlines.
For a tough trait like the widow's peak, seeing how a celebrity styles their hair can help give ideas and solutions on what to do with your own unruly tresses. And you have options too! The peak club includes women like Kerry Washington, Nicole Kidman, Blake Lively, and Anne Hathaway. It's also common in men, see: Leonardo DiCaprio and Keanu Reeves.
This article was originally published on