Gabby Douglas Shares Her Surprising Ritual For Relaxing Before Bed
Plus, how she stays motivated in a pandemic.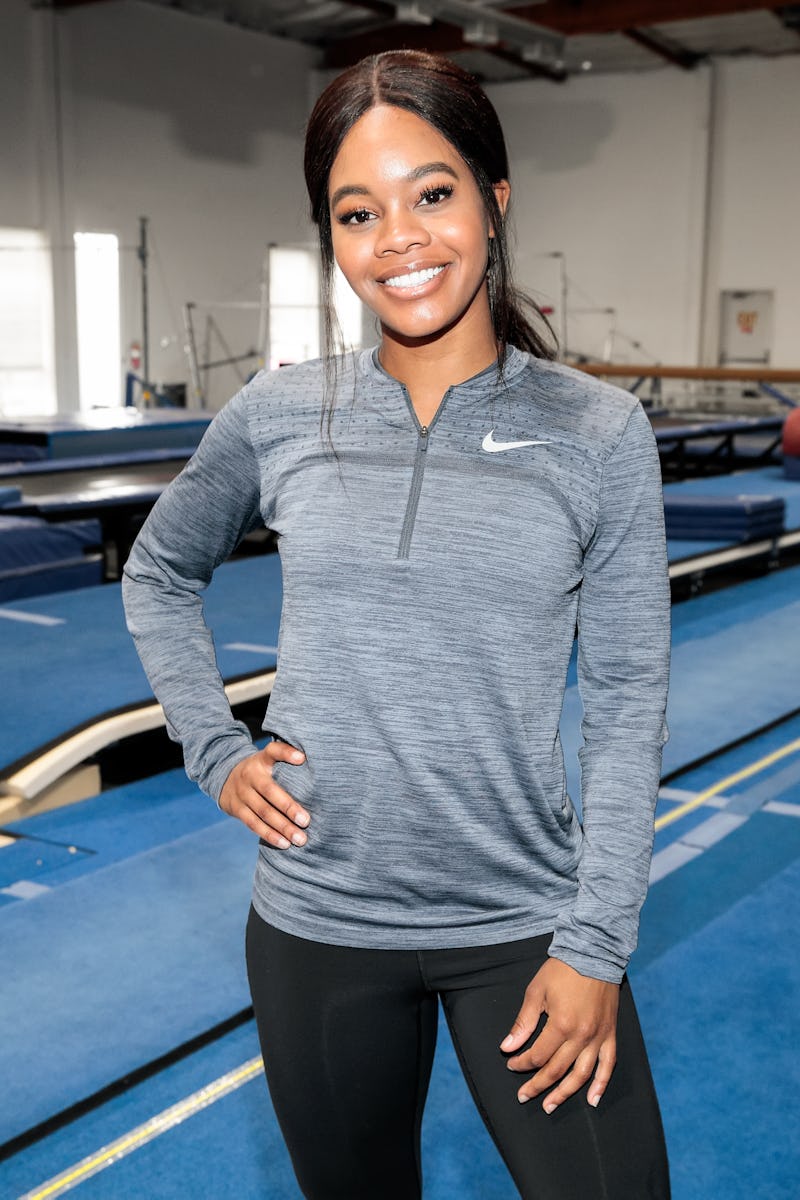 Rich Polk/Getty Images Entertainment/Getty Images
Gabby Douglas is having a highly productive quarantine. Between winning season 1 of The Masked Dancer as Cotton Candy, showing off her flexibility on TikTok, and cooking up vegan dishes, the three-time gold medalist is also teaching herself how to play the guitar using an app.
"It's going so well, but I never knew how much finger power it took to play the guitar. I even had calluses on my hands," says Douglas, who recently partnered with Smoothie King for its new line of collagen-containing Stretch & Flex smoothies (available in Tart Cherry and Pineapple Kale). Here, Douglas tells Bustle about what it was like competing on The Masked Dancer, the music that motivates her, and the self-care ritual she swears by.
Douglas On HIIT & Trampoline Workouts
Though Douglas won't be participating in the 2021 Olympics, maintaining incredible physical and mental stamina year-round is a must as an athlete. Staying motivated during a pandemic, on the other hand, is proving to be the most challenging for Douglas these days. "You're torn between, 'Should I push my body or should I not?'" she tells Bustle. "It's a little devastating as an athlete because it's so wavering, but you just have to stay optimistic, not push too hard, and take everything day by day."
On the days she needs to hit the gym, Douglas relies on trampoline and high-intensity interval training (HIIT) workouts to maximize her workouts. "I love to sweat, so that's when I do HIIT workouts. It's just enough for you to be active, stay in shape, and not overwork your body," says Douglas. "I love trampoline workouts for low impact, if I'm not feeling as energetic. I just love to bounce around ... I believe in having fun when you're working out."
Douglas On The Masked Dancer & Her Workout Playlist
In February, Douglas took home the Diamond Mask Trophy on the first season on The Masked Dancer as Cotton Candy — and although she brought her gymnast moves to the competition, her mindset was slightly different from when she's on the mat.
"With gymnastics, I kind of stay to myself and stay inside my head, but with The Masked Dancer, everyone is joking and messing around because the show is so fun and there's not a lot of pressure since we're all in costumes," she says. "They're hyping me up in the back and onstage during the performance, so that really helped motivate me."
And when it comes to getting in the zone, Douglas' playlist focuses on channeling a chill mindset. "Tom Rosenthal is a good one for inspirational vibes," she says, "but I also listen to a lot of instrumental violin and hip-hop violin when I'm in the mood for something more dancey and upbeat."
Douglas On Her Self-Care Routine & Post Workout Remedies
In a year of loss and uncertainty, Douglas has found comfort in being outdoors. "I just stay connected and grounded with Earth and with Mother Nature, because that's where we came from, so going back to her has been beneficial and so amazing," she says. She also credits yoga for relieving tension and sore muscles, especially after an intense workout.
When it's time to relax, Douglas' routine almost always starts with cleansing her face, followed by a meditation session accompanied by essential oils — think lavender, rosemary, and, her personal favorite, lemongrass. "We could be here all day because I have so many essential oils," she jokes.
Another pre-bedtime ritual: "Pinterest is like my best friend. I look up everything — guitars, food, furniture, recipes, fashion, you name it."
As a lifelong athlete, Douglas has always prioritized self-care, and the pandemic has only caused her to double down on those rituals. "Staying healthy goes deeper than wiping down surfaces and washing your hands. I've become more aware of the energy of people around me," she says. "You have one body, one life, so you want to do everything you can to take care of it. You literally can't be of benefit to anyone around you unless you take care of yourself first."
This article was originally published on