Hangout Is The Luxury Music Festival That Puts Coachella To Shame
Beachfront views, an A-list lineup, and more — for half the price.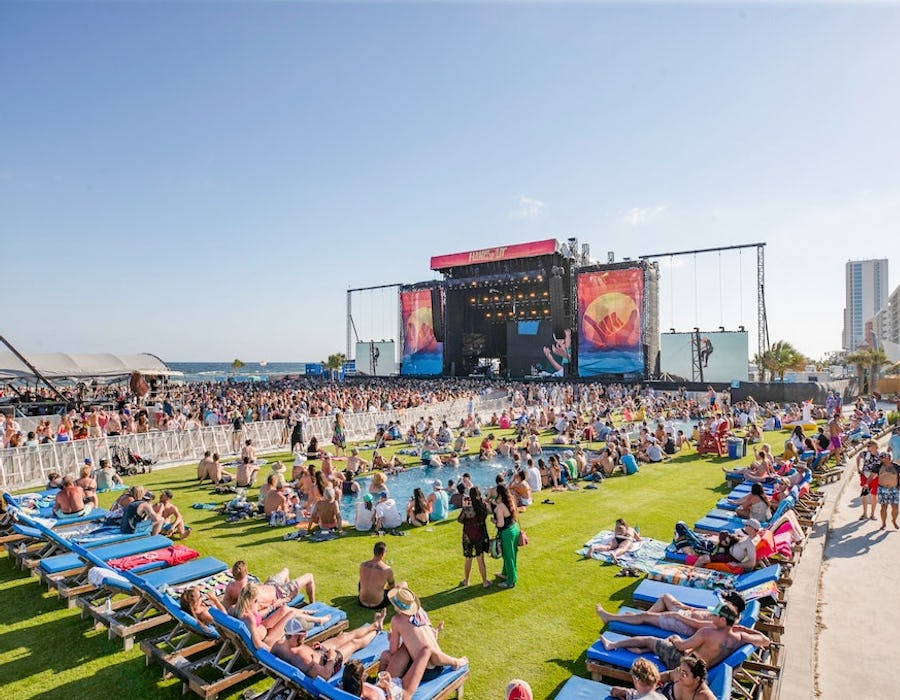 Courtesy of Hangout Music Festival
I'm not gonna lie, I love Coachella — the stunning desert views, the innovative fashion, the celeb spotting (I once cut Victoria Justice in line for a lobster roll by accident), not to mention the non-stop spin-off parties, and the performances themselves. But when I first heard about Hangout Music Festival, my first thought was: this is better.
Hosted on the white-sand beaches of Gulf Shores, Ala., Hangout is the ultimate luxury music festival experience. With shoreline villas, stage-side swimming pools, and a stacked lineup (headliners include: Lil Nas X, SZA, and Paramore), this festival is well worth a trip to the south.
A General Admission ticket alone gets fans weekend-long access to the festival (naturally), as well as beach and pool access — plus, entry to multiple beach clubs and a full-size roller disco rink. At $349, that amounts to $113 per day, compared to $450+ ($150 per day) at Coachella.
Unlike Coachella, Hangout's VIP option isn't just a crowded VIP section apart from the equally-crowded GA section. Priced at, $1,399 for a 3-day package (about $466 per day), VIP passes come with all of the aforementioned benefits and offerings, as well as access to a swimming pool at the Main Stage, in addition to private beach clubs and viewing areas. VIPers will also have free reign of the VIP Grove Lounge, where they'll be treated to complimentary cocktails, beer, wine, and snacks.
Hangout festivities also include a waterfront wedding chapel, for anyone who's really invested in the festival lifestyle — yes, you can actually get married there. Like any good tropical getaway, fans can purchase private cabanas right next to the stage, equipped with a private all-inclusive bar, padded hammocks, an on-site chef, and more. All this, and I haven't even gotten to the performances yet.
Arguably one of the best this year, Hangout boasts a full lineup of A-listers who will take the stage right on the beach. Headliners include SZA, Lil Nas X, Red Hot Chili Peppers, Calvin Harris, Skrillex, Flume, The Kid LAROI, and for former emo kids like me, Paramore. Basically, it's my Spotify Wrapped IRL.
TL;DR — you can catch me there May 19-21.