Your Comprehensive Guide To Planning A Bachelorette Party That Doesn't Suck
"I looked over and everyone was at the bar crying because two people argued."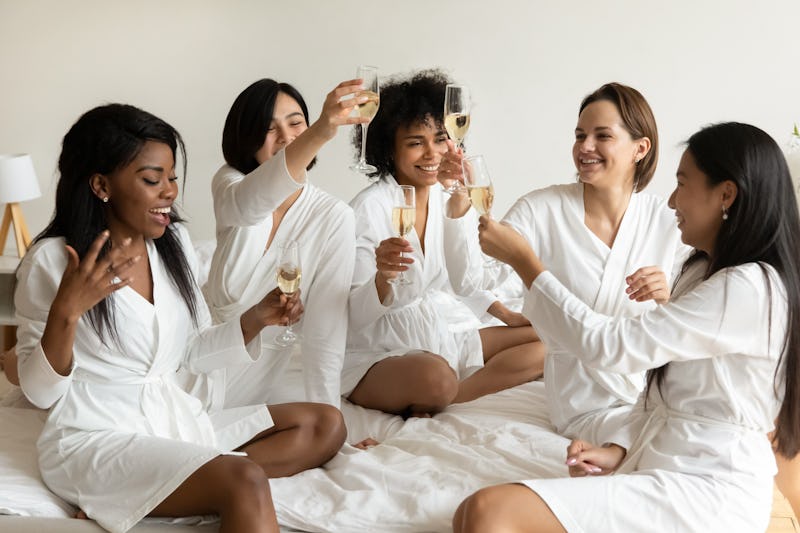 Shutterstock
Bachelorette parties seem to go one of two ways: They're either a huge success and everyone leaves with fun memories that last a lifetime, or they're a total train wreck. There's no in-between. That's why, if you find yourself planning one for your bestie, it's worth it to know what makes for a good bash — and what sends the rite of passage off the rails.
A bachelorette party is, of course, the tradition of getting a bride's friends and family together to celebrate her "last night as a single person" before marriage, says Carrisa Kruse, a professional wedding planner and founder of Carissa Kruse Weddings. It's fairly cut-and-dried, but as with most things wedding-related, the event can take a nosedive if the bridal party isn't on the same page.
If the maid of honor — aka the one who usually plans the bachelorette — schedules a night of drinking and debauchery while the bride is more low-key, you can see how tempers might flare. The same is true if some folks want to travel abroad while others don't, if some are Type A while others are relaxed, and if some want to stick to a budget while everyone else is ready to make it rain at the club.
Planning a bachelorette party comes with a lot of responsibility, and there's a lot to take into consideration, but you can easily win the day by following a few tips, courtesy of people who have been there.
1. Don't Make Assumptions
When planning a bachelorette party, the last thing you want to do is make assumptions. "Communication is key," Kruse says. "Talk to the bride-to-be to get a sense of what she would like, and also talk to the bridal party members." That way you won't have to take a wild guess when it comes to planning — and risk getting it all wrong.
Paige, 34, found out that her friends were secretly planning a weekend getaway to Mexico, complete with a chartered boat tour. "Honestly, I didn't want a bachelorette party at all," she tells Bustle, "so it felt way over the top." They ended up keeping things casual with a quick bar crawl in her hometown. "I didn't need to fly anywhere," she says. "I just wanted all my friends to get together."
2. Start Planning Early
While it might seem like you can throw a party together in a few days, it's best to start the planning process as early as possible. This will give you enough time to talk to the bride, as well as all the other guests — which is extra important if you don't know each other well. In a perfect world, one to three months should allow you plenty of time to explore accommodations, locations, and activities, says Whitney Villanueva, the team lead at Paradise Weddings. "Planning a last-minute bachelorette trip in two to three weeks is doable, but can be a little hectic," she tells Bustle.
3. Ask Lots Of Questions
Don't be afraid to turn yourself into an investigative reporter. (As MOH, it's your job to run the show, after all.) Ask everyone to weigh in on the ideal party spot, double-check the invite list, ask about drinking and food preferences, schedules and availability, and everyone's budget and energy levels. When in doubt, get inspo from TikToker @lindsey.major, who sent a Google form to the bridal party to see what everyone wanted to do, eat, drink, and see. Collecting data will ensure you take everyone into consideration.
4. Include Downtime In The Itinerary
Ready to plan the party? "Make sure to plan activities that will be fun for all of the guests, and also give everyone enough time to relax and enjoy themselves," Kruse says. In other words, it's totally OK if everyone spends an hour each day lying in the air conditioned hotel room with their phones. This is crucial recharge time, and it's just as important as having fun.
5. Think Outside The Box
Picture a "bachelorette party" and you might envision a bar crawl, big dinner, spa day, or weekend getaway — activities that all tend to be a blast. But don't be afraid to embrace the cheese factor, either. Shelby, 29, says the first bachelorette party she ever went to was also the best, because it was so laid-back and unique.
"We went to the Cheesecake Factory and then, randomly, out to play laser tag," she tells Bustle. "It was amazing and so cute — we all wore black, the bride wore white, and there was a group of 11-year-olds who chased us around and tried to win. We had a great time."
6. Take Frequent Temperature Checks
You'll know the planning process — and the party itself — is going smoothly if you don't sense any crankiness or tension among the group, Villanueva says. If the bride and bridal party seem like they prefer to go with the flow, there's no need to keep an iron grip on the itinerary. The less you text, email, and call everyone with details, the better. Simply plan something low-key behind the scenes, then send an invite.
7. Stay Organized With A Google Doc
On the flip side, if the bridal party is type A, go ahead and woo them with a Google doc ahead of the big day complete with hotel links, restaurant menus, a bio page introducing all members of the wedding party, an assortment of travel options, etc.
There are templates available online that you can send to everyone, for a little extra pizzazz. Creator @lindsey.major also made a Powerpoint presentation before the party with the itinerary, everyone's contact info, Venmo info, and more to be as streamlined as possible. (Round of applause, please.)
8. Be Transparent About The Budget
Apart from creating a detailed itinerary, so everyone can see the estimated costs for each component of the party ahead of time, Kruse recommends going in with a clear understanding of who's paying for what. "Typically, the bridal party or the attendees split the cost of the bachelorette party, but it's important to establish this upfront to avoid any confusion later on," she says.
If one guest is on a tight budget, it's essential to be understanding and accommodating, Kruse adds, since you won't want the bride's bestie or her favorite cousin to miss out due to money. "It's important to prioritize the comfort and enjoyment of all guests, and be sensitive to everyone's financial situation."
9. Create A One-Shot Policy
While it's OK to drink if you want to, another surefire way to avoid a nightmarish bachelorette is by going easy on the alcohol. "It is expected that some people may have a few drinks, but getting overly intoxicated can quickly ruin the night and put everyone in an uncomfortable situation," Kruse says. One easy rule? Instead of doing three Sex On The Beach shots per bar, enforce a one-drink policy per location.
Athena, 36, saw her party quickly turn into a 1 a.m. therapy session because everyone drank too much, and it completely killed the vibe. "Everyone was drinking and the bartender was giving us shots since he knew it was a bachelorette," she tells Bustle. "I was dancing, having the time of my life when I looked over and everyone was at the bar crying because two people argued. I slowly turned back around and kept dancing because I didn't want any part of any of that."
10. Rent An Airbnb & BYOB
TikToker @breakyourbudget suggests renting an Airbnb instead of a pricey hotel, especially if you have a big group. Ask guests to bring their own food and drinks to fill the kitchen at the Airbnb, DIY some fun cocktails, and enjoy being together under one roof. It may not be the blowout bash you hoped to plan but it'll be just as fun.
Although bachelorette parties often go down in history as the messiest of get-togethers, that doesn't have to be the case. Weddings are stressful as hell, so you still might encounter a hiccup or two, even if you plan it to a T. But you'll rest easy knowing you did everything possible to plan a great party.
Sources:
Carrisa Kruse, professional wedding planner, founder of Carissa Kruse Weddings
Whitney Villanueva, team lead at Paradise Weddings