June's New Moon In Cancer Will Affect These 4 Zodiac Signs The Most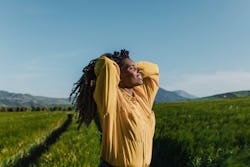 Westend61/Westend61/Getty Images
Summer is in full swing — and the burgeoning flowers, rainstorms, along with summer's first rejuvenating new moon, are a metaphor for a clean slate. On June 28, the June 2022 new moon moves into delicate and intuitive Cancer, bringing attention to the most private parts of our lives. While this lunation may be light and fun for some, the zodiac signs most affected by the June 2022 new moon will soon find that the shifts hit too close to home — literally.
New moons reset the monthly lunar cycle. Given that June's new moon is the first since the summer solstice, which heralds new beginnings, consider it a complete revival of bottled-up emotions and private revelations. Cancer is about our inner world — think family, home, and your sense of belonging — meaning this lunation will amplify the areas of life we tend to keep most private. The cardinal water sign is highly intuitive and empathetic, so those most impacted by the crab's vibes may be susceptible to emotional burnout as they tackle balancing their service to their loved ones and care for themselves.
Will this lunation strike a chord in your private life? Read on to find out if you're one of the few zodiac signs most affected by the June 2022 new moon.