4 Zodiac Signs Will Feel Ultra Bold During June's Full "Strawberry" Moon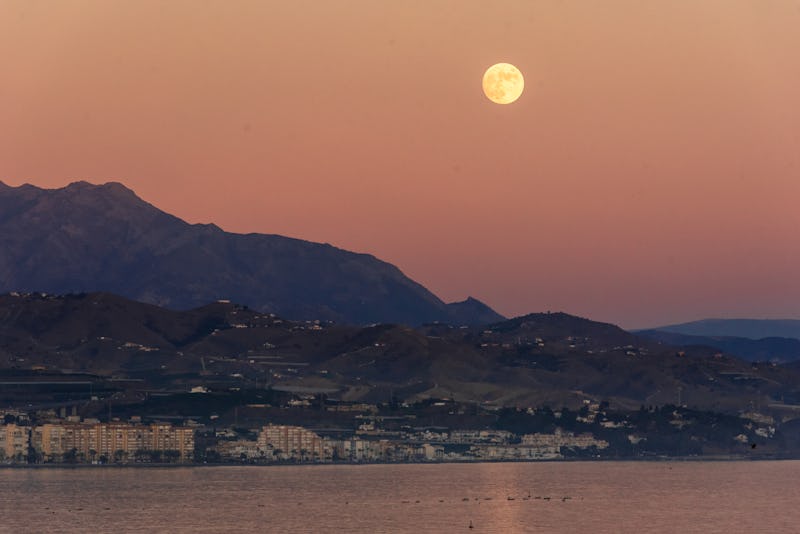 Antonio Hugo Photo/Moment/Getty Images
It's time to let loose and take chances. On June 3, 2023, the Full Strawberry Moon rises in free-spirited Sagittarius. In astrology, full moons are a time of completion, action, and release. When the moon is stationed in Sagittarius, you'll channel that sign's fearless, adventurous, brutally honest energy. Certain zodiac signs will be most affected by June's Full Strawberry Moon. If you're one of them, you're about to learn major lessons about seizing the moment while letting self-doubt take a backseat.
"Stuff that's been building up finally comes out or things change direction, and in Sagittarius, this could be about anything from booking that dream trip to changing your mind about what you believe in," astrologer Pix Wilder tells Bustle. "Think of it as like a big flashing sign saying 'Explore! Learn! Be free!"
In addition, this lunar event is "the perfect time to manifest your hopes and intentions and focus on growth and expansion," Iva Naskova, astrologer for the Nebula app, tells Bustle. "It also means facing the truth and achieving a liberating feeling of owning your deepest emotions." If you're one of the zodiac signs that's most affected by this spunky lunation, you'll feel especially inspired to broaden your horizons, take risks, and shift your perspective, especially on an emotional level.
This is a major point of expansion, whether you're ready for it or not.
Gemini, this powerful full moon is pushing your one-on-one connections to a tipping point, so stay alert about the direction all of your relationships — like your romantic, platonic, and professional partnerships — are taking right now. Maybe you're navigating a tricky issue with your partner, or maybe issues are cropping up with a coworker. "See what's working, what's not, and make some changes if you need to," Wilder says. Keep tabs on how these relationships impact your personal growth and say goodbye to the ones that keep you stagnant.
Things are getting extremely personal, Virgo, and you're in for one sentimental ride. The full moon is firing up in your area of family, so you might notice a bit of tension stirring up at home. "Whether it's a family get-together that's making you think about your roots, or you're thinking about moving, it's a time to really sit with these feelings and figure out what you want your home life to look like," says Wilder. This could be a good time to check in with your needs when it comes to your ideal domestic dynamics. Let go of generational cycles that might be hindering your ability to grow.
Take a long look at your reflection, Sagittarius. "It's your time to shine, and really show the world who you are," Wilder says. "You might find you're having some real 'a-ha!' moments about what you want or need." Are you where you need to be spiritually, or are you just going through the motions? Naskova says this is a great moment to reflect on your evolution and personal identity.
All eyes are on you to make a move, Pisces. The full moon is pressing up against your public life, so it's time to finally make decisions when it comes to work and your reputation. "Maybe a project you've been working on is finally finished, or you're getting some recognition for all your hard work," says Wilder. Itching for that promotion or getting riled up about a totally new direction? Sagittarius is pushing you to make your move. "It's a great time to think about your professional goals and where you want to go next," Wilder says.
Sources:
Pix Wilder, astrologer
Iva Naskova, astrologer for Nebula