Spring's Mercury Retrograde Will Affect These Zodiac Signs The Most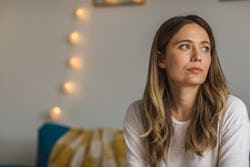 fotostorm/E+/Getty Images
It's that time again: Mercury is almost retrograde. The heavenly body is causing a bit of intergalactic mayhem from May 10 through June 3, marking the second of four backspins in 2022. As usual, you can anticipate misunderstandings, tech blunders, and travel delays. This spring, Mercury is making a cameo in chatty Gemini for the first half of its backpedal. The second half of this pesky transit will be spent in homebody Taurus, adding a bit of stubbornness in love and your career. While these twists and turns will impact everyone, the zodiac signs most affected by the Mercury retrograde spring 2022 will feel the brunt of its celestial chaos.
Mercury rules deep thinker Gemini and ultra-organized Virgo and it's associated with topics like thought processes, communication, travel, and technology. When direct, the celestial body is responsible for keeping these daily essentials running smoothly. During its periodical rewind, it causes disruptions to your planning process, communication malfunctions, and confusion at every turn. Spending time in its native chatty gabby Gemini spells extra mischief in areas of communication, plus foggy ideas and social media blunders. When Mercury sashays into overindulgent Taurus, you can expect an insatiable urge to splurge and romantic rear-enders (yes, including those texts from that ex). Those most impacted by Mercury retrograde may experience the classic return of exes, but also may be hit with pesky late fees, office drama, or disagreements with their partners.
If you're one of the unlucky ones during this transit, you may want to buckle up. Read on to know if you're one of the select zodiac signs who will be most affected by the Mercury retrograde spring 2022, plus, tips on how to overcome the cosmic upheaval.