12 Subtle Signs Someone Is Crushing Hard On You
It might be time to make your move.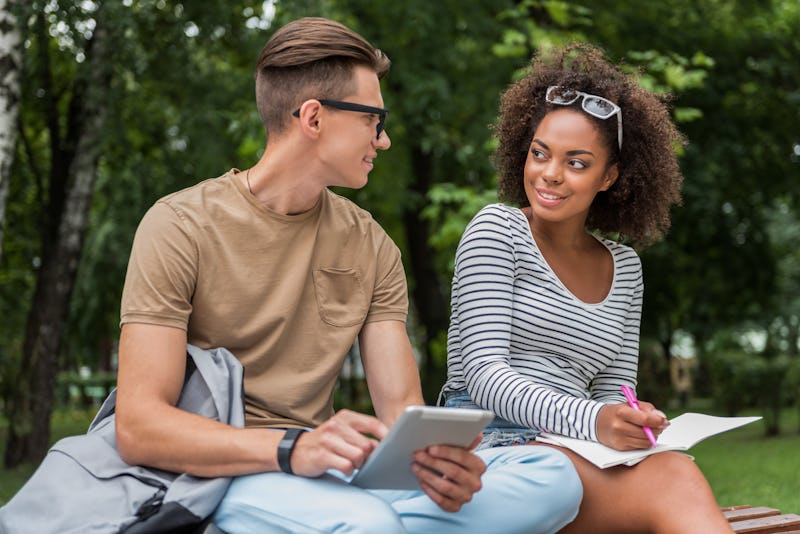 Shutterstock
In elementary school, having a crush meant you whispered to all your friends about how cute they were and never, ever actually spoke to the object of your affection. This would continue over and over as you moved on and found someone new you liked. As adults, it'd be great to say we've moved on from this and are 100% open about how we feel when we're attracted to someone. Unfortunately, being upfront about who you have feelings for can still feel as scary as it did back on the playground — especially if you're not sure they feel the same. Hey, telling your crush how you feel takes a lot of guts, and sometimes it feels easier to just play it cool and see how it goes.
Fortunately, Reddit users are here to help you figure out exactly how to tell if someone has a crush on you. An AskReddit thread asked, "What screams, 'I have a crush on you'?" and users responded with everything from personal anecdotes to simple signs of crushes to take note of. All of these examples, as behavioral scientist and relationship coach Clarissa Silva tells Bustle, come down to the science of what's happening in our brains when we develop feelings toward someone.
"Brain and behavior give it away all the time!" Silva says. "There are a few neurochemical processes that are occurring for both men and women when they are into each other: Your body is releasing adrenaline, dopamine, and serotonin, in addition to testosterone and estrogen. When you're into someone, your body speeds up to process them all."
It can be tricky to spot the signs someone has a crush on you. It's good to know what to look out for if you think somebody likes you — and what little hints you can convey if you're into someone, too. Here are the signs someone has a crush on you, according to both Reddit users and experts.
Having a crush is a fun, exciting thing that makes you constantly feel just a bit giddy and as if you're on the edge of your seat. It's important, though, to remember not to get too caught up in trying to read and interpret signs that someone may (or may not) be giving you, according to Silva.
"Intuition does offer quick appraisal of a person and how they make us feel, but that might not always be reliable," says Silva. "Our brain is constantly comparing our current situation with our memories of previous situations. So, when trying to read someone's behavior, it might be based on past experiences and our desire for us to confirm that we're reading it right."
Of course, it's always best to be upfront about how you're feeling, but sometimes that is easier said than done. Whether you're trying to find out if someone likes you back or show someone you're into them, these little signs can be huge hints in most situations. Here's to hoping they blush back.
Studies referenced:
Hall, J. A. (2015). Sexual Selection and Humor in Courtship: A Case for Warmth and Extroversion. Evolutionary Psychology. https://doi.org/10.1177/1474704915598918
Hughes, S.M., Harrison, M.A. & de Haan, K.M. (2020). Perceived Nervous Reactions during Initial Attraction and Their Potential Adaptive Value. Adaptive Human Behavior and Physiology 6, 30–56. https://doi.org/10.1007/s40750-019-00127-y
Leknes, S., Wessberg, J., Ellingsen, D.-M., Chelnokova, O., Olausson, H., & Laeng, B. (2012). Oxytocin enhances pupil dilation and sensitivity to 'hidden' emotional expressions. Social Cognitive and Affective Neuroscience, 8(7), 741–749. https://doi.org/10.1093/scan/nss062
Yang, A. X., & Urminsky, O. (2018). The smile-seeking hypothesis: How immediate affective reactions motivate and reward gift giving. Psychological Science, 29(8), 1221–1233., https://doi.org/10.1177%2F0956797618761373
Experts:
Clarissa Silva, behavioral scientist, relationship coach and creator of Your Happiness Hypothesis Method
Holly Schiff, clinical psychologist
Brenda Della Casa, relationship expert
Jaya Jaya Myra, author and life coach
Susan Golicic, certified relationship coach
This article was originally published on