5 Tarot Cards That Symbolize Twin Flame Relationships
They're meant to be learning experiences.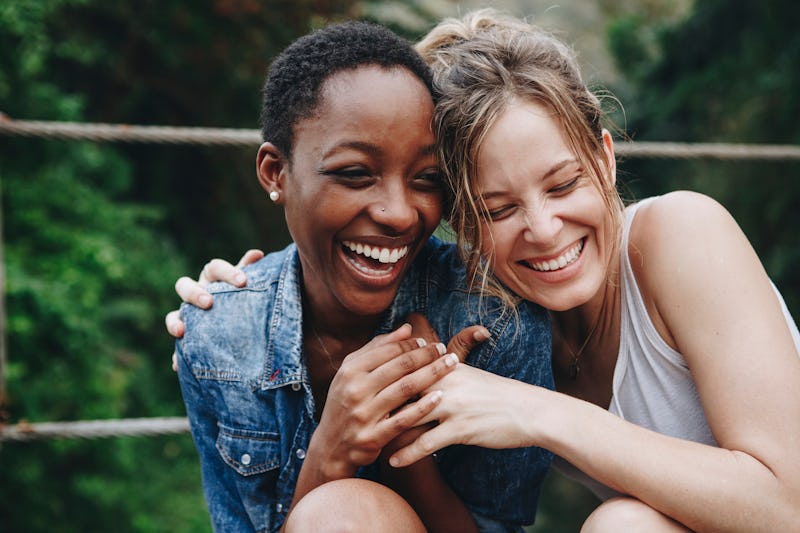 Rawpixel.com/Shutterstock
A twin flame relationship can seem like a wild roller coaster full of intense emotional highs and very low lows. In fact, Alane Hathaway, tarot reader and psychic, tells Bustle it's one of the "most challenging and profound connections" you can have in your lifetime. If you feel like you may be in a twin flame relationship, consulting the tarot deck can help you better navigate your twin flame journey. It all starts by learning which tarot cards show a twin flame relationship in a love reading.
Everyone has their own idea of what a twin flame is, but in general, they're seen as your spiritual twin. They're basically "two halves of one soul," tarot reader Michelle Welch tells Bustle. While that may seem romantic, it's actually a very challenging relationship by nature.
"Twin flames give each person a look in the mirror at who they really are, and this may reveal a shadow side that needs to be dealt with in life," Welch says. "These relationships tend to run hot and passionate. While a twin flame can be your greatest teacher, sometimes things are mirrored back and you may become resistant or defensive."
Since twin flame relationships are meant to be learning experiences, a tarot card reading, either done professionally or by yourself, can help you gain insight into your specific situation and what you can do moving forward. According to Hathaway and Welch, there are several tarot cards that point to a twin flame relationship that you may want to look out for.
Sources
Michelle Welch, tarot reader and owner of SoulTopia, LLC
Alane Hathaway, tarot reader with The Rising Moon