6 Signs Of A Past Life-Connection, According To Psychics
Hello? Is it me you're looking for?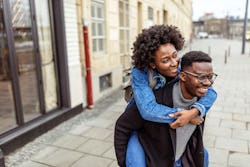 ljubaphoto/E+/Getty Images
Have you ever run into someone who you immediately felt a strong connection to, despite the fact that you'd never met before? This phenomenon could just indicate a random but powerful synergy between two strangers. However, if you're open to the idea of past lives, there's a chance you may have known that familiar-seeming stranger at a totally different place and point in time. Many psychics, spiritualists, and people of different faiths believe that we have past-life connections with the people, places, and even pets in our current lives. If you've ever wondered whether you had a past life, you'll probably want to know how to tell if someone you know was in your past life, too.
Regardless of whether you believe in them or not, the concept of past lives and reincarnation are deeply embedded in belief systems around the world and throughout history. Many religions — including Hinduism, Buddhism, and some sects of Judaism and Islam — incorporate ideas about past lives and reincarnation into their traditions and ideologies, and services like past life readings have gained popularity in Western new age circles, too. The concept of a past life hinges on the idea that we have a non-physical soul or essence that moves from one physical body to the next over the course of multiple lifetimes — which means that, in theory, you may have had many lives and connections with others before the one you're currently experiencing.
"Everyone has a past life or lives," psychic Andrew Brewer tells Bustle. "People reincarnate because they like to be here." It's possible that your soul essence has taken physical form in your current life because it's been here before and now wants to experience something more or grow in some way. And while our reincarnating souls may evolve in a way that brings wisdom to future lifetimes, according to Brewer, people don't change too drastically from one lifetime to the next. "Think of each incarnation as the soul's personal expression of self," Brewer says. "Each go round, we come with similar traits, talents, and quirks — as well as consistent physical qualities, regardless of race or gender — that echoes our dominant soul essence."
Because we tend to reincarnate "looking, acting, thinking, and processing" in a similar way throughout multiple lifetimes, according to Brewer, it makes sense that we might also have IRL run-ins with souls that we've known in other lives. Meeting someone you've known in a past life brings a unique and powerful connection — and according to psychics, there are some signs to look out for that can tip you off.
If you've got a wild connection with someone and are wondering how to tell if someone is your past life partner, here's what to look out for.
This article was originally published on