9 Actions You Can Take To Combat Climate Change
If the UN report freaked you out, here's what you can do.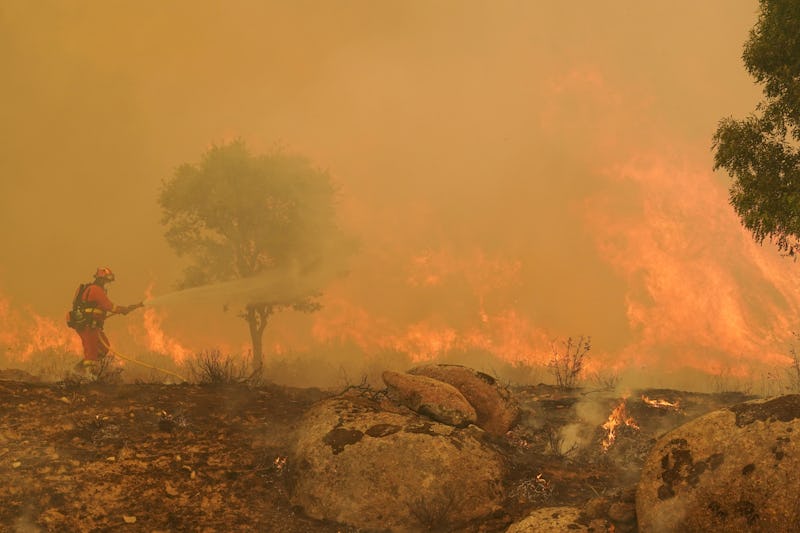 CESAR MANSO/AFP/Getty Images
Changing to reusable grocery bags, recycling, biking rather than taking a car — you're probably well-versed in the little ways you can help the environment. But the release of the United Nation's Intergovernmental Panel on Climate Change (IPCC)'s report on Aug. 9 showed that the impact climate change is getting worse — and it's on governments and corporations to make sweeping changes. Now.
"Climate change isn't something we can solve by changing how we shop, how we eat, and how we travel, although all of those things do matter," Steve Easterbrook, Ph.D., director of the School of the Environment at the University of Toronto, tells Bustle. "The changes we need to make involve a fundamental transformation of society."
The IPCC report says that climate change has "unequivocally" been caused by humans. It also notes that "immediate, rapid, and large-scale reductions" in emissions worldwide are needed to stop the planet from heating by more than 1.5° Celsius, which would cause catastrophic damage — think, continued massive heat waves, worsening droughts, more destructive wildfires, and more intense storms. Though the climate change we'll see over the next 30 or so years is inevitable, the report also found that limiting the degree of warming to 1.5° Celsius is still possible, meaning the planet can avoid an even worse outcome.
Governments and corporations need to make big changes to lower emissions and tackle the climate crisis, Easterbrook says. "But they will only do this if we, the people, demand it." That means you have an opportunity to help — here's how.
Individual action won't be enough to stop the course of climate change, Clark says, but pulling together to fight can make a big difference. "To change the larger system, individuals need to rally and vote for government officials and decision-makers who make addressing the issue of climate change a priority." So do a J.Lo, and let's get loud.
Experts:
Susan Clark Ph.D., assistant professor at the Department of Environment & Sustainability at the University of Buffalo
Steve Easterbrook, Ph.D., director of the School of the Environment at the University of Toronto
Sabrina Fu, Ph.D., professor of environmental science at the University of Maryland
Teresa Kramarz Ph.D., associate professor and research associate at the Munk School of Global Affairs and Public Policy at the University of Toronto