4 Zodiac Signs Least Affected By The October New Moon
Most signs are about to go through a stressful time — but not these lucky four.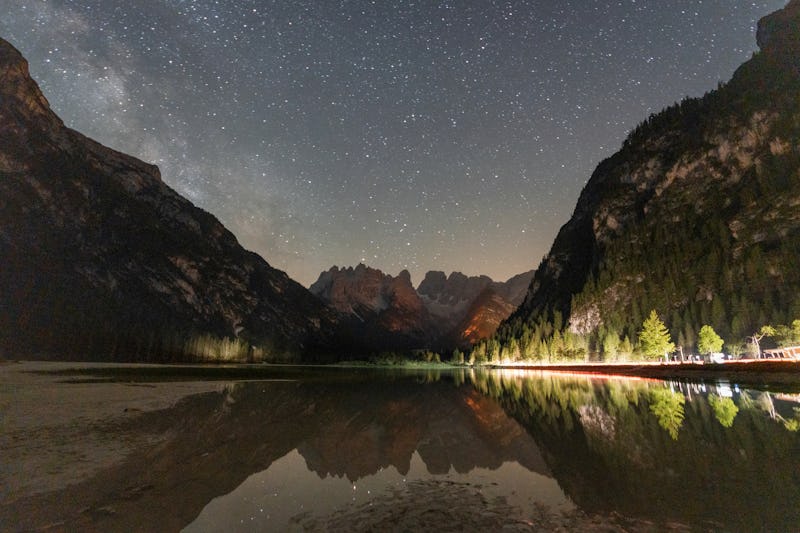 Ratnakorn Piyasirisorost/Moment/Getty Images
Is it really Scorpio season if there isn't a bit of spicy drama? That's exactly the type of vibe that the October 2022 new moon solar eclipse is bringing on Oct. 25 in elusive Scorpio. This dramatic lunation will bring change and unveils hidden emotions. The intuitive water sign will create plenty of opportunity for a change of heart, so be prepared for a few surprises. But for the zodiac signs least affected by the October new moon, these energetic shifts spell fresh opportunities for growth and expansion.
"The vibe of this solar eclipse will be nothing short of intense," Desiree Antila, astrologer and author of the forthcoming book, Sun Signs In Love tells Bustle. "Scorpio is not an easy place for the Moon to be and is traditionally considered at its 'fall' here."
Typically, new moons are a time of rest and reset in astrology. It's the best time for intention-setting, planning, and reflecting. But solar eclipses — which happen when the new moon becomes sandwiched between the sun and earth — sing a different, much more chaotic tune. "[Solar eclipses] are a time when doors shut and new ones open, illuminating the fact that we need more than what we are currently receiving," says Antila. But if you're one of the lucky few who will be spared during this lunation, these eclipsed feelings will offer opportunities for change, and letting go will feel liberating above everything else.
The eclipse will conjunct Venus in Scorpio, bringing bottled-up emotions and secrets up to the surface as they relate to our relationships and finances. But rather than a change of heart, these revelations are there to help strengthen the bond you have with others — Scorpio is the sign of deep intimacy, after all.
Keep reading to find out if you're one of the zodiac signs least affected by the October 2022 new moon solar eclipse.
Expert:
Desiree Antila, astrologer and author