12 Eye-Opening Documentaries Streaming Now That Will Make You See The World Differently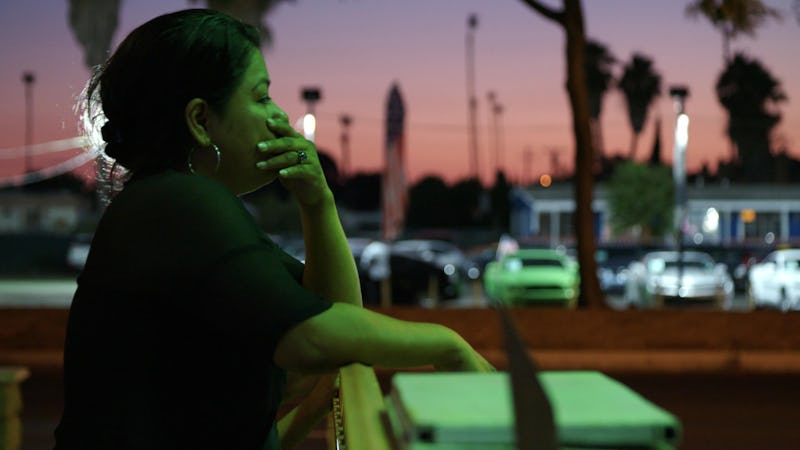 Netflix
Since America has the most advanced health care system in the world — or so we have been told — we expect that the drugs and devices we put into our bodies go through rigorous testing and only end up on the market if they're absolutely safe. Yet that's not always the case, and the new Netflix documentary The Bleeding Edge exposes the many issues within the medical device industry. In the film, out July 27, Oscar-nominated filmmakers Kirby Dick and Amy Ziering offer a look at the so-called life-saving technologies that actually be killing us, and scarily, The Bleeding Edge is just the latest in a number of recent eye-opening documentaries streaming now that are absolute must-sees.
From criminal justice policies to prescription drugs to immigration to amusement parks, the documentaries on this list explore important topics in shocking, essential ways. These 11 films will open your eyes to issues that you might never think about otherwise, and together, they might offer a new way of thinking that can lead to action, activism, and potential change.
1. Newtown (2016)
Instead of discussing gun control generally, director Kim A. Snyder chose to focus this doc on the town of Newtown, CT and the families affected by the shooting at Sandy Hook Elementary School. "Not that I didn't care about [gun control]," Snyder told Bustle in a 2017 interview. "I did care more and more, but I just thought there was another way in, that bearing witness was the way to break through this desensitization of the country that this is happening almost every week." The resulting doc helps jolt us out of the normalcy settling in around school shootings. Streaming on Netflix.
2. Blackfish (2013)
If you spent any of your childhood vacations at Sea World, you might not know the traumatic backstory behind getting huge, magnificent orcas from the ocean and into the tiny pools in which they spend the rest of their lives. Blackfish, directed by Gabriela Copperthwaite, first brought the issue to light, and shortly afterward, Sea World announced that it was ending its captive breeding program of Orcas. Streaming on Netflix.
3. Human Flow (2017)
Artist, filmmaker, and activist Ai Weiwei follows the human refugee crisis around the world, showing how many people move from place to place on any given day. With immigration and asylum seekers on everyone's mind right now, Human Flow offers a little-seen look at where we all belong and who is permitted to live where. Streaming on Amazon.
4. I Am Evidence (2018)
This infuriating documentary, produced by Law & Order: Special Victims Unit star Mariska Hargitay, exposes the irresponsible ways in which rape cases are often handled by law enforcement and the judicial system. Women around the country would be right to question whether or not their rape kits are ever tested, as this doc shows that thousands upon thousands in the U.S. have not been. Available on HBO.
5. Take Your Pills (2018)
Most of us are aware that there's an ongoing opioid crisis in America right now. But it's less known that other prescription drugs are also on the rise, with amphetamines like Adderall and Ritalin being used as recreational drugs. Take Your Pills explores how these drugs have quadrupled in use since 1995 and why. Streaming on Netflix.
6. Poop Talk (2018)
Here's something more on the lighter side. The documentary Poop Talk will make you think differently about your bodily functions and the thing that every living animal on this planet does. It's also hilarious to boot. Streaming on Amazon.
7. Into The Abyss (2011)
Much like Ava DuVernay's 13th, Werner Herzog's Into the Abyss examines the little-known policies and methods of the criminal justice system. This film examines the cases of two men who were convicted of triple homicide in Texas, what is involved with sentencing a person to death, and the years people can spend on death row. Streaming on Netflix.
8. Food Inc. (2008)
If you don't normally think about where your food comes from, this doc is a must-see. Food Inc. dives into corporate farming and the modern agricultural businesses that delivers basically everything we eat. You'll never look at your plate the same way again. Streaming on Netflix.
9. Gasland (2010)
Fracking might be the new and shiny way to harvest energy from the earth, but the past decade of research has shown that it's causing our planet irreversible harm. If you've considered alternative energy sources, make sure to check out Gasland for insight into what fracking is doing to the environment. Streaming on Vudu.
10. Tricked (2013)
Human trafficking has always been a major problem, but now that the issue is being brought up in relation to immigration, hopefully more people will know how to spot it. Even airline attendants are being trained in how to help should they suspect someone is being trafficked. The doc Tricked explores how people, the majority of which are young women, can be lured into what President Obama once called "modern slavery." Streaming on Netflix.
11. Trashed (2012)
Wall-E is super cute, but the imagery in Trashed is a little too much like the polluted dust-planet on which the Pixar movie's titular character operates. Since Starbucks recently announced that it was going to start phasing out plastic straws, more focus has been put on how we can eliminate unnecessary waste. It's something we may not think about when tossing something away, but as actor Jeremy Irons shows in this doc, the price of our trash is climbing higher and higher. Available on iTunes.
Whether they open your eyes to the plague of garbage spreading around Earth or the plight of humans traveling through it, these docs all offer essential looks at our world's biggest problems.