Feminist Quotes For Your Women's March Signs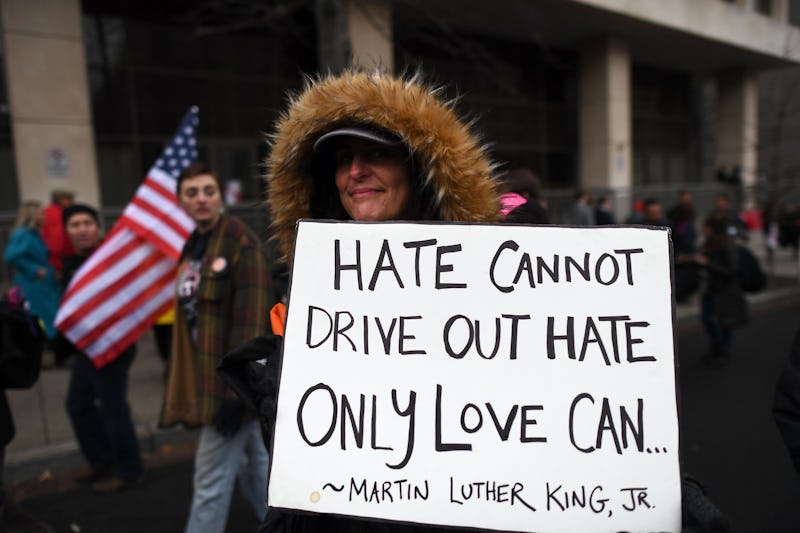 JEWEL SAMAD/AFP/Getty Images
With hundreds of thousands of women planning to take to the streets Jan. 21 for the Women's March on Washington (and more than 600 sister marches planned around the world), you may want to draw some inspiration from your favorite feminists. Using feminist quotes on your Women's March signs is a great way to show your solidarity for everyone's rights. Millions of people have come before us to fight for our basic human rights, so I've compiled 12 feminist quotes to fuel your inspiration.
In 2017, things like equal pay for equal work, protection of our reproductive rights, paid parental leave, immigrant rights, disability rights, LGBTQ rights, and anti-discrimination protections for every race and religion should be a given. The newly-inaugurated president and administration threaten these rights in a terrifying way — and because of that, it's more important now than ever before for us to band together, support each other, and fight for those rights together.
Quotes from people like Hillary Clinton, Gloria Steinem, Maya Angelou, Michelle Obama, Malala Yousafzai, Beyoncé, and Desmond Tutu, can offer us guidance as we continue to fight for our collective future. Check out these 12 quotes about feminism to inspire you for the upcoming Women's March. Use them on your signs, or just keep them in your head for support.
1. "The most common way people give up their power is by thinking they don't have any."
— Alice Walker, author and activist
2. "The future depends entirely on what each of us does every day; a movement is only people moving."
— Gloria Steinem, author and activist
3. "If you are neutral in situations of injustice, you have chosen the side of the oppressor."
— Desmond Tutu, social rights activist
4. "We cannot all succeed when half of us are held back."
— Malala Yousafzai, children's and women's rights activist, nobel prize winner
5. "Women's rights are human rights."
— Hillary Clinton, former secretary of state and first lady
6. "I'm a feminist. I've been a female for a long time now. It'd be stupid not to be on my own side."
— Maya Angelou, author and activist
7. " "I am the beginning with 'girl power' — deal with it."
— Carrie Fisher, author, actress, activist
8. "Who run the world? Girls."
9. "I believe that telling our stories, first to ourselves and then to one another and the world, is a revolutionary act."
― Janet Mock, writer, TV host, and transgender activist
10. "No country can ever truly flourish if it stifles the potential of its women and deprives itself of the contributions of half its citizens."
– Michelle Obama, former first lady of the United States
11. "I am deliberate and afraid of nothing."
– Audre Lorde, writer, feminist, and civil rights activist
12. "I have a brain and a uterus, and I use both."
– Patricia Schroeder, Colorado's first female member of Congress