14 Memes & Tweets About Rosé Season That Will Make You Feel Seen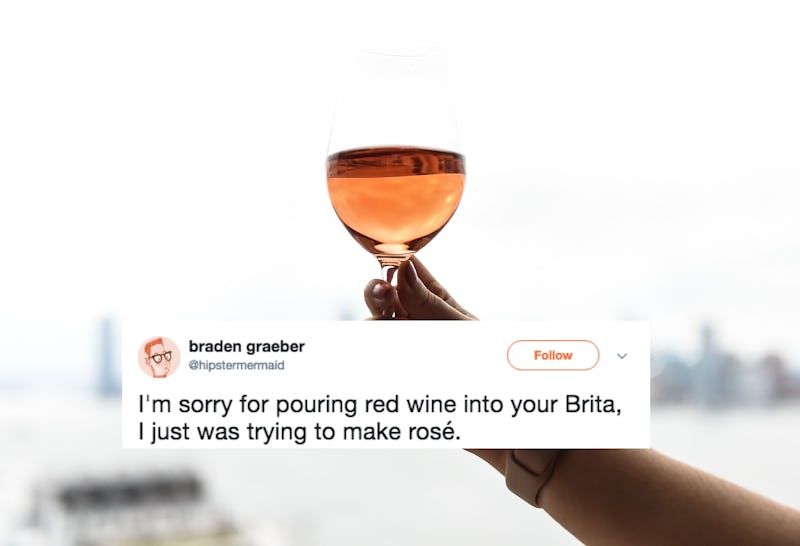 Daniel Zuchnik/Getty Images Entertainment/Getty Images; Twitter
What pairs well with rosé? Aside from everything? Because it's 2018 and our obsessive love of all things millennial pink knows no bounds, there are plenty of ways to pair your rosé. There is rosé alfredo. We've got rosé-inspired pink cheese. And for dessert, we have rose season memes and tweets. Who doesn't love a yummy, delicious, millennial pink meme?
There are also an absurd number of ways to ingest your rosé if you aren't feeling the standard bottle of pink. There's the recently released "Shades of Summer" rosé, in case you want to drink a little bit of the entire rainbow. Trying to rosé on the go and preferably in cider-form? There's rosé cider in a bottle as well as rosé cider in a bottle. Want to consume your rosé with a spoon and call it dessert? You're in luck because there is frozen rosé sorbet AKA frosé. I repeat, our love of rosé knows exactly zero bounds.
Some people may say every season is rosé season and those people would be correct. However, warmer weather is right around the corner (or currently upon us, depending on where you live) and with it comes the perfect excuse to start switching all your reds and whites to pinks. So, time to kick back and unwind (Unwine? Too far? Okay.) with your preferred form of rosé and some tweets and gifs about everyone's favorite pink alcoholic drink.