Who Said It: Trump Or Harry Potter Villain?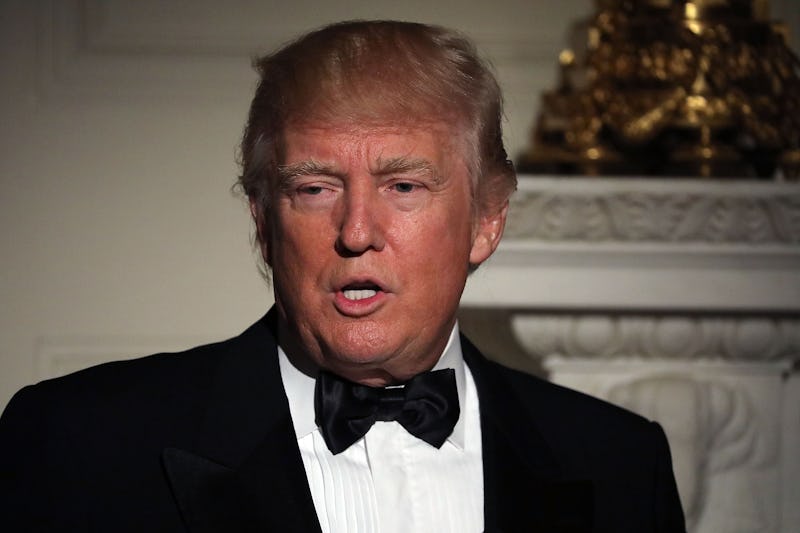 Chip Somodevilla/Getty Images News/Getty Images
Mussolini, Hitler, Voldemort — the list of bad guys, both real and fictional, the 45th president of the United States has been compared grows with every outrageous executive action he takes and outlandish things he says (and tweets). From his most notorious comments about women to his most recent remarks about race, these Donald Trump quotes that sound Harry Potter villain soundbites will make you question what kind of alternate universe you're living in.
It was back in 2015 when Harry Potter author J.K. Rowling first drew the comparison between then-candidate Trump and her own book's villain. "How horrible," she tweeted with a link to an article about Trump's proposed travel ban, "Voldemort was nowhere near as bad." Since then, many have continued to point out the many ways in which the real-life Donald Trump and book villain Lord Voldemort are the same, from their fear mongering to their racially-based policies. But the truth is, President Trump isn't just like the Dark Lord — he's like every Harry Potter baddie, rolled into one walking, tweeting, presidential nightmare.
And he won't just last seven books — he's going to be around for the next four years. But so will you, because like Harry, Hermione, and Ron, you aren't afraid to face anyone.
To help remind you that even the biggest bad guys (and girls) can be defeated, here are 15 Donald Trump quotes that sound like Harry Potter villains. Use these quotes — and the lessons of Dumbledore's Army — to fight back: