15 Quotes About Health Care That Prove It's A Right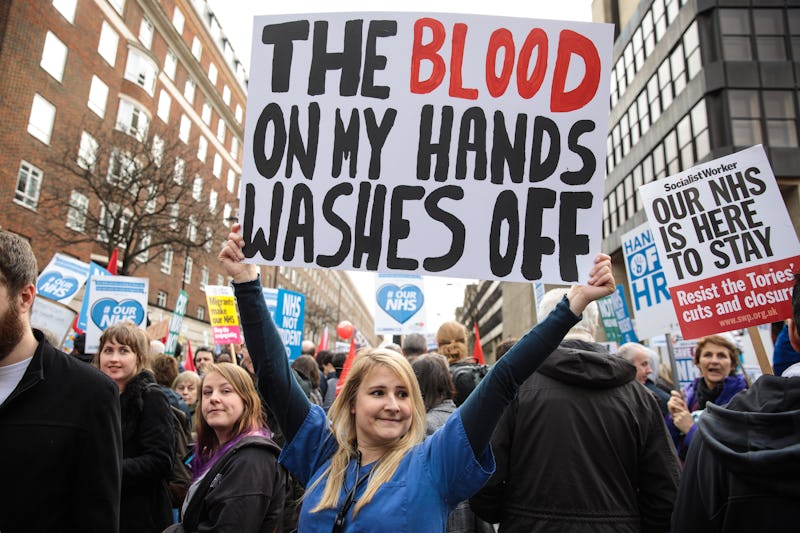 Jack Taylor/Getty Images News/Getty Images
Feeling frustrated beyond words about the House passing the American Health Care Act yesterday? Girl, same. If you've run out of four-letter feelings to give, let these quotes about why health care is a right, not a privilege speak more eloquently on your behalf. Share them on Facebook. Send out a well-worded tweetstorm. Then, write them on a postcard and send them to your congressional representatives.
If you're looking for ways to protest the GOP's health care bill, start by letting your House Representatives and your Senators know you're watching. Want to take action right now from the comfort of your own internet? Donate to Democrats who are challenging Republican seats in upcoming elections. Let the 217 House Republicans who voted for this bill stripping millions of Americans of affordable health care coverage know they will not be receiving your vote come reelection. Send a message to all of Congress by showing them where you stand on health care. To be clear, where you should stand is on the side of the American people whose lives are at stake.
Make no mistake: If this bill becomes law, it will cost lives. Ask the countless people who will classify as a pre-existing condition. Ask the 24 million people who will be uninsured in the next 10 years. Ask the children with disabilities whose special education funding will suffer from the bill's cuts to Medicaid.
The United States is the only major country without universal health care. If you're looking for a reason why that matters, here are 15.