18 People Share The One Thing They Truly Regret From Their Wedding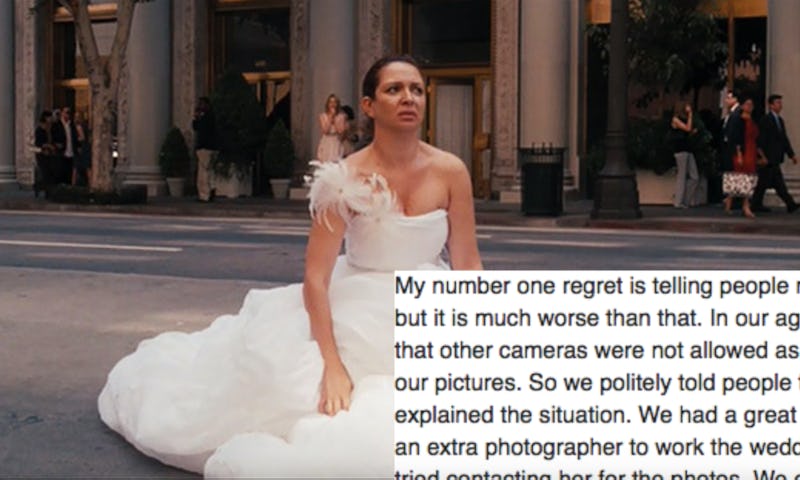 Universal Pictures
Couples spend months of their lives and, according to CostOfWedding.com, an average of $25,764 planning their nuptials. Unfortunately, things don't always go as swimmingly as expected. The biggest regrets people have about their weddings range from something as harmless as a dessert that just didn't deliver, to the borderline infuriating — like a mother-in-law who simply wouldn't quit. Either way, it's never a pleasant experience when something goes wrong on your wedding day. Just ask the bride whose outdoor ceremony got rained out. (THE WORST.)
You're already under immense stress planning a wedding. You want to please everyone so they leave with good memories and awesome stories. You want the day to be perfectly special with your partner, who you love to the moon and back. You want your Aunt Edna to stay away from the open bar, because bad things will happen otherwise. You can't decide what napkin pattern you like most, and you're worried your gluten-free, dairy-free, keto, organic, vegan cousin won't have anything to eat.
Some of us dream of our weddings from the time we're children, so really, it's no wonder that if even the tiniest thing goes wrong, we regret it for years (and years) to come.
As disappointing as it all may sound, rest assured none of us are alone in having wedding day regrets. Here are just 18 of them.