21 Clapbacks To Trump You NEED To See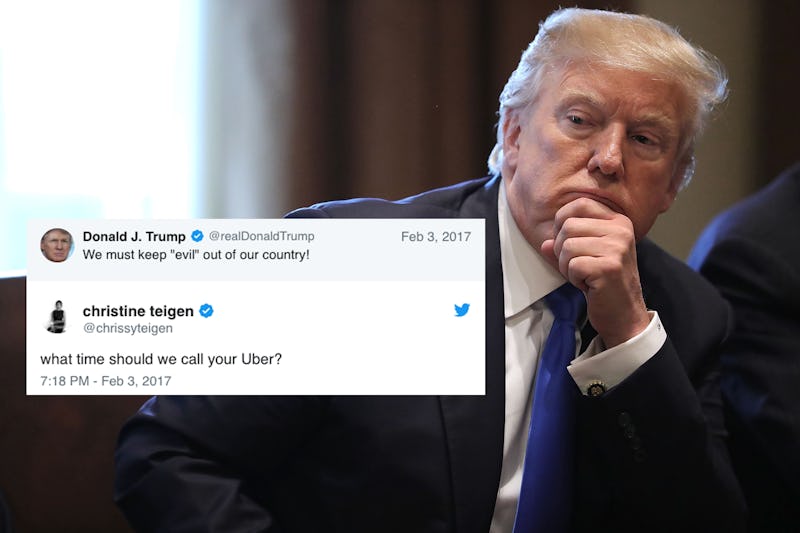 Chip Somodevilla/Getty Images News/Getty Images
President Donald Trump says a lot of things that get him into trouble. Since he first launched his campaign for office, he's made offensive comments about people of color, women, and Democrats, as well as Republicans and members of his own White House. It's not surprising, then, that so many people have taken a jab at Trump. There are so many good clapbacks to Trump that are worth reliving.
As a refresher, Trump has called Mexicans "rapists," referred to African countries as "shitholes," said he grabs women "by the pussy," called Democrats "obstructionists," nicknamed several Republicans with insults, criticized his own attorney general, said illegal immigrants are bringing "evil" into the country, and once referred to neo-Nazis as "fine people."
There have been scathing responses to those controversial and outlandish claims from Trump, but there have also been clapbacks to some of his smaller missteps. For instance, after the president delivered his first ever State of the Union address in February 2018, Trump was dragged on Twitter for clapping too loudly into the microphone after everything he said. "Make America Stop Clapping Directly Into The Microphone Again," someone tweeted.
In 2018, where internet users now have access to an endless stream of memes, GIFs, and hashtags, there are seemingly innumerable ways for Trump's critics to troll him. Here are some of the most memorable responses to Trump.
CNN Had Enough
After months of being called "fake news" by Trump, CNN eventually needed to say something directly to him. The president tweeted that CNN International represents the United States to the world "very poorly" — but the network reminded him, "It's not CNN's job to represent the U.S. to the world. That's yours."
The Dictionary Claps Back
After a Washington Post report revealed that Trump called Haiti, El Salvador, and African countries "sh*thole countries," Merriam Webster tweeted the definition to "reprehensible."
"U Bum"
Nobody claps back quite like Lebron James. After Trump tweeted about rescinding an invitation to the White House that NBA star Steph Curry had already declined, James replied to the president.
"U bum," he wrote. "@StephenCurry30 already said he ain't going! So therefore ain't no invite. Going to White House was a great honor until you showed up!"
Tammy Duckworth Puts Trump In His Place
After the president suggested it was treason that Democrats didn't clap for him at his State of the Union address, Sen. Tammy Duckworth was quick to respond.
"In case Trump doesn't have a Constitution handy, I went ahead and found the definition of treason from Article 3 for him," she tweeted. Treason is defined only as "levying War against" the United States or "adhering to their Enemies, giving them Aid and Comfort."
Duckworth swiftly proved that not clapping for the president wouldn't fall under that category.
Oh, Donnie
J.K. Rowling is known for being outspoken about politics, and Trump specifically, on Twitter. When the president attacked NFL players protesting police brutality, saying they had the "privilege of making millions of dollars" in the United States, the Harry Potter author clapped back at the millionaire politician.
"'Privilege.' Some people don't get given millions by Daddy, Donnie," she wrote. "They actually earn it."
Trump "Is A White Supremacist"
After Trump defended neo-Nazis marching in Charlottesville, Virginia, calling them "fine people," former SportsCenter host Jemele Hill didn't mince words when she tweeted that the president was a "racist." She later added:
Donald Trump is a white supremacist who has largely surrounded himself w/ other white supremacists.
"Tangerine Tanned Muskrat"
After Snoop Dogg pulled a gun on Trump, or an actor portraying Trump, in one of his music videos, the president suggested Snoop get "jail time."
That's when fellow rapper T.I. stepped in and roasted Trump on Instagram. He had some harsh words for the president, including calling him a "Tangerine Tanned Muskrat."
The Twitter Queen
Chrissy Teigen has practically made a hobby out of dragging Trump on Twitter. While there's many to choose from, one of Teigen's more memorable clapbacks was when Trump tweeted about needing to get "evil" out of the country.
The supermodel responded: "What time should we call your Uber?"
Artful Shade
While not an overt attack on Trump, the Guggenheim did execute some artful shade when they offered the White House a gold toilet instead of the Van Gogh it had requested.
Climate Change Denier
When Trump tweeted about the cold winter, implying that the low temperatures were evidence global warming isn't real, comedian Chelsea Handler responded:
Hey dumbass, global warming doesn't only mean extreme heat; it means extreme weather. Hot and cold. Maybe buy a thermometer and shove it up your ass.
#BoycottHamilton
After Trump tweeted at the cast of Hamilton, demanding they apologize for delivering a message to Vice President Mike Pence, Ava DuVernay defended them.
"Artists will never apologize for speaking truth to power," she wrote. "Keep asking. Keep getting put in your place. It's on."
"Millions Are Gathered"
John Legend, much like his wife, enjoys trolling Trump. After the president claimed to have the biggest inauguration crowds in history, Legend decided to have some fun.
"Landing in DC for a special @undergroundwgn screening at the @nmaahc!" the musician wrote on Instagram along with a photo of an empty D.C. "As you can see, millions are gathered in the National Mall, awaiting my arrival!!"
Man Of The Year
When Trump tweeted that TIME magazine called and said he was "PROBABLY" going to be named "Man of the Year," but he "took a pass," the internet had a field day.
Tennis pro Andy Murray tweeted, "Bbc just called to say I was PROBABLY going to be named sports personality of the year but I would have to agree to an interview and a major photo shoot. I said probably is no good and took a pass. Thanks anyway!"
Equal Time?
Trump was offended that late night TV hosts weren't being nicer to him, and so he tweeted about getting "Equal Time."
Jimmy Kimmel was quick to respond: "Excellent point Mr. President! You should quit that boring job - I'll let you have my show ALL to yourself."
"Frothing Orange Gorilla"
During Trump's first State of the Union address, George Takei tweeted, "I'm not watching some frothing orange gorilla read off a teleprompter. I've got better things to do, like alphabetize my spice cabinet."
"Not America"
America Ferrara clapped back at Trump's "Make America Great Again" slogan after he took office in January 2017. "A platform of hate and division assumed power yesterday," she said at the Women's March that year. "But, the President is not America. We are America, and we are here to stay."
Defending Puerto Rico
After Trump fired off some disparaging tweets about San Juan's mayor, Carmen Yulin Cruz, where he criticized her leadership following Hurricane Maria, Lin-Manuel Miranda came to her defense.
"She has been working 24/7. You have been GOLFING," he wrote. "You're going straight to hell. Fastest golf cart you ever took."
Comma Shaming
As Florida was bracing itself for Hurricane Irma, Trump tweeted a convoluted sentence about his "team" already being in the state. "My team, which has done, and is doing, such a good job in Texas, is already in Florida," he wrote.
That's when someone called out his poor grammar. "English teachers should use this as a good example of how not to use commas," they wrote.
Not Really A Threat
Trump tried to threaten Congress on Twitter regarding the Deferred Action for Childhood Arrivals (DACA) program — but then he said he would just "revisit the issue" if they didn't cooperate, which writer Dave Itzkoff pointed out isn't exactly that intimidating.
"It's my way, or the highway, or possibly some 3rd way!" he joked.
Size Matters
After Trump tweeted about how big Hurricane Irma was, journalist Jamil Smith wrote, "Size matters a little too much to you."
"They Unfollowed You"
Trump tweeted a message for DACA recipients, telling them they had "nothing to worry about" after he'd decided to end the program. Writer and director J. Elvis Weinstein pointed out, "They all unfollowed you already."
With every day there seems to be a new Twitter rant from the Commander in Chief, more offensive comments leaked to the press, or another group of people alienated and attacked by his rhetoric. So, there's no doubt there will be plenty more opportunities for people to troll Trump in the future and the clapbacks will only get better.