All The Beyoncé References From JAY-Z's '4:44'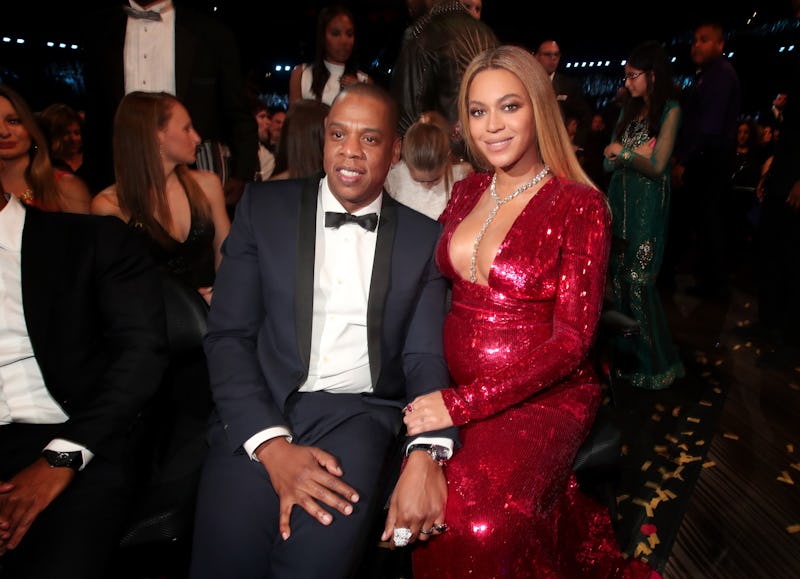 Christopher Polk/Getty Images Entertainment/Getty Images
With the release of his latest project on Friday, all eyes are on JAY-Z, and fans are particularly interested in any and all Beyoncé references on JAY-Z's 4:44. Some wondered whether the rapper's 13th studio album would feature his superstar wife, and it turns out she does a surprise cameo with background vocals on "Family Feud." And of course, every time JAY-Z brings up Blue Ivy, that's an indirect reference to her mother and their famous little family. But even beyond that, there are more immediate traces of Beyoncé are all over the album, and the couple's 11-year marriage has been a clear influence.
Some references are purely positive, like JAY-Z praising his other half's incredible success as both an artist and an earner in "Family Feud". Others are tinged with regret and apology, like "4:44," which reads as an open love letter to Beyoncé, with the rapper seemingly apologizing for his past misdeeds and vowing to do better.
In short, the album runs the gamut of the A-listers' relationship, covering the full spectrum of its ups and downs. It's a shockingly vulnerable offering, giving listeners a peek into the marriage of the industry's biggest power couple. Here are some of the clearest references to Beyoncé in 4:44, for all the curious fans aching for intel.
"Kill JAY-Z"
The album's first track is vulnerable in a way JAY-Z hasn't been in the past. The rapper told iHeartRadio that "Kill JAY-Z" is about "killing off the ego, so we can have this conversation in a place of vulnerability and honesty." And part of being vulnerable is admitting your mistakes, which the 47-year-old seems to do in the lyrics below:
"You almost went Eric Benét
Let the baddest girl in the world get away
I don't even know what else to say"
He's referencing the fact that Eric Benét's three-year marriage to Halle Berry ended in 2003. Benét has since admitted that the split was because of his own infidelities, a road that JAY-Z seems to suggest he came dangerously close to going down himself. (Benét responded to the lyrics via Twitter.)
"Smile"
JAY-Z told iHeartRadio that 4:44's third track is about the ups and downs of life. But the rapper also seems to have slipped a reference to his wife into the song's third verse.
"That blood money, I giggle at it
Can't even support my Mrs. habit
Jewelry shoppin' in Paris
All y'all jewelers should be embarrassed, huh"
He talks about the kind of money he used to make, compared to what he rakes in now. These days, that hard-earned cash from before wouldn't even be enough to keep his wife — "Mrs." — in diamonds. (Not that she needs any help in that regard.)
"4:44"
The album's title track is described by Rap Genius as a love letter and apology to Beyoncé, and there are references throughout. He says it "took for my child to be born" to see things from his wife's perspective, and admits he doesn't feel he deserves her, particularly after the way their relationship began. He recalls making demands on her time when she was on tour, and even describes the moment he asked to be exclusive:
"Said: 'Don't embarrass me,' instead of 'Be mine'
That was my proposal for us to go steady
That was your 21st birthday, you mature faster than me
I wasn't ready, so I apologize"
According to a throwback photo that Beyoncé posted in 2014, the Lemonade singer's 21st was an '80s themed skate party in Atlanta. And according to these lyrics, it was also when and where JAY-Z asked her to be his girlfriend. But instead of saying something more mature, the rapper regrets instead asking his future wife not to embarrass him. According to Rap Genius, Beyoncé understood what he meant — that she shouldn't act like she was single, because JAY-Z wanted to be her boyfriend.
Later in the song, things get even deeper and darker, as the rapper seems to take partial responsibility for Beyoncé's miscarriage.
"I still mourn this death, I apologize for all the stillborns
'Cause I wasn't present, your body wouldn't accept it"
Then, he appears to apologize for infidelities, rapping:
"Like the men before me, I cut off my nose to spite my face
I never wanted another woman to know
Something about me that you didn't know
I promised, I cried, I couldn't hold
I suck at love, I think I need a do-over
I will be emotionally available if I invited you over"
"Family Feud"
The album's sixth track is also chock-full of Bey references, and they're underlined by the fact that she sings background vocals. It all starts with the line, "My wife in the crib feedin' the kids liquid gold," which Rap Genius collaborators interpret as a reference to Beyoncé's breast milk. He also makes further reference to the family's status with the following lyrics:
"What's better than one billionaire?
Two (two) 'Specially if they're from the same hue as you"
As a unit, Forbes reports that the couple has passed billionaire status, and they claim that JAY-Z is getting close on his own as well. But things aren't just sunshine and rainbows in the Carter household. Just like in "4:44," JAY-Z seems to acknowledge that he can be his own worst enemy sometimes. He raps,
"Yeah, I'll f*ck up a good thing if you let me
Let me alone, Becky
A man that don't take care his family can't be rich"
The addition of the name "Becky" in particular seems to be a clear reference to Beyoncé's album Lemonade, and the infamous and oft-speculated about line, "Becky with the good hair." That name may serve as a stand-in for the ways that JAY-Z feels he's let his wife down during their decade-plus marriage.
"Marcy Me"
In addition to some of the more in-depth references elsewhere on the album, sometimes JAY-Z just wants to keep things simple and throw his wife a compliment. That seems to be the case in "Marcy Me," when he compares Beyoncé to another beauty of her age: Lisa Bonet, who played Denise Huxtable on The Cosby Show star and is the mother of Zoë Kravitz.
He raps about his coming-of-age experience, "When Lisa Bonet was Beyoncé of her day," suggesting that his wife is the beauty of her generation. Hard to argue with that!
"Legacy"
On the final track of the album, JAY-Z gets introspective, imagining how his wealth will be spread out after his death. He name-drops family members he would want to receive it, wrapping up with,
"The rest to B for whatever she wants to do
She might start an institute
She might put poor kids through school
My stake in Roc Nation should go to you"
He's expressing trust in his wife to do the right thing with his millions — or more likely billions — directing his legacy toward good. There's no clearer indication of love than letting her decide how his mark will be left on the world.
It's the perfect way to wrap up an album that's in many ways a testament to their relationship. From the sound of it, Beyoncé and JAY-Z have been through fire, and 4:44 is proof that the family emerged stronger than ever.