Actions To Take To Protest On Presidents Day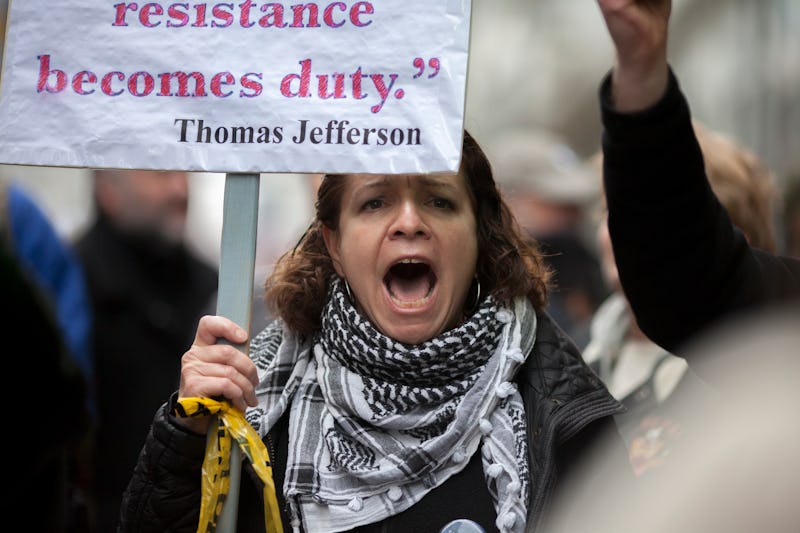 Jessica Kourkounis/Getty Images News/Getty Images
Presidents Day typically recognizes the lives and achievements of all of America's presidents. Celebrating President's Day this year, however, feels bittersweet considering Donald Trump is our current president. But if you don't feel like toasting Trump (understandable), you can use Presidents Day to protest Trump by taking these seven actions. After all, dissent is patriotic, right?
To me, it hardly seems right to celebrate a leader who has vowed to take away the rights of tens of millions of Americans. In his short tenure, Trump has threatened to restrict access to safe abortions, promised to build a wall between the United States and Mexico, instilled fear in the LGBTQIA community, dismissed women's rights, targeted immigrants... and that's not even all. The list goes on. It's exhausting, and it's frightening.
Many Americans will have Monday off from work. If you're one of them, why not turn your holiday into a day of action instead? There are countless organizations that are working to preserve your rights to access everything from your reproductive rights, to your civil liberties, to your access to arts and culture.
Make Monday an action day and commit to volunteering for a group in your community that is making a difference, host a postcard-writing party, or take the day to set up monthly donations to anti-Trump organizations that matter to you (even if you can only give $5.) Here are seven ways to show your support for the resistance.