How To Deal When The Trump News Is Just Too Much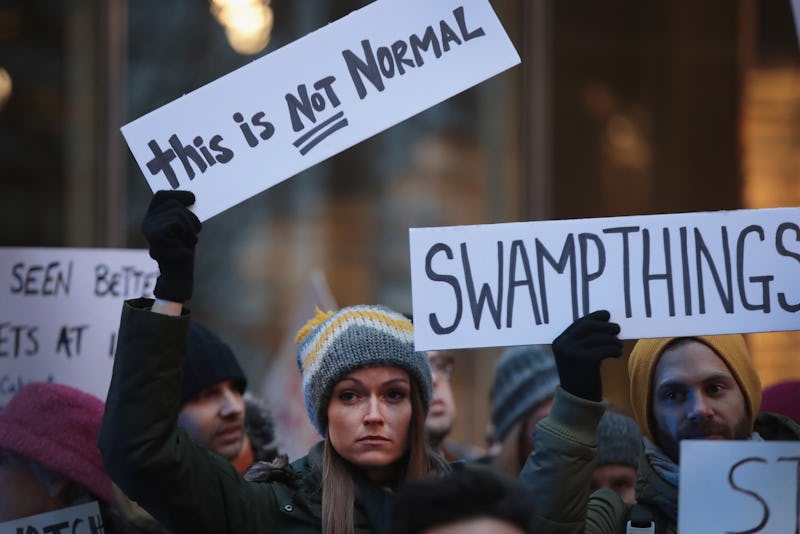 Scott Olson/Getty Images News/Getty Images
You're outraged. Angry. Depressed, and scared. In the one week Donald Trump has been president, more than a dozen policies have been introduced that could limit the rights of millions. These are healthy emotions — and it's also important to remain productive and hopeful by practicing self care during Trump's presidency. Getting run down when you're already feeling down can have real consequences for both your physical and mental health, so it's more important to take care of yourself now than ever.
Taking care of yourself when everything seems to be spiraling out of control isn't always as easy as it sounds. Personally, I've been compulsively scrolling on my phone reading article after article of bad news — and I've definitely been losing sleep as a result. This past week has seemed nothing short of a horror show; facing each day to see what Trump has said or done while you were sleeping (or trying to) feels like pushing a boulder up a hill. And just when you don't think it can get any worse? It does.
It's easy to feel helpless, and the constant social media scrolling that delivers an onslaught of negative news only compounds the despair. But remember, there is work to be done to resist Trump's policies, and you won't be able to continue the fight if you forget to take care of yourself.
Here are seven ways you can make yourself a priority while still staying active in your fight against Trump's policies.