How the United States Ranks In Gender Equality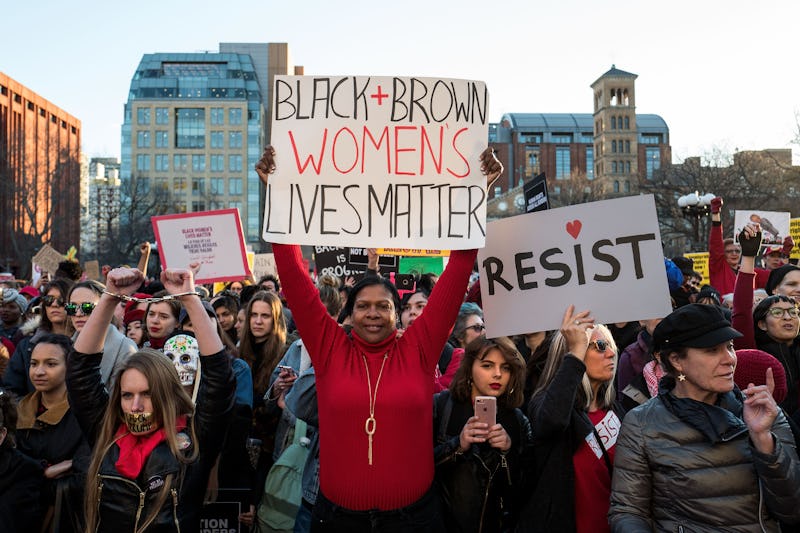 Drew Angerer/Getty Images News/Getty Images
I always thought of the United States as one of the most progressive countries in the world, but sadly, that's not the case when it comes to women's rights, transgender rights, and egalitarianism in general. Thinking about ways the United States is behind on gender equality makes me frustrated because, honestly, it's 2017 and we shouldn't have to worry about getting paid fairly and other issues of everyday sexism.
According to the World Economic Forum, the United States ranks 23 out of the 30 developed nations in terms of gender equality. Even worse, the country's overall ranking fell dramatically from 23rd to 45th place last year. In particular, the percentage of women in the U.S. workforce has dropped, and data indicates that that number may eventually peak at about 47.1 percent in 2025 before dropping to 46.3 percent by 2060. What that means is, men will continue to dominate the workforce indefinitely if we don't start making changes.
A bit of good news: Two decades ago, there weren't any women leading Fortune 500 countries; now, there are quite a few — although the number still pales in comparison to male CEOs. Additionally, reports show that women in the United States are now just as well-educated as men. These are achievements, yes, but at the same time I feel like that's the way it should be — the rule, not the exception.
If our country treated men and women equally, then thousands of people wouldn't have had to participate in the "Day Without A Woman" strike on March 8 or come out to protest against President Donald Trump's policies attacking women (and many other marginalized communities) during the Women's March in January. Here are seven ways in which the United States is falling behind other countries regarding gender equality: