These Real Housewives Almost Called It Quits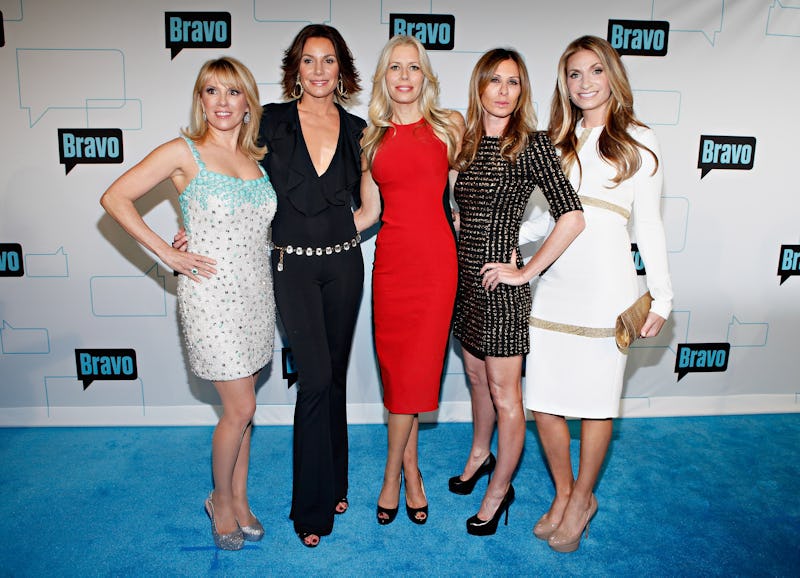 Cindy Ord/Getty Images Entertainment/Getty Images
If there is one thing every Real Housewives off-season has in common, it's the question we viewers ask Bravo, the rumor mill, and ourselves: Who will be on the next season? We try to predict as best we can, but the question burns like a K. Hall Designs candle until Bravo releases the official cast announcement. Whether the entire cast gets along swimmingly (I don't think that's ever been the case, but feel free to set me straight) or clashes like Hermès handbag-toting titans, a lineup shakeup goes down after every season finale. Which Real Housewives will quit? Which Real Housewives will get the axe? Who will join the cast? And which Real Housewives will threaten to leave the show, change their minds, and then appear on the next season with a vengeance?
Look, I get why a Real Housewife would toss around the "I want to quit" ball after a particularly intense season. Heck, if a grocery store parking lot is too intense (read: full), I won't think twice about turning around and going home empty-handed (sorry, Brita pitcher, but you'll just have to wait on those new filters). I am not a big fan of stress.
The Real Housewives, however, are far stronger than me. And now I would like to give a special shoutout to some of the Real Housewives who've toyed with the idea of turning in their oranges (or diamonds, peaches, apples, etc.), but ultimately decided to stick with their respective programs.
1. Sonja Morgan, The Real Housewives Of New York City
Before Season 7 began, Morgan told HuffPost Live (via Wetpaint) that she thought about stepping away from the show after Season 6. "I felt ganged up on last year," she explained to HuffPost Live. "So I was sort of like, 'I don't know if I want to get back into this.'"
Lucky us, she did get back into this.
2. Lisa Vanderpump, The Real Housewives Of Beverly Hills
If you thought RHOBH Season 6 was rough for Vanderpump, you aren't the only one. "I was reticent [to return] because I felt the last season was just so aggressive towards me," Vanderpump told Access Hollywood Live (via People) back in December of last year. "I'm not a victim in it because I did hit back and the audience were great and really supported me, but it just went down a road I just thought, 'I don't think I can do this anymore.'"
But she did not give up. Instead, she tucked a Pomeranian in the crook of her elbow and soldiered on.
3. Kandi Burruss, The Real Housewives Of Atlanta
(I guess this one is technically still up in the air? I might be getting ahead of myself? Uh-oh?)
In January, a fan tweeted, "I feel like @Kandi may not decide to come back next Season #Rhoa. Don't leave us @Kandi! It'll get better." Burruss gave the following haunting response:
Oh my goodness. Please don't let Season 9 be your last, Burruss. I don't want no scrubs, and I don't want no Kandi-less season of RHOA.
4. Vicki Gunvalson, The Real Housewives Of Orange County
Once upon a time, Gunvalson dated a very controversial character named Brooks Ayers. The relationship created a wedge between Gunvalson and the rest of the cast, said wedge hit a gnarly crescendo during Season 10, and the OG of the O.C. almost threw in the towel.
"I didn't [think I'd return.] I didn't think I had the strength," Gunvalson revealed in a 2016 interview with E! News. "But you know what, my story wasn't finished. I'm not gonna end as a victim."
But what do you know? Vicki G. would keep on whooping it up after all.
5. Ramona Singer, The Real Housewives Of New York City
In 2016, Singer told Bustle editor Lia Beck that the Season 2 reunion almost drove her away from the series:
"I think after a reunion. I remember once after a reunion, I said to myself, 'I can't do this anymore. And someone said, 'Listen, it's just like a baby. You'll forget the pain.'"
G'bless.
6. Carole Radziwill, The Real Housewives Of New York City
Like co-star Morgan, Radzi didn't exactly enjoy Season 6. In a 2015 interview with E! News, the author said that if it wasn't for Aviva Drescher leaving the series, she would've been done.
"Well, I was aware when I signed on again that certain people would not be part of the cast, so that was something," Radziwill told E! News. "I felt like last year, last season was really unpleasant and honestly, I thought about it."
She continued,
"Like, 'I can't do this again. These women are just not like me and we don't have anything in common. I can't go through this again.' I went through all of that in my head, but I didn't want that feeling to be the final feeling, you know what I mean? … I didn't want to end on this very dark note, so that was one piece of it."
So, Radziwill climbed back onto the handlebars and kept going.
7. Gina Liano, The Real Housewives Of Melbourne
Liano nearly opted out of RHOMelb Season 2, but in the end decided to stay on. "I made a decision when I finished filming that I wouldn't do another season," Liano told News.com.au. "I felt drained and I must say the experience wasn't particularly pleasant."
And to think we almost didn't get to see Liano's iconic golf ensemble. I shudder at the thought.
8. Kyle Richards, The Real Housewives Of Beverly Hills
In December 2015, Rick Hilton told TMZ that his sister-in-law Richards was done with the series. But in a January 2016 interview with Access Hollywood (via People), Richards refuted Hilton's statement.
"We've all quit many times," Richards said. "The truth is, until the show's officially picked up, no decisions have been made."
We've all quit many times? My spine is 98 percent chills now.