Trainers Stylish Enough To Wear On A Night Out Because Heels Are Bad For The Sole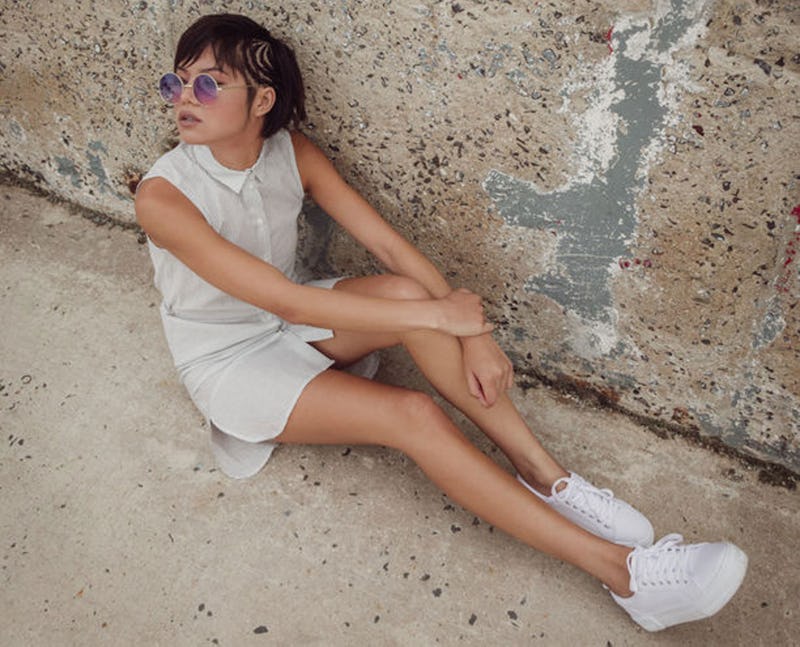 Paff/Stocksy
High heels have been a mainstay in the wardrobe of women for decades. But a seismic shift has been taking place over the past year or so. Women across the world are throwing away their uncomfortable heels, swapping them for trainers that can be worn both day and night. Luckily, the list of trainers to wear on a night out is only growing.
Online resale platform ThredUp recently released a report which details the "heel purge'" that is happening right now. Over the past three months, the site saw a 38 percent increase in the number of heels being listed. Interestingly, this corresponded to a 46 percent rise in trainer sales over the same time period.
The experts think this change may be down to the recent celebrity trend which has seen A-listers kicking off their blister-inducing heels for trainers and other flat shoes. During the 2018 Cannes Film Festival, Kristen Stewart was photographed taking her heels off on the red carpet, choosing to walk barefoot the rest of the way. And at this year's Oscars ceremony, actresses Tiffany Haddish and Maya Rudolph stepped onto the stage in Ugg slippers. Of course, no one will forget the moment Serena Williams revealed her royal wedding footwear choice: A pair of Valentino trainers.
"Celebrities have been ditching their heels on the red carpet, and it turns out our customers are purging heels from their closets as well," ThredUp's brand director, Erin Wallace, wrote in a blog post. "Our data demonstrates that Athleisure is certainly a prevailing trend as women seek out more casual, comfortable footwear."
Famous faces may well be to blame for this welcome trend but there are also theories that the #MeToo movement has given women the chance to reject discomfort in their wardrobes and opt for footwear that doesn't bend to a style code largely shaped by the male gaze. Renowned heel designer Christian Louboutin described his shoes best, telling The New Yorker in 2011: "The core of my work is dedicated not to pleasing women but to pleasing men." There are likely to be many women out there who disagree, and who wear heels for their own pleasure and satisfaction, and more power to them. But for those who feel wearing heels is less of an option, and more of a requirement, the shift is long overdue.
Plus — heels hurt. A review published in BMC Public Health found evidence to prove that high heels have the potential to cause musculoskeletal injury to the toes, foot, and spine. Researchers concluded that "it is important that women's footwear choices are respected and they are not pressurised into wearing high heels agains their will."
With new trainers being released every week, there are plenty of styles that will go perfectly with your favourite dress. And if the club won't allow it, just go elsewhere. Here are some of the very best trainers to snap up for summer 2018.