9 Ways To Enjoy Masturbating More, Because…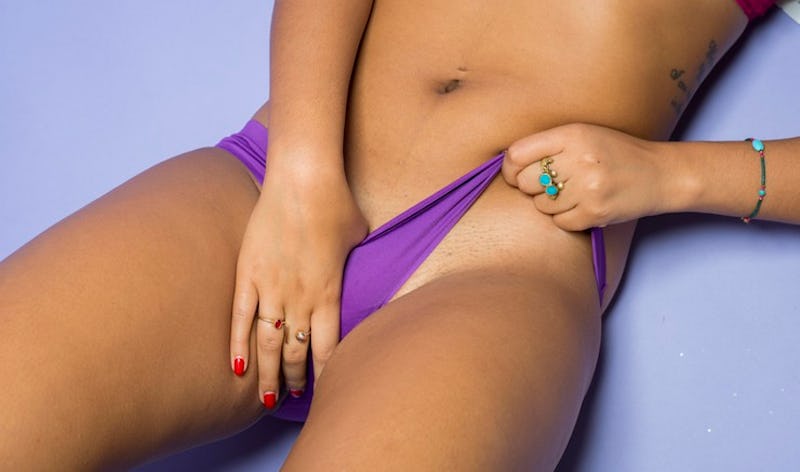 Masturbating is by definition an act of self-love. It's supposed to be fun and about making yourself feel good, about learning your own body and checking in with your desires. Unfortunately, though, the simple act of enjoying masturbation can come with a lot of baggage.
Even if we escape being taught by family to internalize shame around masturbation, women don't tend to talk as much in our culture about getting themselves off — and if they do, it's often either framed as something pornographic or "funny" and "un-ladylike." I was lucky that I didn't grow up being taught to feel ashamed about the idea of female masturbation, so imagine my surprise when I realized — already in my late 20s — that my masturbation habits weren't the healthiest.
In many ways, I'd become disconnected from my own pleasure. I'd use a vibrator and watch a show or movie in bed. They weren't even always sexy or romantic — I was just multitasking. I barely ever just laid there and listened to my fantasies; it began to seem boring, like no fun.
The realization that I'd become disconnected from masturbation inspired me to start thinking with some more intention about how to masturbate more mindfully. I'd like to say I've regularly employed all the tips below, but that would be a lie. I am writing this as much to remind myself how to enjoy masturbation as a practice as I am writing this for you.
Try To Seduce Yourself
Masturbation is an act of self-care — and a feminist one at that. With that in mind, you should view it as an actual expression of self-love and seduction. Seduce yourself by drawing a candlelit bath and starting there, or try on all your lingerie in the mirror and dance. Whatever makes you feel sexy and seduced — remind yourself that you can give that feeling to yourself anytime you'd like.
Watch Yourself In The Mirror
Have you ever actually watched yourself masturbate? Have you looked at your vagina in the mirror? I know it makes me sound like a Second Wave feminist to suggest it, but they were onto something.
The next time you masturbate, pull up a mirror, and look at yourself, pussy-on. Even if you don't find it erotic (you probably will though, trust me), you will learn a few things about how you like to be touched, and what strokes you actually use. It's amazing to watch the vagina swell and change as you get aroused, and connecting the action of masturbating to your actual, physical body is empowering.
One of the most important ways I taught myself to love my body again after a period of disordered eating was through masturbation and confronting myself in the mirror in general. It reminded me that I was sexy, that I could nourish myself, and that I am powerful.
Resist The Urge To Multitask
Maybe I'm the only one who used to always watch TV when she got off, but somehow, I doubt it. It makes sense that we'd do it — first of all, traditional porn just isn't as romantic as Friday Night Lights or as funny as 30 Rock — and far be it from me to completely suggest you deny one of life's finest multitasking pleasures. Watching a romantic or steamy movie on Netflix can indeed make things hotter, and that's totally a legit way to get off.
The issue is, if you're never just masturbating alone with your fantasies, you will become disconnected from them. Your fantasies can inform you of some important (if at times upsetting things) — say, the fact you do like that coworker after all, or that you're repressing something that happened when you're a teenager. It's important to focus on your thoughts and fantasies when you masturbate sometimes. It will tell you a lot about where you're at with your sexuality, and it can even be a sort of fun form of meditation. Don't be afraid to be alone with your thoughts, no matter how dirty they get.
Note And Utilize The Information You Gather
Once you do check in with your thoughts, be sure to note them. If you find out you're thinking about women but identify as straight, for example, maybe allow yourself to journal or talk with someone about why that might be. If you find you're having a lot of fantasies about being submissive, finally talk with your partner about how you can introduce some power play into your sex life.
Sometimes I even keep a journal by the bed, lest I forget an important revelation. (If you live somewhere where weed is legal, I also sometimes enjoy getting stoned and masturbating while paying attention to my stream of consciousness. Oh, the things I learn!)
Resist The Urge To Judge Yourself
If you prefer a heavy-duty vibrator to get off, you might find you judge yourself for "needing that." While vibrator dependence can become an issue if you become too used to only coming one way, as Bustle's sex columnist Vanessa Marin has explained, there is nothing inherently addictive or "lesser" about a vibrator-induced orgasm.
"If you use your vibrator to reach orgasm the vast majority of the time, your clitoris can start to become acclimated to that one particular type and intensity of stimulation," Marin writes. "[But] it's unlikely that you'll ever actually get addicted to your vibrator. You may love or rely on your vibrator, but addiction is a whole other ballgame. Use your trusty Rabbit or your little silver bullet to your heart's content — just try to make some space for other methods of self-pleasure."
If you like to masturbate for hours till you're practically numb once a month, that's OK. If you prefer to masturbate daily using only the lightest possible stroke, that's cool too. Try not to judge what feels good, and leave room for experimentation.
Try To Sometimes Change Up Your Routine
That said, if you find you are judging yourself, it could also be because you know you've become dependent on a way of getting off that doesn't feel like an expression of self-love anymore. If you're getting off just to orgasm as quickly as possible, or you're only able to come one way, you might begin to worry.
No need to judge yourself — just switch up your routine. Check out Marin's guide to masturbating digitally if you usually use a vibrator, or her article about tuning into your fantasies if you find yourself unable to tap into them. Seduce yourself in different ways, and keep it fresh and special, the way you'd try to do with a lover.
Do The Research To Find Erotica You Actually Like
It can be hard to find feminist porn as a woman. Luckily, Bustle has you covered. Check out these lists for feminist porn sites, hot Tumblr accounts, and steamy feminist erotica to read. It's out there — not all porn is sketchy. It might not be for you, but if you've simply never had luck finding the right content, it's worth doing your research rather than giving up on the whole endeavor. (If searching for porn freaks you out, even HBOGo even has a late-night section. I like one Spanish-language show called Roommates best, personally.)
Consider Having An Adventurous Online Masturbation Encounter
If you want to be really adventurous, you can even check out Pornoroulette, which is like that free live webcam site Chatroulette, only it's just people getting off. You can have an encounter masturbating in front of someone from the safety of your own home. Just angle your computer's camera below the neck if you're worried about being recorded — something these sites try to protect against anyway.
Look, I said this was adventurous, so use your discretion and never give someone you're chatting with your info. (By the way, this can also be a really fun way to have an encounter with other people and your partner, if you're looking to dip a toe into non-monogamy in a way that requires no in-person contact.)
Ask Your Partner To Watch You
Of course, masturbation can also be an in-person group activity! I think adults sometimes forget how arousing it can be to mutually masturbate, or even to put on an instructional show for their lover. Next time they're tired and you're horny, suggest they watch you, or even simply hold you, while you do your thing. (Chances are they won't be tired anymore after five minutes of seeing you do that.)
Happy mindful masturbating!
Images: Bustle; Giphy