Lando Calrissian May Get A 'Star Wars' Spinoff & Donald Glover's Fans Are So Pumped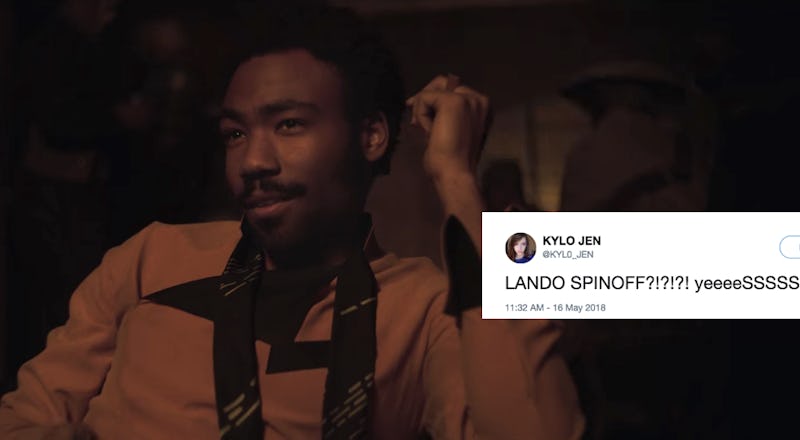 Walt Disney Studios Motion Pictures; KYL0_JEN/Twitter
It's official: Donald Glover is having a better month than everyone else. He recently earned his first No. 1 song on the Billboard charts with "This Is America." His show Atlanta just had its Season 2 finale. Oh, and he'll hit the big screen as Lando Calrissian in Solo: A Star Wars Story on May 25. Making this even more exciting, Lando Calrissian will be getting a Star Wars spinoff, according to Business Insider. The news broke on Wednesday, more than a week before Solo even reaches theaters.
UPDATE: Soon after initial reports spread, A.V. Club reported that Kathleen Kennedy's quote was hypothetical and transcribed incorrectly. The updated quote A.V. Club received from Lucasfilm is this:
"We would love to tell a story about Lando Calrissian one day, but it's not relevant, it would be fun to tell the story of Han and Chewie ..."
Bustle reached out to Lucasfilm and Disney for comment and clarity on the situation, but did not receive an immediate response.
EARLIER: Per Business Insider, a French publication called Premiere interviewed Kathleen Kennedy, Lucasfilm's President, about what's next. She said,
"We think that the next spin-off will be dedicated to Lando Calrissian. Of course, there are still many stories to tell about Han and Chewbacca, but Lando will be next."
That last part prompted mixed reactions, as fans have been waiting for an Obi-Wan Kenobi movie for quite some time. (Of course, Kennedy's statement doesn't rule out an Obi-Wan movie, it just implies it's not next in line.) Still, those who follow Glover and his work expressed instant excitement on Twitter. The Community alum has been making a name for himself on screen for a while now, but a Star Wars spinoff would be major.
Making the spinoff news all the more special, Glover has been a longtime fan of Star Wars — and his character specifically. In a June 2017 interview with Deadline, the actor said,
"Lando seems to be a lot of people's favorite character. It's cool. It's a lot of pressure, but it's also very exciting. He was my favorite character too. I grew up on Star Wars. It's just cool to see him again."
He also added, "I feel like people like him 'cause he has a lot of style, but also he's a complicated character in this world. I think even Han isn't as complicated as Lando is."
Not only that, but during a recent interview on Jimmy Kimmel Live!, Glover revealed his first toy was a Lando action figure growing up — his "first toy ever." And if that's not full-circle enough, his dad gave him the toy as a kid, and then he repaid the favor by bringing his dad, who's a "big Star Wars fan" to set while filming Solo. Glover's genuine excitement about the role is contagious — just watch how much he smiles discussing it in the Kimmel clip below.
As Glover mentions in the same interview, he celebrated his initial Lando Calrissian casting by getting a large cheese pizza and watching Empire Strikes Back. Now that a spinoff sounds like it's happening, he definitely deserves to double-down on the pizza and movie marathon. (Maybe even throw in a side of cheesy bread.)
Then again, Glover might be a little too busy for that. He's voicing adult Simba in Disney's upcoming live-action Lion King movie and recently talked about what it was like to record songs with none other than the legendary Beyoncé. Two Saturdays ago, he hosted Saturday Night Live — and served as the musical guest as his alter-ego, Childish Gambino. On the same night as SNL, he dropped his video "This Is America" that's sparked a nationwide conversation about gun violence and other tough topics, and rightfully so.
At this rate, anything Glover touches is guaranteed to turn to gold. And that same pattern would likely follow suit with Lando getting his own film. No details have been announced about the potential spinoff yet, but at least Solo's upcoming premiere will help tide fans over in the meantime.