Women Share What It Was Like To Share Their Abortion Story In A National Photo Exhibit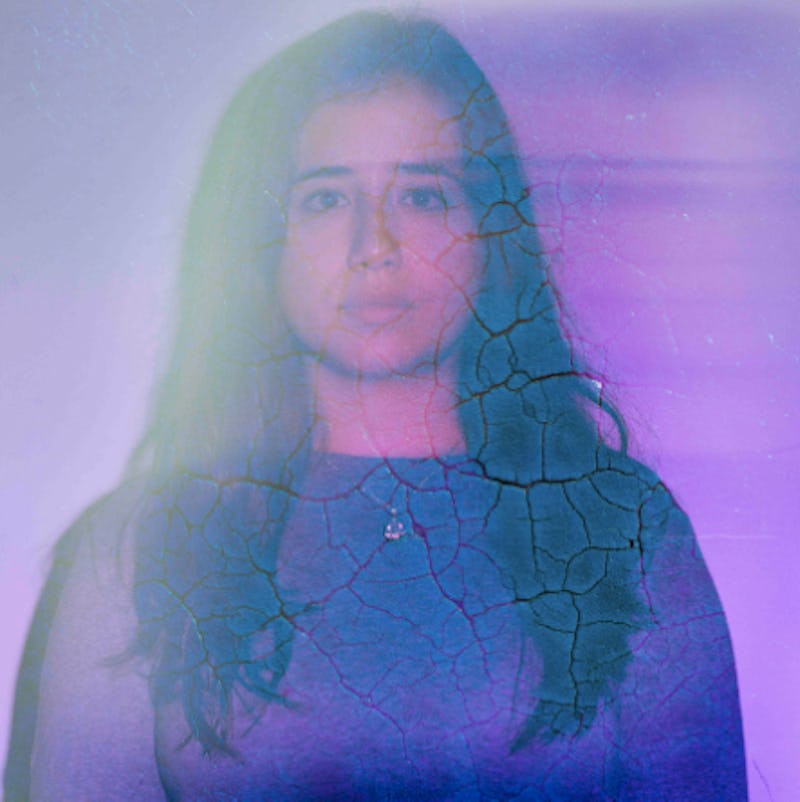 Courtesy of Michelle Kanaar for Advocate for Youth's 1 in 3 Campaign
One in three women will have an abortion in their lifetime. That's a third of the female population. If Roe v. Wade is overturned, which could possibly be the case with the confirmation of Judge Brett Kavanaugh, one-third of women will have to put their lives on the line should they seek an illegal abortion.
Research by U.S. National Library of Medicine National Institutes of Health has found that of the 42 million abortions worldwide that are sought every year, almost half are unsafe, resulting in the deaths of 68,000 women a year. Now imagine that number if abortion becomes illegal in the U.S.; the effects would be devastating.
As women's autonomy hangs in the balance, Advocates for Youth will be launching their 1 in 3 Campaign during their Fall Week of Action. From October 22 to 28, an exhibit of 40 abortion storytellers who were paired with 40 photographers will be debuted in communities all over the country. In putting a photograph to the personal abortion stories of these 40 women, the campaign hopes to put to bed the stigma surrounding abortion.
The idea came about when Advocate for Youth's director of communications, Emily Bridges, was in a meeting with her colleagues. As they discussed how to breakthrough the divisive rhetoric of people being either pro-choice or pro-life, the women on staff who had had abortions started to share their experiences. "It motivated others to share their stories too," Bridges tells Bustle. "Collecting stories and putting a face to the stories has an effect. It's powerful to literally put someone's face with their story."
As Bridges points out, anti-abortion advocates tend to paint women who get abortions as villains or victims, but that's not the case. "[They] made the decision to protect their own life and their future," Bridges says.
In the wake of Kavanaugh's confirmation, Bridges says that we're all responsible to speak out to save access to safe abortions. "If we can't win at the federal level, we need to try to win at the state level," Bridges says. "We need to work together to protect people who need abortion, even if we can't win the political battle." This can be done by creating networks and volunteering to be patient escorts for women who are seeking an abortion.
Dev's Story
One such patient escort for Planned Parenthood, who is also one of the 40 women who shared her abortion story for the 1 in 3 Campaign is Dev. Dev was 20 years old when she experienced a "back alley" illegal abortion, three years before the landmark ruling of Roe v. Wade.
"It wouldn't have been right to bring someone else into the world… I could barely take care of myself."
"It was frightening; there was fear and trepidation, but I resolved what I had to do," Dev tells Bustle. "I was determined to go through with it. I wasn't upset, but scared. I didn't have a choice — I was 20 and estranged from my parents… the alternative [being a single mom] was unfathomable. It wouldn't have been right to bring someone else into the world… I could barely take care of myself."
For years, Dev kept her abortion to herself. The only people who knew were the people involved in the procedure and the man who got her pregnant. It wasn't until a friend she met later in life who works to reduce the stigma surrounding abortion that Dev first shared her experience. "She encouraged me to tell my story." When Dev agreed to participate in the 1 in 3 Campaign, she didn't just share her story, but put a face to it, too.
"Kaltoum Alibrahimi, the photographer, came up with the idea of the old photo [of me]," Dev says, "to frame my story around the fact that my abortion was so long ago."
Although in this particular photo you don't see what Dev looks like now (but there are present day photos of her included in the exhibit), you see the face of a young woman who was one of the lucky ones to have survived a "back alley" abortion.
In 1965, it was estimated that just under 200 women had died that year from illegal abortions, accounting for 17 percent of all pregnancy and childbirth related deaths, according to research by the Guttmacher Institute. But it's worth noting that those were just the cases that were reported; there's no telling exactly how many more may have died as the result of a botched illegal abortion. Some of these women, like Dev, sought to have the abortion performed by someone else, while other women resorted to self-induced abortions.
If you look closely at the photo of Dev, you can see a pin on her chest that reads: "Illegal abortion never again!" with that coat hanger that represents the desperate and dangerous methods that were taken by women to end unwanted pregnancies before Roe vs. Wade.
"There's no shame and there's no reason not to share our stories to encourage other women who are going through similar situations," Dev says.
Michelle & Angie
It was this sort of encouragement that inspired photographer, Michelle Kanaar, to tell her parents about her own abortion 10 years after the fact. Michelle was paired with storyteller Angie for the 1 and 3 Campaign.
"Angie and I shared our stories and they were very similar… we're both from Latin, very Catholic families," Michelle tells Bustle. "There's a darkness, like you're alone… as social and cultural things are telling you it's wrong. We both struggled with that and realized [having the abortion] was the right thing to do."
Angie had two abortions while in an abusive relationship. Like Michelle, Angie didn't tell her parents at the time, but unlike Michelle, Angie still hasn't told her parents. But to know she empowered Michelle to tell her family, after all this time, proved to Angie that telling her story is important, empowering, and is helping to make huge strides in changing the conversations we have about abortion with not just the people we know, but strangers, too.
"This is why I want to keep sharing [my story]," Angie tells Bustle. "These stories need to be shared. Feeling so alone and isolated — that's the hardest part." It's this loneliness that she felt that keeps Angie vocal. "It's worth risking having my family find out, so women don't feel alone. It makes me really happy [to be part of this project]."
But even for those who know they made the right choice to terminate their unwanted pregnancy, revisiting those emotions and the person they were then isn't always easy.
When Angie got pregnant the first time, she only told her two younger cousins. The second time she didn't tell anyone. It wasn't until February of this year, for the 1 in 3 Campaign, that she allowed herself to go back to that place and share the details. "It was overwhelming," Angie says. "All these emotions that I had forgotten about and pushed out of my head; how bad the situation was in hiding all these things from my parents… now I can talk about it."
"Always remember that what you did was best for you and that's what matters the most."
It's that situation that inspired Angie's photographs. "It was very collaborative," Michelle says. "It evolved together; the emotions it conveyed. I'd never done a shoot like this before, but it was really both of us working together."
The first image is dark and blurry, almost macabre in nature, as it represents the person Angie used to be. The second photo is one of a radiant, strong, confident woman who came out the other side — a woman who is working on her medical degree to become an emergency room physician. Something that would have never happened had she not made the choice to have those two abortions.
All three women are at peace with their choices. So much at peace that they want to share their stories and keep sharing them. If telling her abortion story makes even one woman feel less alone, then Angie says she knows she's doing the right thing.
"Only we know what's best for us and our bodies," Angie says. "I wasn't ready to be a mom, mentally or emotionally; I just wasn't ready. It's brave to make a choice for yourself. You'll heal in time [from] all the emotions and it's OK to take your time. Always remember that what you did was best for you and that's what matters the most."
Michelle wants women to realize that if they want to get an abortion, for whatever reason, they should do it. "The issues now are that, financially or geographically, it makes that decision really hard," she says. "[If someone comes to you and tells you they want to get an abortion] what you should do is get them the resources they need to obtain that abortion."
What's Next
Dev hopes that women who attend the exhibit, whether they've had an abortion or not, will recognize themselves in the women in these photos. "The photos represent every woman who wants to have control over their reproductive rights," Dev says.
Angie says participating in the exhibit makes her want to do more. "I am just glad campaigns like this exist and Advocates for Youth exists. They're the reason I started sharing my story, [they're the reason for] my confidence and my strength — I've met amazing people. Sharing, venting, and inspiring other women to help raise awareness, makes me to keep wanting to do more."
If you, too, want to do more you can look into volunteering at clinics, donating to reproductive organizations that fight to keep abortion safe and legal, or even share your own abortion story as part of the 1 in 3 Campaign. And if you talk to a woman who wants to get an abortion, Bridges says your support matters. "It's important to tell women who are seeking an abortion that 'I support you, I support the decision you made, and I'm here to help'."