Here's How You Can Listen To The Christmas Album From 'Spider-Man: Into The Spider-Verse'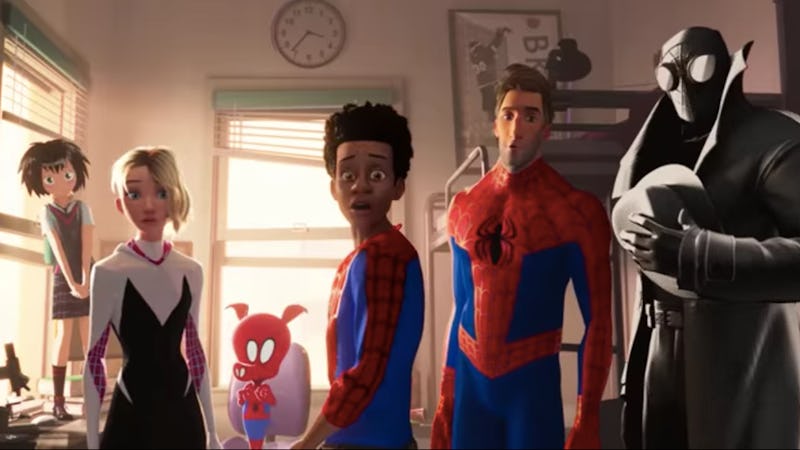 Sony Pictures Releasing
Light spoilers for Spider-Man: Into the Spider-Verse ahead. Have you already worn out all of your favorite Christmas music, before the holiday has even arrived? Well, your friendly neighborhood Spider-Men are swinging into action to save the day; Sony has made the Very Spidey Christmas album from Spider-Man Into The Spider-Verse a reality, just in time for the big day. According to the Hollywood Reporter, a five-song EP, which features rewritten versions of some classic holiday tunes, is based on an in-joke from the recently released animated superhero adventure.
Spider-Man: Into the Spider-Verse centers on Miles Morales (Shameik Moore), who gets bitten by a radioactive spider and takes over the mantle of Spider-Man after watching Peter Parker (Chris Pine) get killed by the Kingpin. However, he soon receives some guidance from several other Spider-Men from alternate universes, including Peter B. Parker (Jake Johnson), a jaded, 40-year-old version of the classic hero, Spider-Gwen (Hailee Steinfeld), a.k.a. Gwen Stacey, and Spider-Ham (John Mulaney), a pig named Peter Porker with web-slinging powers. The Spider-People all team up to save all of their universes from villains.
Several of those Spideys get to take center stage on A Very Spidey Christmas, including Pine's classic Peter Parker, who gets to show off his soulful vocals on "Up On The House Top" and "Spidey-Bells (A Hero's Lament)." The latter also show's off Peter's desire to do things other than fight crime, if only his agent would possibly call him back, so he can show off his various talents and skills.
Moore's Miles Morales gets to kick off A Very Spidey Christmas with a new version of "Joy To the World" that highlights the greatest issue with becoming a superhero while still in high school: You don't get paid for saving the city.
"Joy to the world I keep saving/Maybe I could get paid," Moore croons on the hip-hop inspired remix. "I saved you all again, this time from the Kingpin/And literally I don't get paid/Can't believe I don't get paid/I make my own web fluid and that's not free, okay?" Thankfully, our web-savvy Spider-Man has a solution to his money woes, and shouts out a GoFundMe account to help him pay for all of that expensive web fluid.
After all, it is the season of giving!
Of course, the track that will delight New Girl fans the most is "Deck the Halls," which lets Jake Johnson's Peter B. Parker belt out a cheesy, piano-accented version of the classic song, complete with awkward crowd work and off-key vocals. "Let's just do this once, I'm really hungry for lunch," Johnson begins the song in true Nick Miller fashion. "I smell baked cheese."
A Very Spidey Christmas wraps up with a truly hilarious spoken-word reading of "'Twas The Night Before Christmas," by the 1960s version of Peter Parker that might just ruin your childhood, in the best way possible.
The release of A Very Spidey Christmas is just the beginning when it comes to getting even more animated Spider-Man content. Back in November, Variety confirmed that a sequel to Into the Spider-Verse had already been greenlit, based solely on the "incredible buzz" that the film had generated in the weeks leading up to its release. And while the sequel will continue to follow the adventures of Miles Morales there are also several possible spinoffs in the works, so that all of the various Spider-Men — and Spider-Hams, according to producers Phil Lord and Chris Miller — will get their day in the spotlight.
Most excitingly, according to the Hollywood Reporter, an all-woman Spider-Man spinoff is set to be released in the coming years, inspired by Steinfeld's fierce and feisty Spider-Gwen. The outlet reported that it's like the project will center around several fan-favorite Spidey characters, including Spider-Gwen, Spider-Girl and Spider-Woman.
And while we might have to wait years to see even more high-flying animated adventures from all of our friendly neighborhood Spider-People, we can at least take comfort in the gift of holiday cheer that A Very Spidey Christmas brings. May the new year provide even more opportunities for Jake Johnson to croon at a piano bar.