Andi Dorfman Gave Arie Some Epic Advice For His 'Bachelor' Season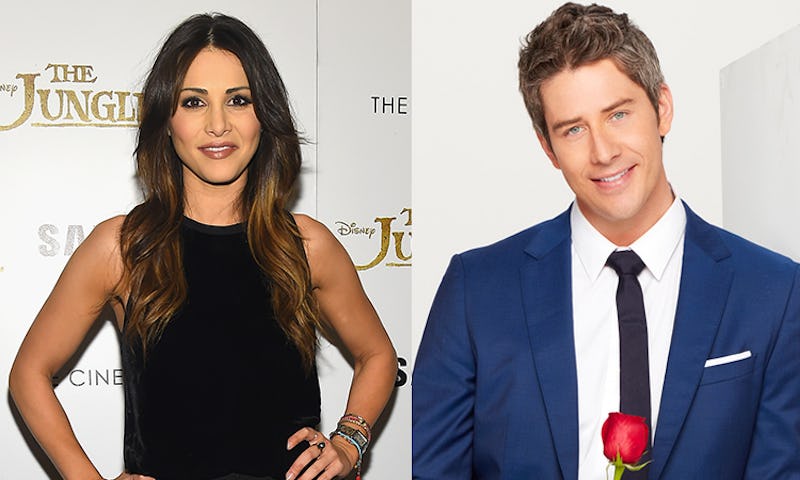 ABC/Getty Images/Bustle
One of the greatest perks of joining the Bachelor Nation is the great number of mentors and advisors you gain. For example, former Bachelorette Andi Dorfman's advice for Arie Luyendyk Jr. is applicable to more than just The Bachelor — especially given that a new year's just begun. Even if your life isn't quite like The Bachelor or Bachelorette — and most people probably don't have 20-something suitors lining up in a mansion waiting for them to take them on a date, so don't worry if yours isn't — you can still take Dorfman's advice to Arie to heart.
"It's so easy to get wrapped up in all of the production and the tiredness and the time and everyone's feelings that you kind of forget that you are having this incredible time and experience that you're never going to get to do again," she told Us. "Just take a moment, take a deep breath and smile because it's a pretty cool experience that not a lot of people are fortunate to do." Take out the word "production," and add in the word "work" and you basically have the best advice for anyone going into 2018.
The news that Arie would become the new Bachelor came as a big surprise to Bachelor Nation fans, mainly because they hadn't really heard his name since he was a contestant on The Bachelorette — Emily Maynard's season — in 2012. For Dorfman, however, Arie is an exciting choice. "I'm excited that they're bringing him back. I think we've gotten a little off track," she told Us. Dorfman might be referring to the fact that last season of The Bachelor, Nick Viall's season, had a little extra behind-the-scenes drama, mostly due to the controversial breakout contestant, Corinne Olympios.
When Olympios slept through a rose ceremony, she sent Bachelor loyalists into a tizzy. Sleeping through a rose ceremony? That's basically sacrilege in Bachelor Nation. Dorfman hopes that, with Arie's season, the show will return to its original purpose of being all about the l-o-v-e, of course. "I think that bringing [Arie] back is bringing back what I felt, which was being there to find love and actually wanting to get engaged," Dorfman told Us. "I think they kind of went away from that a little bit on some of the previous Bachelors, so I'm excited they're bringing a familiar face back."
She makes a good point, considering that last season's Bachelor, Nick Viall, broke off his engagement with Vanessa Grimaldi pretty quickly after the season wrapped. That's not exactly unprecedented in the Bachelor Universe, though, as so many Bachelor and Bachelorette relationships fall apart once the cameras start rolling. The fact that the latest Bachelorette couple, Rachel Lindsay and Bryan Abasolo have moved in together and still plan to wed after the show is a pretty big deal. In some ways, Lindsay and Abasolo have restored the romance of the Bachelor Nation, and maybe, as Dorfman suggests, Arie will be able to continue that luck and find long-lasting love with this new season.
The prospects of a love connection building on The Bachelor seem pretty good so far. Many people agree with Dorfman that Arie was a great pick to become the Bachelor, as he was one of the best Bachelorette contestants ever. Arie and Emily had some of the most memorable moments of any Bachelorette season, and, as a contestant, he even got the nickname "The Kissing Bandit."
If Arie's season as the Bachelor is anything like his season as a contestant on the Bachelorette, everyone is in for a wild ride. Just remember to take Andi Dorfman's advice and savor every moment.