Angelina Jolie's Comments About Making A Comedy Prove She's Funnier Than You Think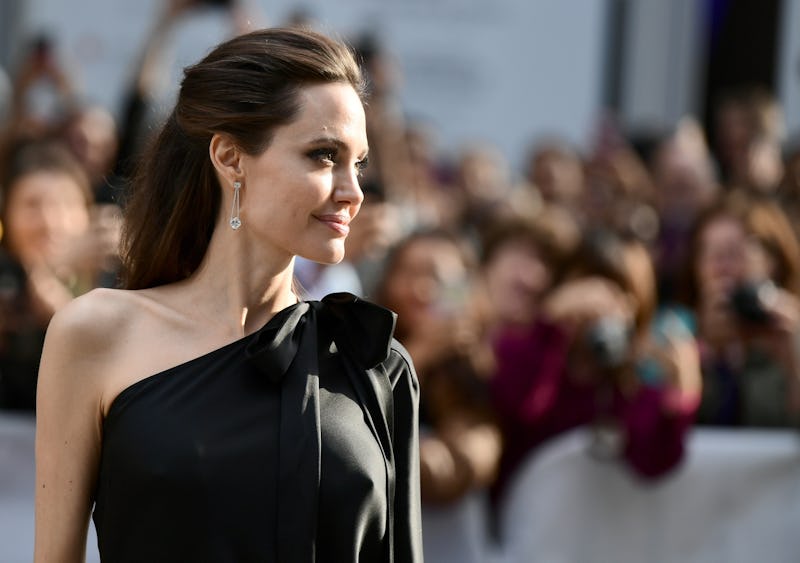 Emma McIntyre/Getty Images Entertainment/Getty Images
One of the most famous women in the world has had a year full of ups and downs, but don't even think about counting her out. Angelina Jolie's next movie could be a comedy — if not, further in the future — and the reason she gives for her end-of-interview joke will set your mind at ease about the state of her health and happiness. The actor and humanitarian had an in-depth interview with The New York Times, which was published on Wednesday. And while she does touch on the issues dominating her personal life, like her recent divorce from Brad Pitt, the way she speaks about her professional life is equally illuminating.
As you're most likely aware, the 42-year-old ended her 12-year relationship with Pitt in September 2016. And nothing is more promising when it comes to her healing process than the fact that Jolie was joking about when she'll be ready to do a comedy. "I will get funny at some point," she quipped to her interviewer, before pointing out that she was also working on Maleficent 2, which she remarked wryly was "a little funny." Maleficent 2 certainly more comedic than the dramatic films that the A-lister is best known for. Her most memorable acting credits are in movies like Girl, Interrupted, and Changeling, or high-intensity action scenes in Mr. and Mrs. Smith, Salt, and the Tomb Raider series.
And things aren't much different in the sphere of directing either. Jolie is currently promoting First They Killed My Father, her fourth film overall, and third set against the backdrop of war. And the fourth was By The Sea, about conflict within a romantic relationship, so depending on your perspective, technically she's still four for four.
When it comes to her career, drama and conflict seem to be where she excels most, so it's intriguing to hear her throw out the idea of a comedic turn. Without having been present for the interview itself, it's hard to tell if she's joking or voicing a genuine interest, but either way, it bodes well. Either she's comfortable enough to poke fun at herself and her penchant for the dramatic, or she's considering taking on a new challenge. Both are intriguing, unless you happen to be one of Jolie's critics.
And there are unfortunately a few of them, especially when it comes to the actor tackling comedy. One of her closest non-animated attempts was 2002's Life or Something Like It. In it, Jolie played a reporter who completely changes her life after she's told by a homeless psychic that she has only days to live. The premise leaves something to be desired, and so did her performance, according to many. Roger Ebert gave the film just one star, and accused Jolie of "[testing] the theoretical limits of hysterical overacting." Meanwhile, Rotten Tomatoes gave the movie a 28 percent ranking, firmly in "rotten" territory, although the site does grant that "Jolie is appealing."
Not quite a solid foundation to stand on when it comes to a potential return to comedy beyond voicing an animated character, as she did in the well-received Kung-Fu Panda. But as she shares in her Times interview, the actor has never really cared what anyone think. "I never expect to be the one that everybody understands or likes. And that's OK, because I know who I am, and the kids know who I am." She seems perfectly prepared to step into the unknown, which is always a compelling moment in a celebrity's career, but even more so for Jolie.
She's giving this interview from her new home, and mentions during it that she's optimistic about how well her kids are doing in the wake of the split. So the mom of six is already heading in a positive direction. And the phrasing of the way she considers comedy is even more promising. Jolie says, "I will get funny at some point," suggesting that she's on the path to recovery, but hasn't yet reached her destination. Sounds like Jolie is moving forward without being in any particular rush, and that's just about as healthy as it gets.