Hollywood Execs Have Picked Anita Hill To Lead Their New Sexual Harassment Commission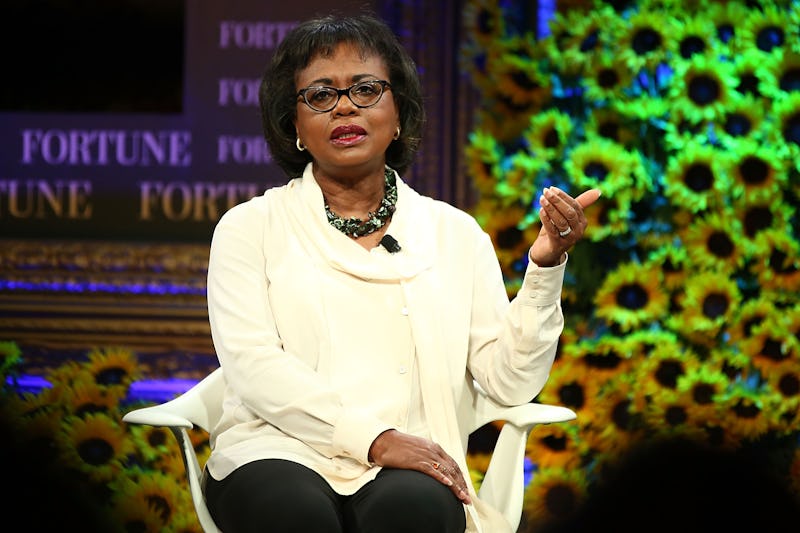 Joe Scarnici/Getty Images Entertainment/Getty Images
In the wake of the many sexual abuse allegations against prominent members of the entertainment industry that sparked the #MeToo movement, top executives announced on Friday that Anita Hill will chair Hollywood's Commission on Sexual Harassment and Advancing Equality in the Workplace. Lucasfilm President Kathleen Kennedy, Nike Foundation founder and co-chair Maria Eitel, Nina Shaw, and venture captialist Freada Kapor Klein, convened to organize the commission.
This comes several months after The New York Times and The New Yorker published bombshell reports in October that revealed decades of alleged sexual abuse committed by disgraced movie mogul Harvey Weinstein. (Weinstein has denied the accusations.) Then, allegations against other prominent men followed — both in Hollywood and across other industries — taking down Matt Lauer, Louis C.K., Russell Simmons, Kevin Spacey, and Sen. Al Franken, among many others.
Hill said in a statement that the commission will focus on issues like "power disparity, equity and fairness, safety, sexual harassment guidelines, education and training, reporting and enforcement, ongoing research, and data collection." She added:
It is time to end the culture of silence. I've been at this work for 26 years. This moment presents us with an unprecedented opportunity to make real change.
In 1991, Hill made national headlines when she brought sexual harassment allegations against then-Associate Justice Clarence Thomas. When President George W. Bush nominated Thomas to the Supreme Court, Hill, who worked as his assistant when he served on the Equal Employment Opportunity Commission in the '80s, came forward with accusations that Thomas allegedly made inappropriate sexual comments toward her that would constitute as workplace harassment. Hill testified her allegations in televised hearings to the Senate Judiciary Committee and said that it made Thomas ineligible to serve on the Supreme Court. Thomas denied Hill's allegations, calling the proceedings a "high-tech lynching for uppity blacks."
Another accuser, Angela Wright, who had also worked under Thomas before she was fired, declined to testify in court but submitted a written statement stating that Thomas had also allegedly harassed her and asked her on a date when he was her boss. Thomas also denied all Wright's allegations. He was ultimately confirmed by the Senate in a 52-48 vote.
Revelations about Weinstein's alleged behavior have brought a reckoning unlike anything the media has ever seen, with new allegations against powerful men making headlines and more women coming forward every day. And policymakers have begun revisiting the way in which Hill was treated by fellow lawmakers and the press during her congressional testimony, too. Former Vice President Joe Biden, who was then the Judiciary Committee Chairman, had refused to call three other witnesses to testify who were prepared to make accusations against Thomas.
Biden has since apologized for his role, saying Hill was "victimized" and that he "owed her an apology." Biden also maintained that he believed Hill's allegations against Thomas during the hearings.
"And my one regret is that I wasn't able to tone down the attacks on her by some of my Republican friends," Biden said in an interview with Teen Vogue. "I mean, they really went after her. As much as I tried to intervene, I did not have the power to gavel them out of order. I tried to be like a judge and only allow a question that would be relevant to ask."
Hill dismissed Biden's apology in a recent interview with The Washington Post, saying that she doesn't think "it takes ownership of his role" in how she was treated. "And he also doesn't understand that it wasn't just that I felt it was not fair," Hill added. "It was that women were looking to the Senate Judiciary Committee and his leadership to really open the way to have these kinds of hearings. They should have been using best practices to show leadership on this issue on behalf of women's equality. And they did just the opposite."
Hill has said that she doesn't see the current #MeToo movement as just a "moment" and hopes that it will spark change in how women are believed for the allegations they make against men in power. And by chairing Hollywood's commission to address sexual harassment, Hill is making sure the movement brings about systemic change.