Annette Bening Will Be In 'Captain Marvel' As A Character Very Close To Carol Danvers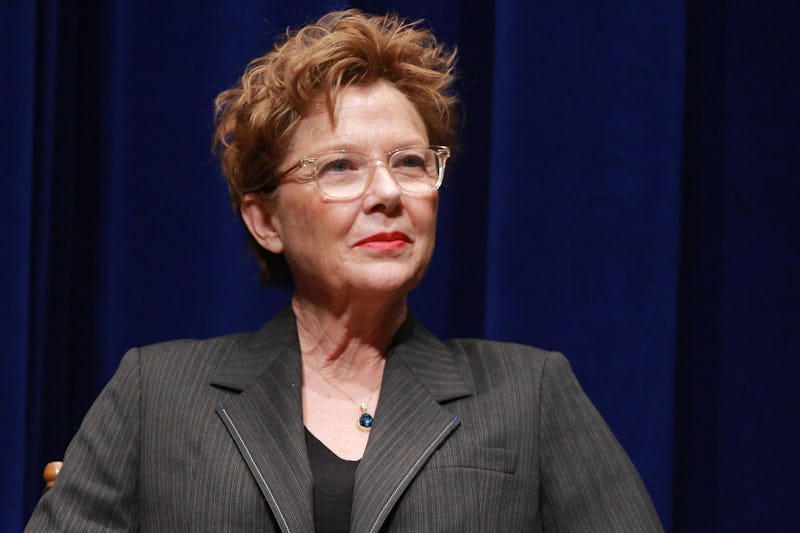 Rich Fury/Getty Images Entertainment/Getty Images
The already expansive Marvel Cinematic Universe just made room for a four-time Academy Award nominee. Annette Bening is joining Captain Marvel, according to The Hollywood Reporter on May 9. And while that news might come as a surprise to some, it makes sense if you've spent any time perusing Bening's eclectic resume which includes roles like Queen Elizabeth, an eccentric single mom in 20th Century Women, and Virginia Hill, the girlfriend of mobster Bugsy Siegel. When you think about it, all her filmography was really missing was a superhero movie credit.
Marvel hasn't revealed much detail about who Bening will be playing, but THR reported she's a "scientist," who may or may not be on the good side of Captain Marvel, played by Brie Larson. As for Bening's role in the first female-led film from Marvel, they're keeping it under lock and key. But,Variety teased that she could be playing the mom of Carol Danvers, an Air Force pilot who ends up with super powers after her DNA blends with that of an alien. Specifically, Captain Marvel has the power of superhuman strength, endurance and flight, which makes her the world's only hope against Thanos.
Bening's role is likely to be a smaller one though, since Captain Marvel's mom, Marie Danvers isn't much of a figure in the comics. But, let's be honest, Bening is one of those stars that always uses her screen time wisely. It's also possible that the writers of this movie have given her more to work with since she's Annette Bening and all.
While Bening's casting is a surprising one, over the past few years, there have been other interesting additions to the Marvel Universe. This includes two-time Oscar winner Cate Blanchett, who broke the Marvel glass ceiling by playing the MCU's first female villain in Thor: Ragnarok. It's something Blanchett wants to see more of. "There's a huge female fanbase," Blanchett told reporters last year while filming the movie, "and having a daughter myself, you want them to be able to identify with those [at the] badass end of the spectrum as well as the heroes," she says.
Even Larson, a Best Actress Oscar winner for Room, was a surprising casting choice, but also a telling one. From the beginning it was clear Marvel wanted to bring a bit of prestige to Captain Marvel, starting with its lead. Having Larson sign on as the title character was a way to say this movie is going to be more than just another superhero one, it's something to take seriously.
It's a movie full of firsts: the first female-led Marvel film, the first Marvel film to be co-directed by a woman, and the first Marvel movie to star an Oscar winner. Bening's casting is just another sign that Captain Marvel is thinking outside the box.
But, not that far outside it. While it's her first official superhero credit, Bening was originally cast as Catwoman in Batman Returns. ""I would have loved to play Catwoman," Bening told The Philippine Inquirer in 2016. "But I got pregnant." While Michelle Pfeiffer was certainly an iconic choice for the Tim Burton film, it would have been interested to see Bening's take on the role. Luckily, Bening will get another chance at a superhero role with Captain Marvel, which is set in the '90s, technically making it the first movie in the Marvel franchise.
Along with Larson and Bening, the cast of this film includes Ben Mendelsohn as the film's villain, Gemma Chan as Minn-Erva, and Jude Law as Mar-Vell. It will also include some familiar Marvel faces like Nick Fury (Samuel L. Jackson), Agent Coulson (Clark Gregg), Korath the Pursuer (Djimon Hounsou), and Lee Pace's Ronan the Accuser from Guardians of the Galaxy.
Clearly, Bening is just one of many stars in this universe that help make Captain Marvel one of the must-see movies of 2019.