Some Miss USA Answers To The Feminism Question Are Problematic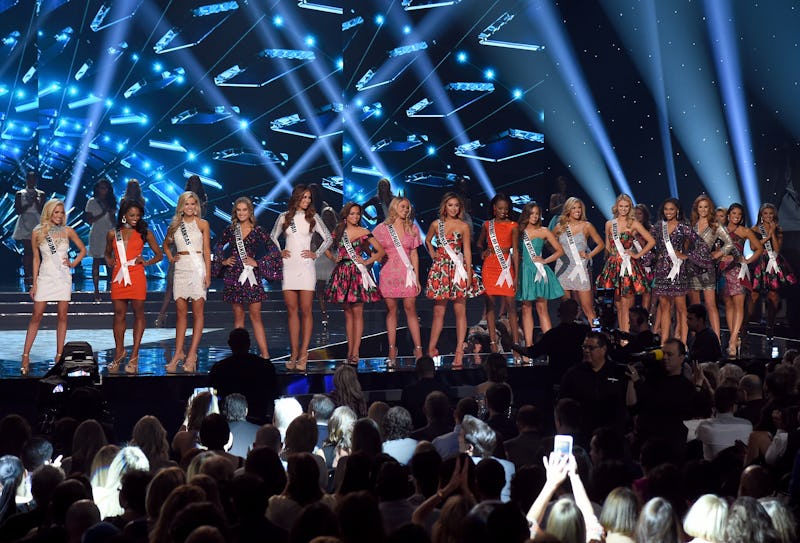 Ethan Miller/Getty Images Entertainment/Getty Images
It seems even some Miss USA 2017 contestants could use a refresher on what feminism is. When the final three contestants were asked what feminism means to them, they gave a range of answers that highlighted common misconceptions about feminism. Miss District Of Columbia in particular missed the mark, saying she preferred to see herself as someone who is for "equalism," rather than feminism — of course, feminists are for equality. The movement is not about being anti-men at all, despite what this finalist said in her answer.
The word feminism is so often misunderstood, it's not surprising that some of the contestant's answers seemed so out of touch. Sadly, when many hear the word "feminism" they still equate it with hating men or wanting women to be superior to men. The truth is feminism has always been about equality. It is an intersectional concept that encompasses not only women's rights, but the rights of people of color, people with disabilities, members of the LGBT community, and anyone who is at a systemic disadvantage in society.
Miss Minnesota answered the question vaguely, and carefully avoided saying whether she identified as a feminist. Instead she said feminism is "about being any gender in this entire country and this world." Again, it was a frustrating response, and one that highlighted how some women are afraid to identify as feminists, when it is something that it is absolutely OK to be proud of.
Feminism's goal is not to overtake men, but to create a world where all people, regardless of their gender, race, sexuality, or class, have the same advantages as everyone else. Thankfully, Miss New Jersey's answer to the question was on point. She declared herself a feminist without any qualifiers and explained to the audience what feminism is actually all about.
It is so important for Miss USA to understand feminism. For the next year, the 2017 winner will be representing women, and she needs to know that feminism is about the quest for equality and ensuring fundamental rights for all. While hearing two out of three of the finalists offer disheartening answers to the question of what feminism means to them, it was also a teachable moment.
Viewers were given a chance to hear Miss New Jersey come onstage, embrace her feminism, and explain exactly why it is a powerful movement to be a part of. The Miss USA 2017 feminism question proved that women still have a long way to go in their journey to achieve equality. But it also illustrated that as long as there are people like Miss New Jersey proudly claiming feminism, the invaluable concept has plenty of passionate and informed champions ready to teach the world what it means to be an advocate for equality and social justice.