Ariana Grande Knows How You Feel About Her PDA With Pete Davidson & She Has Some Thoughts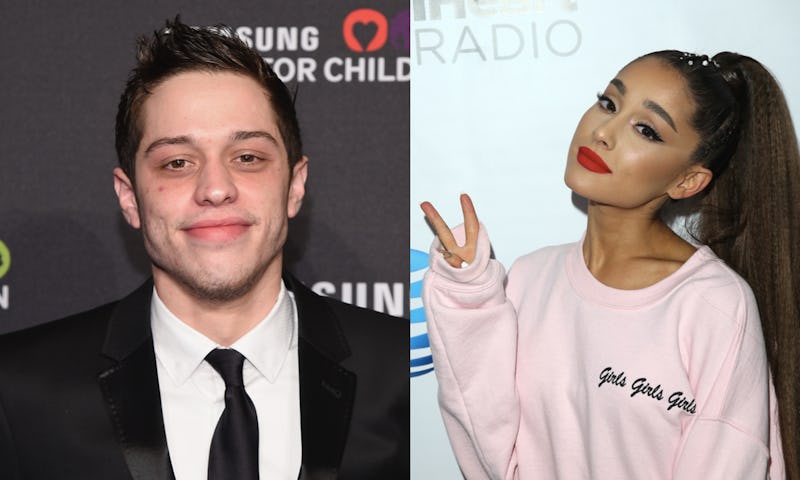 Bryan Bedder/Getty Images Entertainment/Getty Images; Jesse Grant/Getty Images Entertainment/Getty Images
To all those fans who've gotten a little tired of the constant Grande-Davidson mushiness that seems to have taken over both parties' respective social media accounts as of late: Ariana Grande commented on her and Pete Davidson's PDA. And rest assured, she's well aware of their joint capacity for irritating the heck out of folks on the internet. Replying to a particularly sweet (or, particularly sappy, depending where you stand on the whole PDA issue) comment from Davidson on one of her latest IG posts, Grande — bless her extraordinary penchant for telling it like it is — came right out and said it.
The singer wrote,
"@petedavidson we're annoying as f*ck."
Why's that, exactly? In her comment, Grande didn't specify. But, as anyone who's seen the singer's PDA-related quip on Instagram over the weekend could probably tell you, she didn't really need to. Which is mostly to say, Grande's photo, its caption, and Davidson's subsequent comment manage to get the point across pretty clearly all on their own. For those who've yet to experience this latest bout of Grande-Davidson canoodling on social media, it's probably worth redirecting your attention to Grande's Instagram account, where the singer posted a cuddly black-and-white selfie of her and Davidson flashing goofy faces at the camera and looking pretty in love.
Grande wrote, "my baaaaaby loves me." Then she captioned the photo with a set of lyrics some of her more seasoned fans might recognize from the singer's 2014 album, My Everything. Turns out, her beau's heartfelt reply was in a similar vein to Grande's album title itself. "More than anything," Davidson wrote in the post's comments section, finishing off his reply with an aptly-placed "heart-eye" emoji.
After giving the photo (and the mushy social media exchange that followed) a once-over, "annoying," as Grande put it, isn't necessarily the first descriptor that comes to mind. However, those who follow either Grande or Davidson on social media probably instantly understood what the singer might've been alluding to with her joke. Pretty much anyone who's borne witness to Grande and Davidson's whirlwind romance over the last two months have likely done so via one, or several, of the reportedly engaged pair's social media accounts. (As a quick scan through Grande's Instagram feed will corroborate, her account is chock-full of snapshots pretty similar to this latest one.) And while the couple's markedly in-your-face romance has certainly gleaned its share of support from fans, there's also been a little bit of eye-rolling on the public's part.
That seems partially like a response to Grande and Davidson's ages, which, at 25 and 24-years-old, respectively, certainly puts them at the younger end of the spectrum, as far as getting engaged is concerned. (That being said, with Justin Bieber and Hailey Baldwin following suit in the pre-matrimony department, it seems early twenty-something Hollywood couples are continuing to remind us that age is just a number, and there's more than just one blueprint for what a healthy, happy relationship timeline is "supposed" to look like.)
There's also the fact that, much like Bieber and Baldwin, Grande and Davidson haven't been together for very long. And while the whole "nontraditional dating timeline" thing might very well be true, fan-fueled wariness over that aspect of their relationship doesn't feel like it's come completely out of left field. After all, those who've been following Grande and Davidson's roller coaster romance might remember that they only took their relationship public about two months ago, in mid-May.
At the time, the newly-minted relationship news had lots of Grande and Davidson's fans pretty enthused, though it seems safe to say many assumed it wouldn't last. That makes sense, since the Grande-Davidson romance picked up not long after both halves of the couple had ended respectively long-term, committed relationships with other people.
But, less than a month later, Grande and Davidson seemed to make it pretty clear that, yes, they might be a relatively new couple, but their love affair was definitely no one-off rebound. On June 11, a frenzied bout of reports claiming Grande and Davidson were engaged first started to make the rounds of the internet. Just for the record, neither Grande nor Davidson has officially confirmed those reports. That being said, Davidson did seem to un-officially confirm the engagement via a distinctly romantic IG post a few days later on June 15, which pictured Grande's reported engagement ring front-and-center.
So, anyone still hanging on to bitterness about the deluge of PDA posts to come out of Grande and Davidson's notoriously lovey-dovey relationship? The important thing to remember here is that if their affectionate romance-centric updates on social media are any measure of their real-life happiness, then it certainly seems like Grande and Davidson are pretty obviously head-over-heels for each other. And, if that makes them "annoying," like Grande said, then so be it.