Ariana Grande & Pete Davidson Looked Like They Had SO Much Fun While Running An Ordinary Errand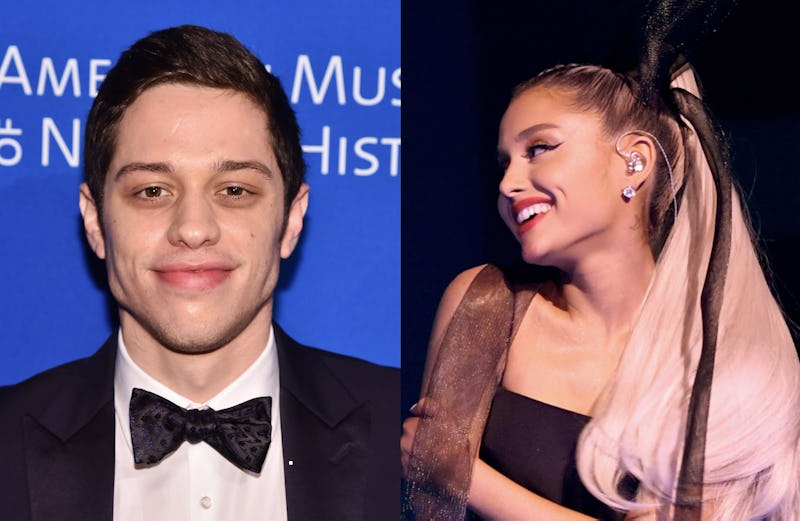 Michael Loccisano/Getty Images Entertainment/Getty Images; Kevin Winter/Getty Images Entertainment/Getty Images
In case you thought too much time had passed without hearing an update from your favorite couple, Ariana Grande and Pete Davidson went shopping at Sephora on Friday, June 30, and things got real adorable, real fast. The couple, who have been together for a curiously unknown amount of time, semi-officially announced that they'd moved in together earlier in June.
They reportedly share an apartment in New York City, but not in the way that most 20-somethings do. (You know, a place with three roommates, four flights of stairs, and five busted air conditioning units that still costs a year's salary in annual rent.) Instead, Grande and Davidson — who joined the cast of Saturday Night Live in 2014 — apparently have a place large enough to accommodate an IMAX theater screen.
At any rate, though there's still quite a lot of unpacking and organizing left ahead of them, Davidson and Grande had a good ol' couples outing to Sephora in NYC and, of course, documented the entire thing on social media.
Davidson and Grande appear to have emerged from the highly-publicized visit unscathed. Also, did anyone else know that the pop icon shopped at Sephora? It's kind of fascinating, right? On the one hand, she has a personal home theater in her Manhattan apartment. Yet, on the other, she's shopping at crowded city Sephoras on a Friday afternoon, just like anyone else — except when she does it, dozens of paparazzi crowd the doors to sneak a peek at her purchases, as evidenced by one of Grande's IG stories.
In addition to the cute couples photos, Grande posted a black-and-white IG story video of Davidson in what appears to be mid-dance move. In the IG story video, Davidson says in a goofy voice, "Three weeks and all these boxes...time to move in."
"Time to f*cking organize," she captioned it, likely implying that they're having too much fun goofing off together to actually unpack their shared space. These two seem well-matched and they seem to be having never-ending celebration of having found one another at last — it's just so pure. They just love being together and their public personas are so darn likable.
The couple announced their relationship in May 2018 via Instagram, and then confirmed their engagement in June. Since then, they've been ultra lovey-dovey on social media. It's sweet that they genuinely seem to love one another, and love being in love with one another. They're not shy about sharing anything with their fans. Though, fans of the couple are still wondering about one crucial detail: When exactly this relationship began.
One theory suggests that part of the reason Davidson and Grande are so head-over-heels for each other so publicly (and so suddenly!) is due to the fact that for whatever reason, they had to keep it a secret at the beginning. As a result, all of the love they had to keep smushed down finally overflowed once they allowed themselves (or were allowed) to go public. Again, that's just a theory. However: Considering the fact that Davidson reportedly ordered and paid for an engagement ring for Grande before they'd even gone public as an item, it's not too wild a theory to consider.
As of June 30, Ariana Grande and Pete Davidson seem extremely in love with one another, and don't have time for any critical analysis of their relationship — be it positive or negative. For now, all fans can do is hope they'll be invited to take in an IMAX movie at the couple's NYC pad, and wonder whether the eventual wedding will have a Harry Potter theme.