Ariana Grande's 'Breathin' Video Means So Much To Her Fans Who Also Have Anxiety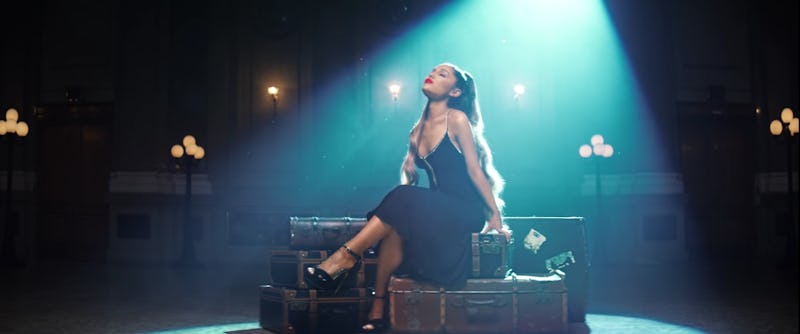 YouTube
Nothing can slow this pop star down. Just a few days after releasing a brand new single, Ariana Grande released the music video for "Breathin," one of the fan-favorite songs off of her recent album, Sweetener. And though the singer has been incredibly open about her struggles with anxiety in the past, the clip manages to depict anxiety in a way that feels incredibly relatable — as well as illustrating for people who don't suffer from it what it can feel like for those who do.
In the clip, which features Grande in various states of isolation, while the people around her seem to move in double time, the singer channels the feeling of having "the whole room spin" and being unable to "control your mind," leaving the viewer disoriented by the chaotic scene around her.
Those shots are contrasted by moments where Grande (literally) has her head up in the clouds, in order to represent the moments of peace after panic. (The shots are also reminiscent of her video for "God Is A Woman," in which Grande sat on top of the world, and danced around the stars.)
Grande confirmed that "Breathin" was about her struggle with anxiety back in June, and a few weeks later, she opened up to a fan on Twitter about how bad things got after surviving the May 2017 bombing in Manchester, England.
"i felt like i was floating for like 3 months last year & not in a nice way," Grande explained, after revealing that the track "Get Well Soon" was also inspired by her anxiety. "like i outside my body? was v scary and i couldn't breathe well. so it's ab that. & lots of voices in my head singin. i hope it comforts ppl who hear it pls."
Based on the Twitter reactions from fans who have seen the video, it looks like her wish for Sweetener to resonate and comfort others who suffer from mental illnesses came true:
Grande's openness with her fans about her anxiety and the struggles of her "bad days" — including her decision to be upfront with fans about how hard it was for her to decide to tour again after the Manchester attacks — has helped many of her fans who are also struggling with mental illnesses, but it took her a long time to be comfortable sharing her battle with the world.
"It's hard to talk about because so many people have suffered such severe, tremendous loss. But, yeah, it's a real thing," Grande said of her PTSD diagnosis in an interview withVogue U.K. in June. "I know those families and my fans, and everyone there experienced a tremendous amount of it as well. Time is the biggest thing. I feel like I shouldn't even be talking about my own experience — like I shouldn't even say anything."
She later revealed just how serious the battle was, saying, "My anxiety has anxiety… I've always had anxiety. I've never really spoken about it because I thought everyone had it, but when I got home from tour it was the most severe I think it's ever been."
Grande's experience with her anxiety wasn't the only thing that the singer revealed in the "Breathin" video; according to several eagle-eyed fans, Grande also revealed the names of several tracks on her upcoming fifth album, Thank U, Next, which she has been working on in the three months since Sweetener was released.
Grande released the first single from that album on Saturday, Nov. 3, a breakup anthem called "Thank U, Next," in which she discusses several of her high-profile relationships and all of the ways that they've affected her as a person. She also teased the song "Needy," via a Twitter post in October, and revealed to a paparazzo not long afterwards that fans can expect the full album before the end of the year.
While fans might not know what, exactly, to expect from Grande's next album, if the singer decided to stay as open and authentic about her life, her relationships and her anxieties as she is right now, they will continue to stand behind her, every step of the way.