Ariana Grande Just Dropped A *Major* Hint That She Has A New Album Coming Really Soon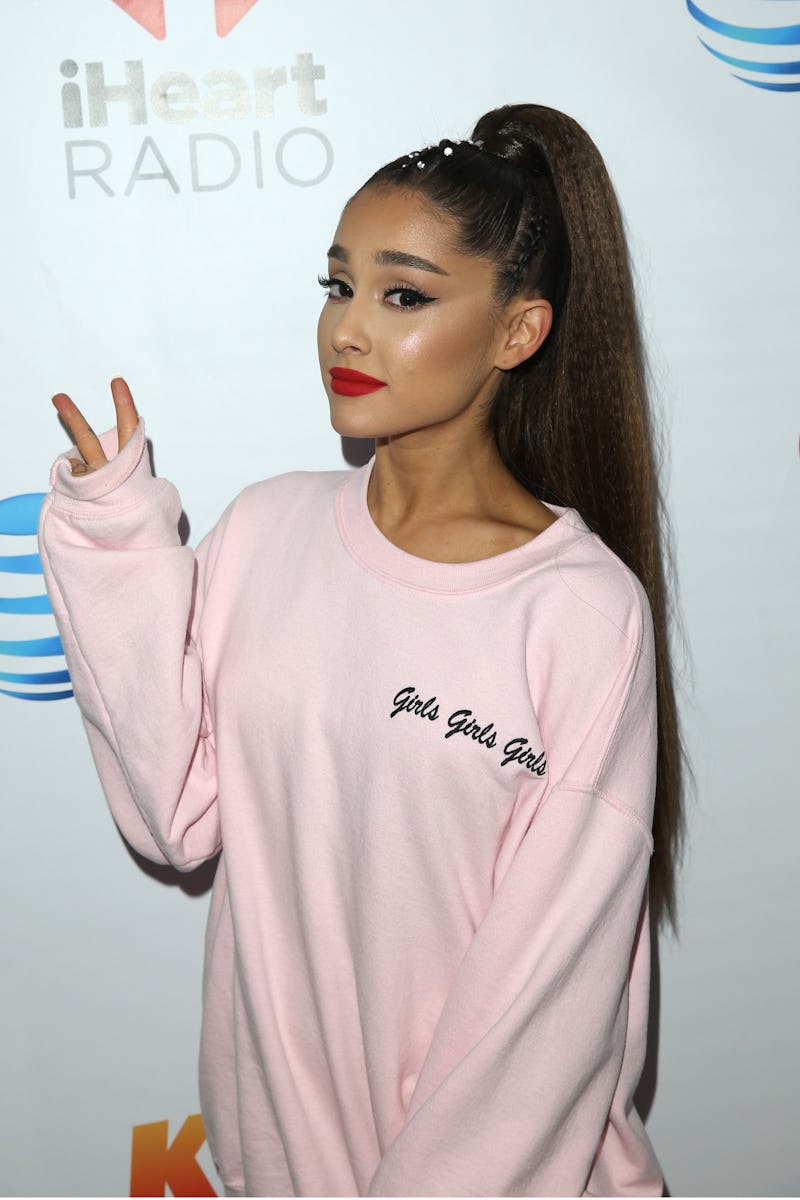 Jesse Grant/Getty Images Entertainment/Getty Images
Less than three months after the release of her fourth studio album, Sweetener, Ariana Grande hinted that she has a new album coming really soon. The "No Tears Left to Cry" singer took to Twitter on Oct. 24 to tease the news and her fans couldn't be more excited about the possibility. While she was careful to not give away many details, Grande alluded that the project may be coming before the end of 2018, responding to one fan with "hehehe idk" when asked if it was "coming before 2019" Although nothing is official, Grande also shared that the forthcoming project already has title. One Ariantaor asked, "does it have a name / title yet ????" to which the entertainer simply responded, "yes"
The revelation came as part of a back and forth Grande had with her followers on the social media site on Oct. 24. It seems that while most fans were excited, there were some who aren't quite ready to move past the glory of Sweetener, telling the singer, "anyway dont end sweetener era too soon pls" However, judging from her Twitter response, it seems that Grande is preparing to promote both albums at the same time, explaining, "ofc not .... we jus gonna have both at once if u down"
Grande appears to be using music as a way to deal with the stresses of life. In response to a fan who said, "i'm so in love with ur passion for music!!," the 25-year-old shared, "it fixes everythin"
Meanwhile another follower, who was in awe of the former Nickelodeon star's ability to quickly churn out music, asked, "I can't believe.......... two albums in 4 months or less.......... how does this happen" Grande retorted with a response which seemed to indicate that she uses her life experiences to fuel her craft. She briefly summed it up by saying, "life ... ya kno ?"
Amidst the Twitter chat, Grande shared that music is what ultimately keeps her going. After a fan commented, "you literally made an album in 2/3 months...... this is insane. hardwork QUEEN !," the former Sam & Cat actor explained, "how u think i survived these 2/3 months ksjsksjs ......... damn love u"
In the past, Grande has been extremely open about her issues with anxiety and post traumatic stress disorder which were aggravated by the tragedy that occurred at her Manchester U.K. concert in 2017. In the July issue of Vogue U.K., Grande revealed that she had been diagnosed with PTSD and shared that she was initially apprehensive about opening up about her struggles. During her chat with the mag, Grande revealed that she's always dealt with feelings of anxiety and said that the disorder began affecting her more severely as time went on.
She shared,
"My anxiety has anxiety… I've always had anxiety. I've never really spoken about it because I thought everyone had it, but when I got home from tour it was the most severe I think it's ever been."
In light of recent breakup rumors surrounding the singer and SNL's Pete Davidson, the untimely passing of her ex and friend Mac Miller, and subsequent show cancellations, Grande took to Instagram on Oct. 16 to share more about her emotional state, explaining: "can't believe i almost let my anxiety ruin this for me today!!!" She followed the thought with an inspirational pep talk, writing, "not today satan ! not tomorrow or the next day either ... finna sing my heart out and be a big walking vessel of love bye"
With those things have been playing heavily in the news cycle, fans have been concerned about Grade's well-being and how she's coping. During the Wednesday evening Twitter chat, a fan asked, "can u tell me how u doin fr" and Grande responding with, "better dis week ily v much" reassuring her followers that things are slowly improving.
That said, it seems that Ariana Grande has learned to use her passion for music as a way to make it through her dark times. With the promise of a new project on the way, it appears that she has her sights set on the light at the end of the tunnel — and the road ahead appears to be extremely bright.