'Bachelor' Nation's Angela & Clay Are Still Going Strong, Based On These New Comments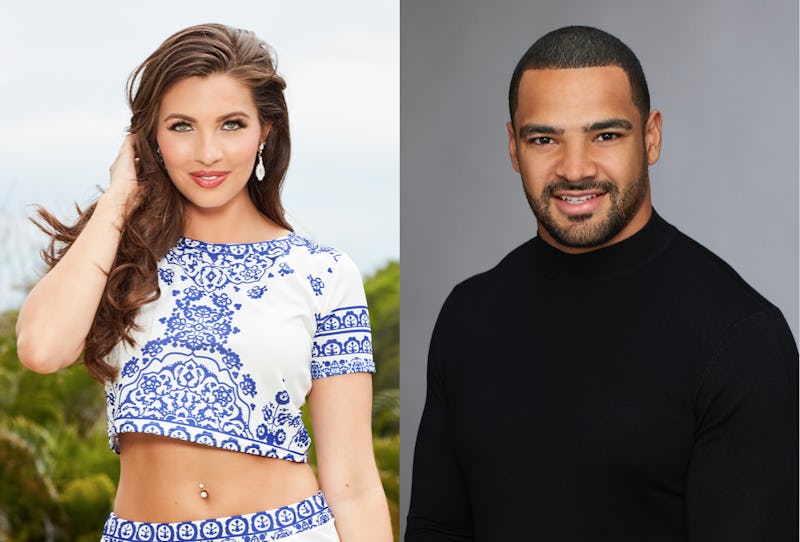 ABC/Craig Sjodin (2)
When Bachelor Nation first caught wind of a budding romance between BiP's Angela Amezcua and the Bachelorette's Clay Harbor just about a month ago, fans were pretty ecstatic across the board. Those fans will be even more thrilled to learn that Angela and Clay might be taking their relationship to the next level, courtesy of some new comments from Angela on the subject of her and Clay's evidently burgeoning romance. Seriously, who isn't rooting for them?
After reading through Angela's latest comments, most Bachelor aficionados probably will be. Why? Well, for starters, it sounds like Angela and Clay are pretty serious about their relationship, and equally serious about making it work. During this week's episode of The Ben & Ashley I. Almost Famous Podcast, Angela (who Bachelor Nation will probably recognize from the most recent season of Bachelor in Paradise) revealed that she and Clay might be sharing an address sometime soon.
When asked whether she and Clay (the kindhearted NFL player from Becca Kufrin's Bachelorette season earlier this year) have plans to move in together, Angela didn't exactly respond in the affirmative. But it definitely doesn't seem like that possibility is off the table, by any means. She said,
"There's been some things that we're talking about … It's great because our schedules are super flexible right now, so it's kind of like anything is a possibility at this point."
Those who've been following this year's rollout of Bachelor programming might remember that Angela is from South Carolina, while Clay lives in Chicago. But it sounds like geography isn't a totally insurmountable challenge for the pair. As Ashley noted during the podcast, since Clay is technically a "free agent" of the NFL (which basically just means he's not under contract with any particular team), he's not professionally tied to any particular location either.
And either way, judging by Angela's comments, it sounds like she's not too worried about how the details of their living situation will pan out. Mostly because, it sounds like she's confident that, one way or another, it will eventually work out. "If he gets picked up [by an NFL team], then I can kind of go wherever he gets picked up," she explained during the podcast, "So it's kind of a perfect time." In fact, as Angela explained, the timing of her and Clay's relationship, in general, "is right for us right now."
Those who watched Angela's emotional journey on BiP know she and Clay didn't become an item until after filming had wrapped. And while Angela said she'd been eyeing Clay since his Bachelorette stint, the football player wasn't on the summer's Paradise roster. Instead, audiences watched as Angela dated Eric Bigger, only to eventually leave the Paradise beaches alone.
So, how did Angela and Clay eventually get together? Thankfully, Angela's BiP costar, Chris Randone, set them up after she left Paradise. "He was like, 'Listen, if nothing works out for you here, after the show, this is happening. I'm gonna hook it up,'" Angela recalled during the podcast. And, sure enough, after she'd packed her bags, "I had a text from Chris, and he was like, 'Hey, what's your situation right now? Asking for a friend …'"
And the rest, as they say, is history. Not long after Angela and Clay first announced their relationship via Instagram last month, Clay posted a sweet photo of them to his IG Story, crediting Randone and his match-making efforts. "Also big shoutout to @chrisrandone for setting this up," Clay wrote, overlaying a snapshot of him and Angela smiling against the backdrop of some paradisal beach. (Whether or not its the paradisal beach from Paradise remains unclear.)
So, even if Angela and Clay don't end up moving in together — though if moving in together is going to make them both happy, then here's hoping they go for it — it seems pretty clear that their relationship is one for the books. Need more convincing? Just look at their social media. And after quite a tumultuous year for both of them in the romance department, let's hope Angela and Clay finally found the Bachelor-made love they've been waiting for.