Obama's Latest List Of Midterm Endorsements Has Some Potentially History-Making Women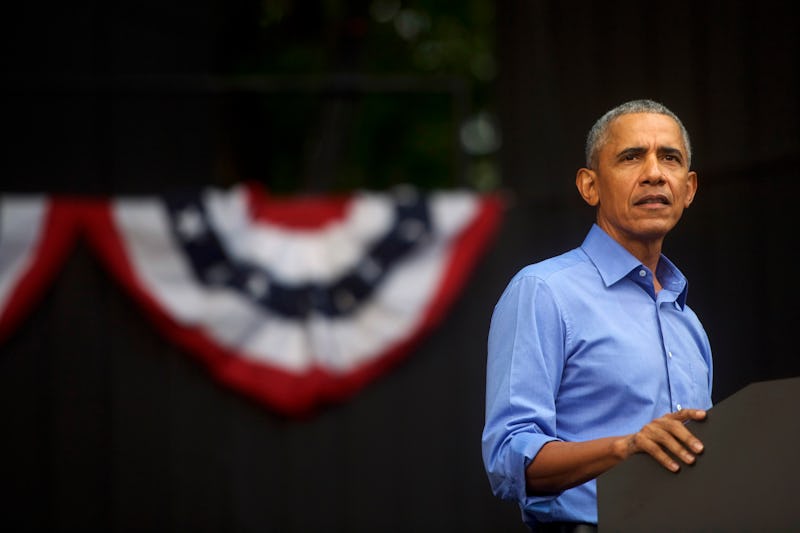 Mark Makela/Getty Images News/Getty Images
Barack Obama's deep into the midterm campaign trail for the Democrats, and he's making sure that not just the people showing up for his speeches know who he's supporting. Obama released his second midterms 2018 endorsement list of Democratic candidates from across the country, and he's backing a number of women who could end up making history in numerous ways.
"Today, I'm proud to endorse even more Democratic candidates who aren't just running against something, but for something—to expand opportunity for all of us and to restore dignity, honor, and compassion to public service," Obama wrote on Twitter on Monday. "They deserve your vote."
He then included a long list of candidates who he's supporting. Of the 69 people listed, 42 of them are women, for a total of 61 percent. Many of the candidates listed could be breaking new ground in their races, too. One of these is current Boston City Council member Ayanna Pressley, who will likely become the first woman of color to represent her Boston district in the House. Jahana Hayes, similiarly, could become the first black Democrat to represent Connecticut, according to the New York Times. Current Tallahassee mayor Andrew Gillum, who also finds himself on Obama's list, could be the first black governor of Florida after winning a surprise primary race.
There are candidates forging trails in other areas too, though. Lucy McBath, who's running for Congress in Georgia's 6th district, has centered her platform around gun violence prevention, after losing her son to gun violence in 2012. You might recognize the name Rachel Crooks even if you live far away from Ohio, where she's running for the House; she also accused President Trump of sexual harassment, an allegation which he denied in a tweet. Chris Pappas won a tight Democratic primary in New Hampshire, which could put him on his way to becoming the first openly gay member of Congress.
Just next door, another potentially trailblazing candidate from the LGBTQ community found herself on Obama's list. Christine Hallquist became the first transgender person to win a major party's gubernatorial nomination, and she's hoping to become the first transgender governor in the U.S. after the election in November.
Several Native American women also ran primary campaigns, trying to change the fact that no Native woman has ever served in Congress. One of them, Sharice Davids, has now received Obama's endorsement for her race in Kansas' 3rd Congressional District.
"Native women are left out of the conversation," Davids told Bustle in May. "What ends up happening is there's just nobody in the room who knows anything about Native issues."
Another notable candidate on the list is Alexandria Ocasio-Cortez, the candidate branding herself as a Democratic socialist, who's coming out of New York. Obama also made his endorsement in the Wisconsin district that's now an open race because of House speaker Paul Ryan's retirement, and the endorsement went to Randy Bryce, perhaps better known as the "Ironstache." Adding that group to Obama's first list of midterm endorsements, those who want to follow the former president's advice have plenty to go on.